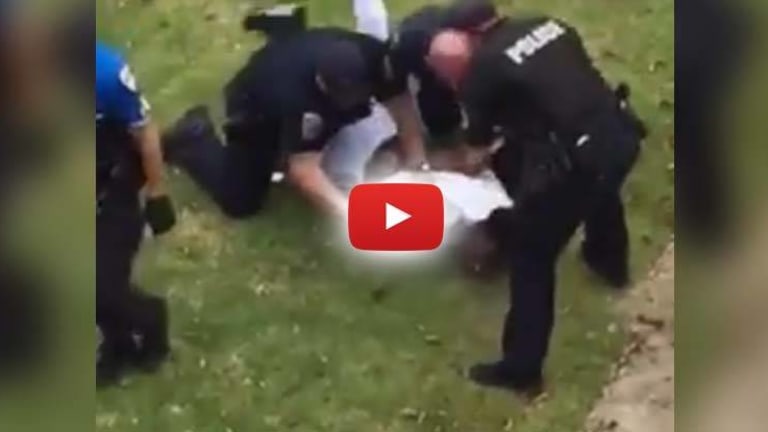 Video Shows Cops Hold Down 16-yo Boy and Repeatedly Punch Him at Earth Day Celebration
A new cell phone video reveals a cop punching a restrained teenager repeatedly in the head during an Earth Day celebration.
Baton Rouge, LA – While attending an annual Earth Day celebration, an unarmed 16-year-old high school student was repeatedly punched in the head as five cops ended up holding him face down on the ground. Although the teen was charged with resisting arrest and battery against a police officer, the video clearly shows the boy attempting to protect his head as the cop kept punching him.
During Baton Rouge's annual Earth Day event on Sunday, a bystander recorded a ">cell phone video of officers holding 16-year-old Ja'Colby Davis facedown on the grass. Surrounded by five cops, Davis remains on his stomach as one of the officers begins dropping hammer fist strikes against the teen's face.
After the cop starts throwing haymakers against the back of the boy's head, Davis manages to lift his right arm in an attempt to protect his head from more blows. According to the video, the officer punches Davis at least six times in the head before another cop pulls the kid's arm behind his back and handcuffs the student.
">
With a police Taser aimed at the back of his head, Davis remained on the ground as five officers held him down to restrain him. Despite the fact that the video does not show Davis attacking any of the cops, the unarmed teen was charged with resisting arrest and battery against a police officer.
According to Davis' mother, Danielle Todd, her two sons went to the Earth Day celebration when a fight suddenly broke out near them. Police ordered a crowd of people, including Davis and his 14-year-old younger brother, to step back when a cop reportedly grabbed Davis to push him further away. After Davis questioned the officer for grabbing him, the unarmed student was thrown to the ground, punched in the head several times, and arrested.
"I feel like this shouldn't happen to anyone's child," Todd recently told The Rouge Collection. "No parent should have to see a video of police officers beating their child for asking a question."
Refusing to disclose the names of the officers or what led to the boy's arrest, Baton Rouge Police spokesman Sgt. Don Coppola admitted that none of the cops involved were wearing body cameras during the incident. Coppola also stated that Police Chief Carl Dabadie Jr. has opened an investigation into the beating, but was unable to answer whether any of the officers have been placed on administrative leave.
"While we cannot speak yet to the context in which this incident occurred, we can assure you that we are treating the situation with the utmost care and concern as we initiate an Internal Affairs investigation," Coppola stated on Monday.
In a recent press release, Chief Dabadie wrote, "Events like LA Earth Day are meant to help our community unite with a shared mission, not to provide opportunities for violence. As a department, it is our role to protect and serve our community, and as we investigate yesterday's events, we intend to ensure that, moving forward, we respond to violent acts by attendees like what we witnessed yesterday responsibly and to the best of our ability."
The only violence witnessed in that video came from the BRPD cop using a teen's head as a punching bag. Confronted with a video of his officer utilizing excessive force on a minor, the police chief has already openly placed the blame on "violent acts by attendees."
Continuing to defend her son's innocence while Davis sat in a jail cell on Monday, Todd told The Advocate, "He wasn't fighting at all."
[author title="" image="https://"]Andrew Emett is a Los Angeles-based reporter exposing political and corporate corruption. His interests include national security, corporate abuse, and holding government officials accountable. Andrew's work has appeared on Raw Story, Alternet, Activist Post, and many other sites. You can follow him on Twitter @AndrewEmett and on Facebook at Andrew Emett.[/author]