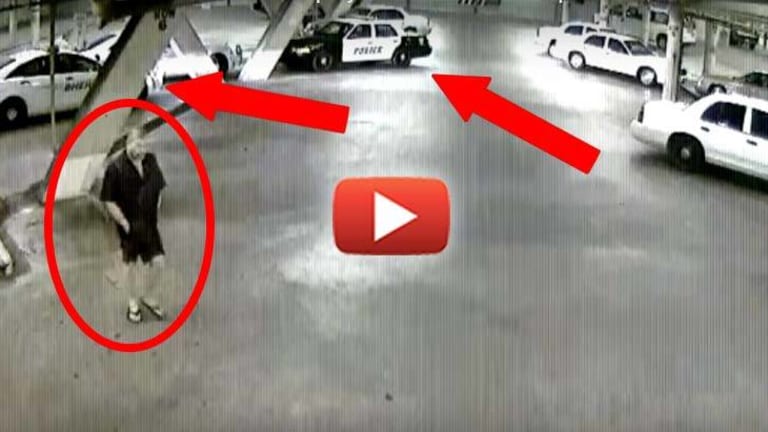 Cop Arrested for Pointing Gun at Children, Video then Shows Fellow Cops Let Him Escape
A California Deputy, known for his reckless and erratic behavior, was able to escape from arrest after pointing his weapon at small children.
Bakersfield, CA — Arrested three times within the last week for gun and drug charges, a sheriff's deputy was recently caught on video escaping from custody as his arresting officers stood next to him in the parking lot and allowed their colleague to flee. Although the deputy was found high on meth and accused of aiming his gun at children, his arresting officers claim he's a criminal mastermind capable of outwitting Harry Houdini.
On Saturday night, Kern County Sheriff's Deputy Edward Tucker was arrested after allegedly pulling a gun on a group of children at a birthday party. According to a witness, Tucker told a group of girls that he was being chased and was looking for a woman on a bicycle before pulling out his gun. When the girls denied seeing anything, Tucker reportedly aimed his firearm at each of them.
"He pointed the gun straight at them, at their chest, each one individually, and told them, 'You're lying to me,'" the resident described.
As deputies arrived on the scene, Tucker hid inside his car and waited for them to arrest him. After placing Tucker in custody, deputies found five handguns, two shotguns, and an assault rifle in his vehicle. They also found a small amount of methamphetamine in his car and suspected Tucker of being under the influence.
Although Tucker had been bailed out after the arrest, he was arrested again on Tuesday after a retired deputy asked sheriff's officials to check on Tucker's welfare. After receiving suicidal text messages from Tucker, the retired deputy notified the sheriff's office and deputies located Tucker in a park northwest of Bakersfield. They allegedly found him in possession of drugs, firearms, and an explosive detonating cord.
At 9:46 p.m. on Tuesday, Tucker can be seen on ">surveillance video unlocking the back door of a patrol car, while deputies Branden Routh and Salvador Orona remain focused on a computer in the parking spot next to their cruiser. According to Sheriff Donny Youngblood, the deputies rolled down Tucker's window because he complained of nausea and gave him longer handcuffs because he complained of back problems. Instead of following protocol, the deputies also did not escort Tucker directly to jail and allowed him to escape.
For those of you who have never been arrested, cops don't roll down your window, they don't offer you longer handcuffs, and they certainly don't leave you unattended in the parking garage no matter what excuses you give them. Even if Routh and Orona were engrossed in hardcore porn or fantasy football, they would have easily seen Tucker escaping from the next parking spot over or heard his flip-flops echoing across the garage as he ran towards the ramp.
Although Sheriff Youngblood doesn't think Tucker had inside help escaping from the garage, the sheriff admitted that he doesn't understand how Routh and Orona were unable to see or hear Tucker escape right next to them. Youngblood later speculated,
"I don't know this, but I suspect he may have been equipped with a handcuff key."
Tucker was arrested for the third time this week at 3:20 p.m. on Thursday while hiding in a residential garage. He has been on unpaid leave from the sheriff's office since October 2014. Tucker was arrested for domestic violence in 1991, and for possession/manufacture/sale of a dangerous weapon in 1988. The District Attorney's office did not file charges in either incident.
On Wednesday, a former neighbor told KBAK that people commonly referred to the deputy as "Tweakin' Tucker." Preferring to remain anonymous, she recalled his aggressive and strange behavior throughout the years before his recent arrests.
"You can't make this stuff up," Sheriff Youngblood said during a news conference. "You just can't."
" width="790" height="444" frameborder="0" allowfullscreen="allowfullscreen">