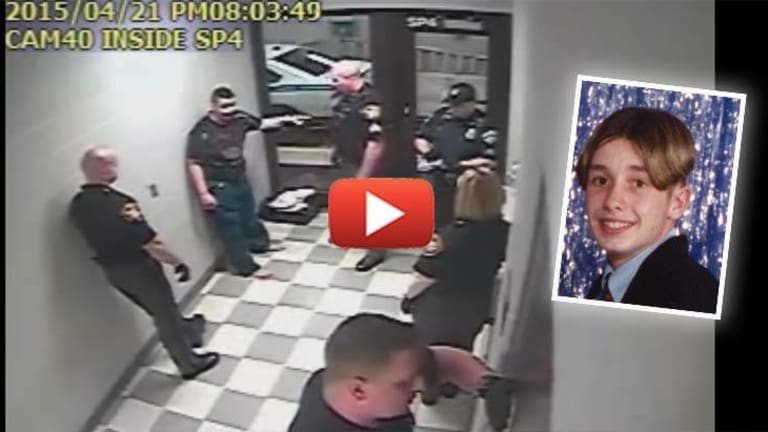 Video Shows Deputy Smash Autistic Man's Skull into the Ground, Killing Him for Joking Around
Graphic surveillance footage was released showing an Ohio deputy kill an autistic man for playing around.
Mount Vernon, OH — A Knox County deputy is now being investigated after he fatally assaulted 33-year old David Dehmann on April 21. Dehmann was autistic and had Tourette's Syndrome, and this was well-known by the local law enforcement.
Mount Vernon police picked up Dehmann on the 21st for being intoxicated but was released within a couple hours after being cleared by a hospital for release. At 7:43pm that same day, he was arrested near a public school for disorderly conduct – harm to self, at which point he was taken to Knox County Jail by MVPD Cpl. Travis Tharp when things took a turn for the worse.
During the booking process, Dehmann would not make it 15 feet into the station before his life would be ended.
The sickening surveillance camera footage of his killing was released last week which showed this deadly act of police rage.
The video starts out showing Dehmann being completely cooperative. He maintained this cooperation throughout the entire process.
He's seen helping the deputies to remove his clothing and his shoes. At one point, he even playfully pats one of the deputies on the back; something a child might do.
Most of the deputies in the room seemingly laugh it off as an innocent autistic man being silly because he's drunk. This was apparent by the lack of restraints on Dehmann.
However, Deputy Chase Wright was not enjoying Dehmann's shenanigans.
As Dehmann is walking past the officers, either drunkenly or playfully, he points his finger at them; never making actual physical contact. When he gets to deputy Wright, he points just like he did to the first, but he is swiftly met with physical retaliation. His hand is slapped and deputy Wright proceeds to slam the autistic and impaired Dehmann to the ground with so much force that when his head hit, it killed him.
Prior to the body slam, Dehmann can be seen with his arm up in what seems to be some sort of physical move. However, his fist is not closed and is fingers are out. He was obviously not trying to punch nor was he in any capacity to cause harm to Wright.
Dehmann's family is left devastated. Dehmann's step-mother Melissa spoke on the tragedy, saying "He might have had his issues in the past and everything, but he didn't deserve to die because of this."
The original statement by the KCSO stated,
"While Dehmann was in the jail's intake area he became aggressive with the jail staff making an aggressive move towards Deputy [Chase] Wright. Mr. Dehmann did attempt to hit Dep. Wright in the face causing Dep. Wright to place Mr. Dehmann into a take down hold, taking him to the ground to get control of him. Once control was gained it was found that Mr. Dehmann had hit his head on the floor during the incident. Mr. Dehmann was transported to KCH ER by Mount Vernon medics for a medical evaluation."
When you watch the video below, it is all too clear who "became aggressive" in this situation.