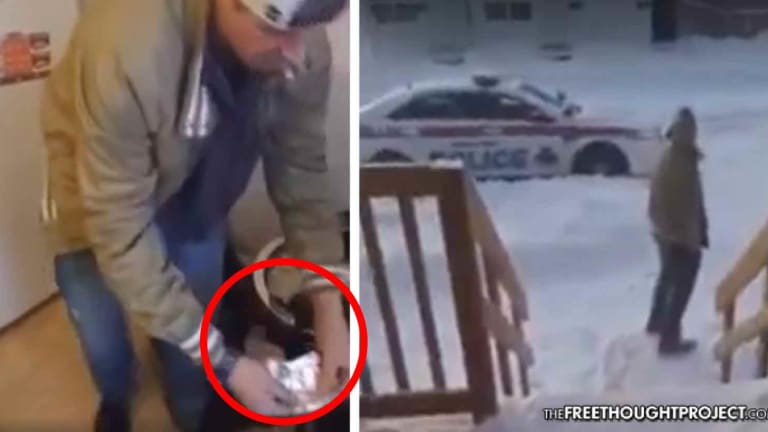 WATCH: Man Buys Bag of Meth And Is Filmed Leaving Crack House in Cop Car
A bizarre video posted online appears to show a police cruiser picking a man up from a house where he has just purchased meth and giving him a ride.
A video was posted online using Facebook Live that appears to show a man buying meth inside of a residential house and then walking outside, and getting into the backseat of a police car that is parked on the side of the street.
The scene is bizarre, to say the least, and it starts with a man who is dressed in plainclothes, dancing about in a kitchen, and exclaiming, "No more cocaine for this little camper!" The video is fixed on the man as another person, who is not shown, places a few "shards" of what appears to be methamphetamine, on the piece of aluminum foil the buyer is holding.
The man continued to babble as he scurried down the stairs to the front door of the house. The cameraman followed him and commented, "He's going out into a f—ing police car. Is that supposed to be one of our friends?"
The man who was getting picked up by his police officer ride was carrying his newly purchased meth in his pocket as he ran out the front door into the snow-covered streets of what appears to be North Bay, Ontario. There was a clearly marked North Bay Police cruiser parked on the side of the street directly in front of the house.
As the man ran towards the car, the cameraman called out, "That's suspect! Suspicious, it looks very suspicious. Have a good day."
"Yes, you really did just see that. That's some f—ed up shit," the man said as he filmed the police car driving away. He then turned the camera to show his own face and said, "Now, if you ask me, that is f—ing definitely some f—ing suspect shit, and I am definitely putting this f—ing video on Facebook and saying, 'Why the f— would you come here in a cop car?'"
The video was posted on Facebook by Anonymous North Bay, along with a comment that said, "All you people that saw the video. Do you think this investigation was done accurate or there's a level of corruption within its police force in North Bay? You guys think this is bad just wait. There's a lot more coming! Many are standing up to expose the corruption!"
In response to a request for comment on the video, North Bay Police Chief Shawn Devine told Bay Today that the department is currently investigating the video.
"Although the contents of the video appear concerning on its surface, I am confident that this one-sided account of what is being alleged is totally inaccurate and a misrepresentation of the facts as they transpired on that day," Devine said.
While the idea that a police officer would provide transportation for a man buying illegal drugs may seem alarming, it is not the first time police have used their badges to act outside of the law. In one recent example, several police officers and a lead prosecutor in Las Vegas were exposed for working with sex traffickers in exchange for money, drugs, and access to prostitutes.
Las Vegas Now reported that the FBI began investigating the allegations in 2014 after they raided the Las Vegas home of music producer and escort service kingpin Jamal Rashid, who is known as Mally Mall. A motion filed in court alleged that officers worked with Rashid to target his competitors in the Las Vegas sex industry.
While the officers used their badges and taxpayer funding to go after other pimps in the area, Mally Mall paid them in cash each month and supplied them with prostitutes. The report even alleges that police officers and the department's lead prosecutor worked with witnesses and coached them in an attempt to pursue even more serious charges against the competitors.