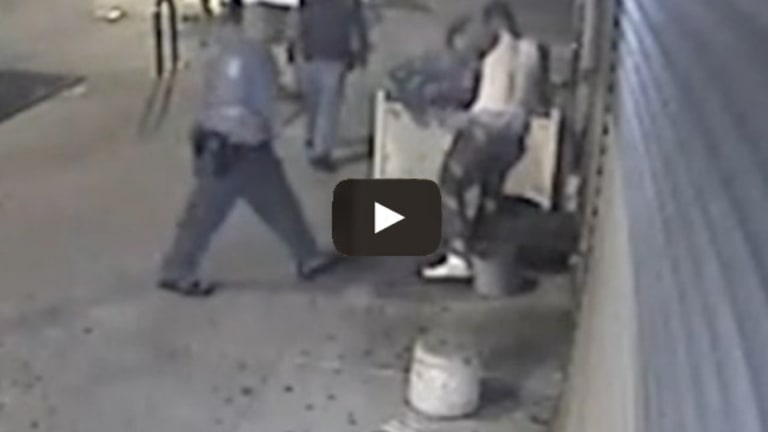 Video Shows NYPD Officer Smash Gun Into Teen's Mouth, Who Had his Hands Up
Brooklyn, NY -- A pair of NYPD officers are currently under investigation for their brutal actions taken against a 16-year-old kid.
Kahreem Tribble was seen by three NYPD officers allegedly looking into a van window. When Tribble saw the officers begin to approach him, he allegedly tossed a small black canvas bag and then ran off.
The officers, one with pistol drawn gave chase and finally caught up with Tribble which is when the video starts.
We see Tribble seemingly realize that he's been caught so he goes to surrender. That is when officer Tyrane Isaac swung and missed his head. Tribble ducks and moved away and then put his hands up.
At this point, while the teen has his hands up, officer David Afanador, catches Tribble and smashes his gun into the teen's mouth; breaking and chipping teeth and causing severe bleeding.
We can see Afanador holster his pistol and then go back to collect the bag that Tribble had thrown, at this point Isaac punches him and then pushes him onto his stomach.
When Afanador gets back with the bag, he hits Tribble in the face with it. The third officer on the scene stands idly by as these two men assault this non-violent teen and then the video ends.
Inside the bag that Tribble threw, were 17 small bags of marijuana. The horror.
Multiple cracked teeth and several bruises later, Tribble pleaded guilty to disorderly conduct and the marijuana possession charges.
According to DNAinfo New York, 
Police Commissioner William Bratton has seen the video and was angered and embarrassed by it, a source said.

"Clearly, Commissioner Bratton has seen the video and reacted very aggressively in the sense of saying there have to be consequences when anything is done the wrong way," said Mayor Bill de Blasio on Tuesday. He said he hadn't personally seen the footage, but was told what it showed.

"I see these videos as another piece of information that we need to use to improve the relationship between police and community and in many cases to heal the relationship between police and community."
At no time should a police officer ever use a pistol to try and subdue a suspect unless they intend to fire it. This is weapons safety 101. Imagine if Afanador's pistol had discharged as he assaulted this young man, and killed him.
Amazingly enough, Afanador is currently suspended, without pay, for his irresponsible and violent actions. Isaac is currently on modified duty and has been stripped of his badge and gun.
According to court records, both of these stellar officers have two other cases filed against them for false arrest and the use of excessive force.
Tribble and family have since sought out council and plan to sue the NYPD. Amy Rameau, attorney for the family told On the Inside that her client was on his way home from a friend's house when officers approached him for no reason.
"My client was minding his own business and they decided to chase him for no reason," she said. "Their account is concocted to justify what they did, to cover their asses, to legitimize their criminal conduct."
Both of the officers face potential criminal charges.