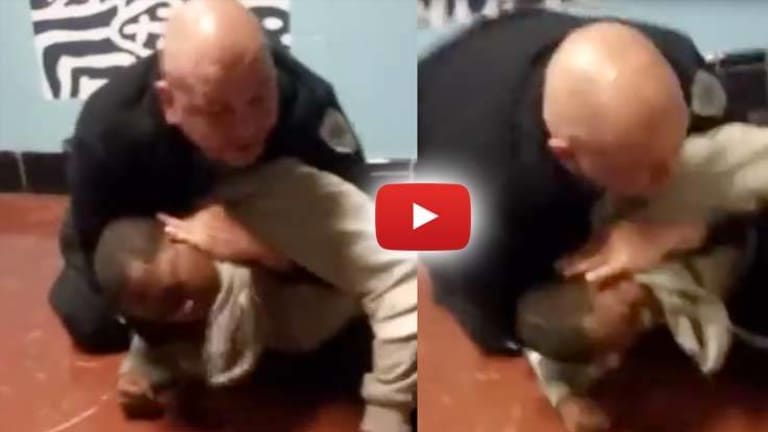 Video Shows School Cop Bulldoze a Small Student -- Police Admit Making a Student Delete Full Video
A dispute over a hall pass ended with a high school student being slammed to the ground by a school cop.
Philadelphia, PA -- In yet another disturbing video of police escalating violence in a public school, a Philadelphia school cop was caught on video in an intense altercation with a student.
According to the Philadelphia Student Union, of which the alleged victim, Brian Burney, is a member, the incident was all over a dispute over using the bathroom.
On Thursday, May 5th, Brian Burney, a member of the Philadelphia Student Union, was assaulted by a school police officer while attempting to use the bathroom at his school, Benjamin Franklin High school. During 9th period Brian attempted to use the the bathrooms on the 4th and 3rd floor but they were both locked. On the 3rd floor he was told by Officer Jeffery Maciocha that he needed a pass. Brian didn't have one. In a moment of frustration, and argument ensued and Brian threw an orange against the wall. The cop retaliated by punching him twice in the face, slamming him down and began choking him. Many students gathered around and yelled at the officer to get off of Brian.
According to the group, one student recorded the interaction but was told to delete it. All that is left is a brief clip showing the officer, who is twice the size of Burney, on top of him employing a full nelson.
Another student at the school began recording Brian, who was in a chokehold. While recording the video, the student was told to delete the footage or be at risk of arrest, the phone was taken from him by a teacher who deleted the footage herself, attempting to erase the documentation of the police brutality that had just occurred in front of a group of students. As another officer arrived to the scene students urged them to let Brian go, who they feared would have an asthma attack and need medical attention. Students at Benjamin Franklin recall that their fears were also rooted in what they thought was going to become another "Eric Gardner situation." This is further complicated by the fact that Benjamin Franklin High School does not have a full time nurse (few neighborhood schools in Philadelphia do).
According to the Union, Burney has suffered a concussion due to this interaction.
The Free Thought Project contacted the School District of Philadelphia to inquire as to whether or not there was an investigation, but our calls have not yet been returned. However, in a statement to Philadelphia magazine, School District of Philadelphia spokesperson Fernando Gallard said that a full investigation is underway, but he says that based on the video footage and preliminary inquiries, the cop didn't do anything wrong.
When the officer told Burney to go back to class, according to Gallard, he didn't listen. The school cop alleges that it was the student who attacked him and that Burney banged his own head against the ground.
When asked about the deleted footage, Gallard confirmed that a school cop made the student delete the video.
Without surveillance footage of the incident, we may never know the true scenario of what actually unfolded. However, if history is any indicator, school cops are unafraid of escalating non-violent situations into violent and dangerous ones.
In only a very short time, this is the third disturbing video to emerge of a school cop enacting violence against a student. Just last month, we reported on the video showing a San Antonio Independent School District police officer body slam a 12-year-old girl. In February, the Free Thought Project brought you the story of the Baltimore School cop who was seen beating a student who had done nothing wrong.
In fact, recent videos have revealed a myriad of school cops attacking unarmed students. In December, Officer Rigo Valles was cleared of any wrongdoing after grabbing a student by the neck and slamming him to the floor. In October, Richland County Deputy Ben Fields was fired after students recorded him flipping over a girl's desk and dragging her across the floor. Oklahoma City Master Sgt. Thomas Jaha was charged with assault and battery in October as well, after repeatedly punching a student in the face for not having a hall pass.
In November, prosecutors agreed to dismiss assault charges against Louisville Metro Police Officer Jonathan Hardin for punching a student in the face if the former officer completes anger management classes. Hardin still faces wanton endangerment, official misconduct, and assault charges for choking another student unconscious in a separate incident five days later. In separate incidents earlier this year, school cops have also been caught attacking an autistic boy, body-slamming a child, and raping nearly two dozen students.
And these are the ones the public knows about -- How many more incidents, just like this one, go unreported and unpunished?
[author title="" image="https://tftpstagingstg.wpengine.com/wp-content/uploads/2016/03/magorist-e1456948757204.jpg"]Matt Agorist is an honorably discharged veteran of the USMC and former intelligence operator directly tasked by the NSA. This prior experience gives him unique insight into the world of government corruption and the American police state. Agorist has been an independent journalist for over a decade and has been featured on mainstream networks around the world. Follow @MattAgorist[/author]