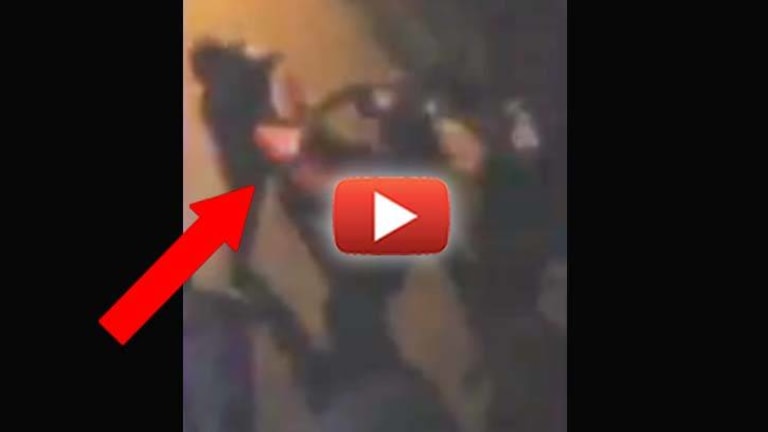 After Video Surfaces, Innocent Man is Exonerated for Assault on an Officer, Cop Pleads Guilty
Despite pleading guilty to assault and being seen on video, this officer will not spend a single day in jail.
Boston, MA -- A violent cop, who beat an innocent man in front of fellow officers, and then charged him with assault, pleaded guilty to battery last week, but only after video of the incident surfaced.
Officer Felix Rivera, Jr. 34, of the Chelsea police department, responded, along with several officers, to a call about a man with a gun on September 26, 2014. The victim, who was 20-years-old at the time, was not the man with a gun.
When multiple officers showed up at the victim's location, he is dragged from the doorway, and the supervisor on the scene told his fellow officers to place the man in protective custody as he appeared to be intoxicated. However, the 'custody' was anything but 'protective.'
According to Rivera's police report, the victim pushed another officer and was taken to the ground, where his multiple injuries would occur. The victim was then arrested and brought to jail.
After three days in jail, the victim was arraigned on Sept. 29, 2014, on charges of assault and battery on a police officer, disorderly conduct, and resisting arrest. He was then released on his own recognizance to face the false charges later that year.
Had an anonymous witness not come forward, this innocent man would have likely been convicted on all charges.
Luckily for the victim, however, the anonymous witness was filming. What the video shows is the exact opposite of what Rivera claimed. The man was placed in handcuffs with no resistance. As he was being escorted from the scene, Rivera began to repeatedly bash in his face and then knocked him to the ground for no reason.
The victim suffered cuts to his face, malalignment of the jaw and still suffers from blurred vision because of this attack.
After the video was shown to prosecutors, all charges were dropped, and Rivera was placed on administrative leave.
An investigation found that none of the other officers hit the victim, and one, in fact, tried to stop Rivera. However, after watching their fellow cop assault an innocent young man and then lie about it, not one of the officers dared to cross the blue line and report their fellow brother.
Their silence in watching an innocent handcuffed man get assaulted and face years in prison for crimes he did not commit, went unpunished.
Rivera, being the upstanding pillar of society that he is, will not see one day in jail either.
According to My Fox Boston:
The DA's office recommended three years of probation and asked for a felony conviction for injuring the victim and violating his civil rights, but a judge continued that charge without a finding. Rivera was ordered to stay away from the victim, take part in an anger management program, as well as undergo a mental health evaluation, completing any treatment recommended to him. If he obliges to all of those conditions, the court will dismiss that charge in two years.

"We maintain that a felony conviction was appropriate to these facts," the district attorney said. "This wasn't police work. It was criminal conduct. It was clear throughout our investigation that Chief Kyes and his team shared that perspective and took this case extremely seriously. There's no room in law enforcement for an officer who would beat a handcuffed suspect or lie in a report."
In September of this year, Rivera was still not fired, but finally resigned from the department without incident. In two years, after the charge is removed from his record, Rivera could very well become a cop again.
This incident shows us two things, one of which is the utter special treatment granted to those with badges.
Rivera attacked an innocent man and betrayed the public trust by trying to put this innocent man in a cage after beating him. Unfortunately, instead of being held to a higher standard because of his position as a peace officer, Rivera is subject to a much lower standard - as is par for the course that is Police State USA.
The second important aspect that we learn from this incident is the importance of filming police encounters. This simple 22-second video made the difference in saving a man from spending an indefinite amount of time behind bars for a crime he never committed.