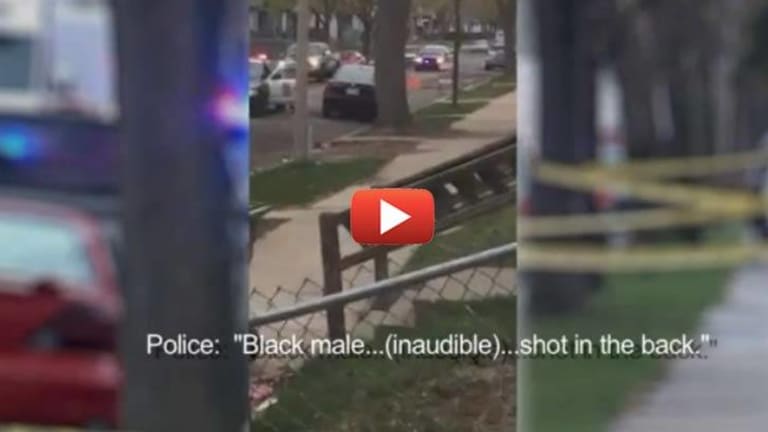 Cellphone Video Surfaces Showing Moments After Police Shot 15-Year-Old Boy in the Back
A community is Milwaukee is demanding details after 15-year old Kevin Cole was shot in the back by a police officer.
Milwaukee, WI--Little details are known about what took place on Friday that led up to the shooting of 15-year old Kevin Cole in the back by a Milwaukee police officer. However, a 30-second video taken by a witness shows some of the aftermath of the tragedy.
The police have not released much information, nor have they allowed Cole's mother to see him. Cole is reportedly in serious, but stable condition at a children's hospital. The incident began after two officers responded to a gunfire location system alert and stopped Cole and his 16-year-old friend. The only information that has been made public is that at some point after he was stopped, Cole was shot in the back. He attempted to flee, but the wounded teen and his friend were both arrested. The police claim that Cole was armed with a semi-automatic handgun.

"I want to see my baby. I want to make sure he's alive, myself," his mother Tamara Cole told Fox6. Despite her son being only 15-years-old, and in serious condition, they are still refusing to allow his family to see him.
His mother maintains that he is a good kid, with no gang ties, and who does not use drugs.

"He doesn't have any type of felonies, never been in trouble, doesn't do drugs," said Tamara Cole.
The injuries and specific details of the condition of the child are currently unknown, and the officer involved is, of course, on a paid vacation.
"He didn't have a gun, he didn't have a gun. My heart is hurting because that's my oldest grandson," Ruthie Cole, Kevin Cole's grandmother, told Fox6.