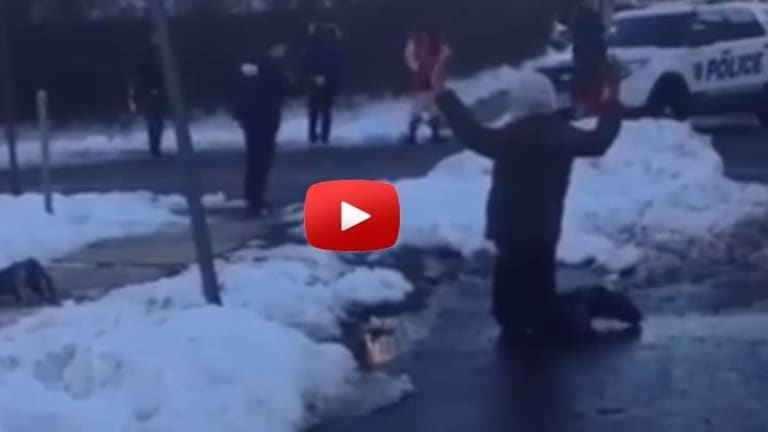 Video Shows New York Cop Holding Teens At Gun Point Over A Snowball Fight
New Rochelle, NY-- A video uploaded to LiveLeak on Saturday shows an officer holding a group of black youth at gun point, allegedly over a snowball fight. The incident reportedly took place on Wednesday after winter storm Juno landed the town a large amount of snowfall.
" width="790" height="444" frameborder="0" allowfullscreen="allowfullscreen">
The footage was originally uploaded online in 2 parts, each 15 seconds long, before being obtained by the New Rochelle publication Talk of the Sound. It is unclear if a longer video exists.
The clip begins after the incident was already underway, so it is unknown what transpired before the good Samaritan began filming, but what she did capture is extremely troubling. It starts with a New Rochelle Police officer drawing his firearm and aiming it at a teenager kneeling in the snow. The officers were reportedly there to investigate a disturbance; a disturbance that is described by the woman filming the encounter as a snowball fight.
The officer is heard saying "Don't f*cking move, guys, don't move." as he approaches with his weapon pointed at one of the youth before quickly frisking him.
"They were having a snowball fight, this group of guys was having a snowball fight and now a cop has a gun on them," the witness laments as she films.
After frisking the teens, they appear to be released and sent on their way.
As of Saturday evening, the New Rochelle police have not responded to any media requests regarding the incident.
Unfortunately, this isn't the first case of police ruining winter fun this season.
Earlier this week we reported on police in New Jersey shutting down young and entrepreneurial high school students who were shoveling snow to earn a little bit of extra money.
At the beginning of January, we reported on Local politicians in cities and towns across America who are implementing laws that will ban children from sledding.
Let's hope this war on winter activities doesn't prove as deadly as the war on drugs.