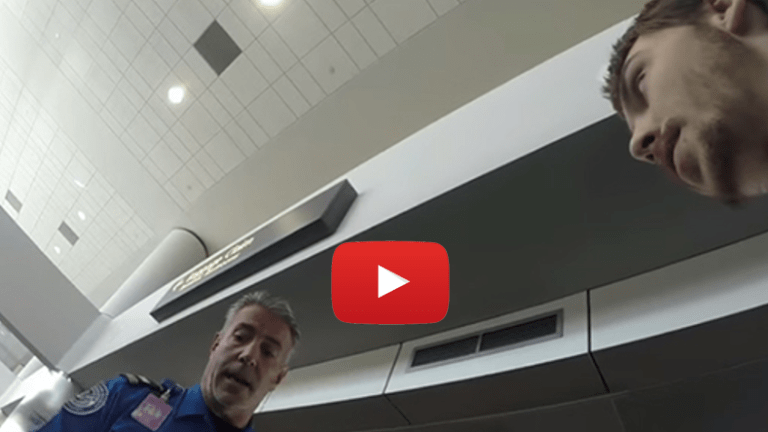 VIDEO: TSA Officers Try to Screen Passenger AFTER his Flight, Threaten Him When He Refuses
A man was recently stopped by TSA agents in the Denver International Airport and asked to undergo additional screening after he had already flown from Minneapolis. The man refused their requests, capturing the encounter on video.
Kahler Nygard says he has assumed based on his treatment at airports in recent years that he has a low-level designation on the United States government's no-fly list, possibly given past contributions to web forums that discuss anti-government sentiments, he said.
Once he stepped off his plane that had just arrived in Denver, Nygard wasapproached by Transportation Security Administration officers who asked him to submit to an additional security screening. He resisted, asked why he was subject to a post-flight search. Nygard had a friend tape his initial screening before the flight, where he was "thoroughly screened" but had no problems.
"If I traveled from point A to point B safely, why does there now need to be more screening before I am allowed to leave? That would lead me to believe that I'm being detained," Nygard said.
The main TSA agent that confronted Nygard said he would call local police if Nygard would not comply.
"I am not going to argue with you. Are you going to comply, or are you not?" the TSA agent said repeatedly.
Nygard, with camera in hand, insisted that a post-flight screening would be a detainment, and that the TSA agents had no right to do so. He eventually walked away from the agents.
Nygard said in asubsequent interviewthat the main agent, who said his name was Alex Grossman, followed him out of the airport, and that there was ultimately no intervention from Denver police.
As of about one year ago, about 48,000 people were on the no-fly list, according to AP. It is the government's policy to neither confirm nor deny that one is on the no-fly list, per security claims. Many assume they are on the list after they are routinely subjected to additional screening at airports, or are barred from flights altogether.
The post-9/11 counterterrorism program has been criticized for a lack of due process based on the opaque way the federal government has handled details of its no-fly list.
Last month, it was reported that the US Justice Department willeasethe no-fly list process in the next six months.
In an August court filing, the US government said it will "endeavor to increase transparency for certain individuals denied boarding who believe they are on the No Fly List."
The policy reversal comes after a federal judgeruled in Junethat it is unconstitutional for those on the list to not have any significant path to challenge their designation as a risk when flying to, from or within the United States.
Thirteen Muslim-American plaintiffs sued the federal government over its no-fly list policies, arguing that the list violates constitutional rights to due process.
"The court concludes international travel is not a mere convenience or luxury in this modern world. Indeed, for many international travel is a necessary aspect of liberties sacred to members of a free society," District Judge Anna Brown, of Oregon, wrote in the June decision.
"Accordingly, on this record the court concludes plaintiffs inclusion on the no-fly list constitutes a significant deprivation of their liberty interests in international travel," Brown said.
Republished with permission from Russia Today