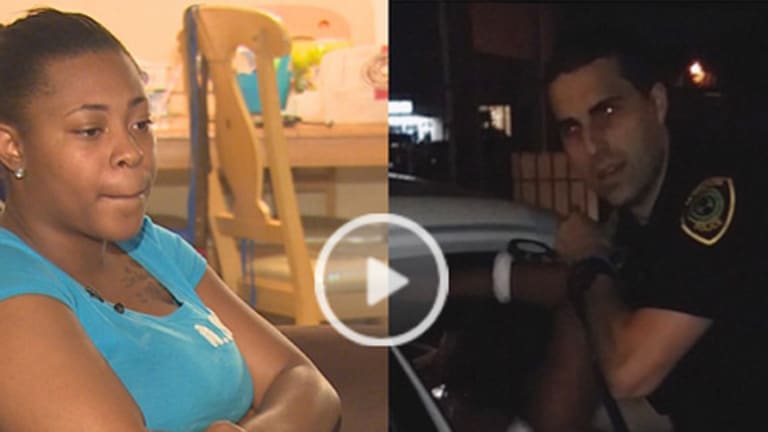 VIDEO: Woman Assaulted and Arrested for Trespassing.....On Her Own Property
May 30, 2014
Cellphone video has captured another ridiculous police assault on an innocent person.
The victim this time is Neykeyia Parker, who was assaulted while trying to put her five year old son Devon into the car to drop him off at a relative's house.
As she is loading up her son she hears, "Get out of the car! You are under arrest!"
When Parker and her friend ask why she is under arrest the officer responds, "for trespassing."
They were in the parking lot of her apartment complex, just 10 feet from the door of her apartment.
Luckily for Parker her friend was filming the attack with her cellphone. But soon enough, the officer becomes upset that he is being filmed and smacked the phone out of her friend's hand.
"You see it on TV but you never think that it will be you," said Parker. "My baby was in the back like the whole time."
In the video the officer's dog appears to be a Siberian Husky, definitely not common for a K-9 unit. The officer also allegedly had no gun, no radio and did not identify himself as an officer; not that it would have justified his actions in the least, however.
According to KHOU,
Parker says this all could very easily been prevented if the officer had ever actually identified himself as a Houston police officer. She says he never did.

"They got people impersonating police officers every day. I did not know who he was. If he would have identified himself that would not have been a problem."

Now her problem is a charge of interfering with a public servant. Her brother, Nelson Brown, does not understand.

"No gun. No radio. just a mangy little dog on a string," said Brown. "Why would I think you were police?"
KHOU contacted HPD to get their side of the story and they refused to comment, only saying that there is an 'internal investigation' looking into this incident.