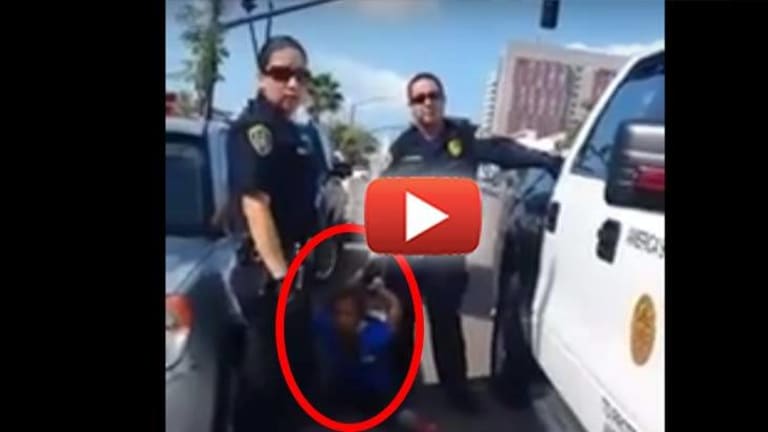 Vigilant Citizen Sees Cops Hurting a Compliant Homeless Woman, So She Stepped In to Stop It
A brave San Diego woman verbally lambasted the police for their heavy-handed tactics in taking down a 100-lb homeless woman. Was she justified in her actions?
San Diego, CA -- Witnessing a police officer lifting a handcuffed woman's arms behind her back, a vigilant citizen began scolding the cops for abusing a restrained person while recording the encounter. As the officer continued to twist the compliant homeless woman's arms behind her back, the woman with the camera refused to back down in the vacant stare of authority.
A woman with the Facebook profile "Mae League" uploaded a video this week of police officers using excessive force to restrain a homeless person sitting on the sidewalk. Mae reportedly made a U-turn after witnessing a cop placing handcuffs on the homeless woman and painfully twisting her arms behind her back. As Mae confronted the officers, they repeatedly attempted to interrupt her.
"Let me tell you something," Mae interjected. "I'm going to stand where I'm going to stand. You have no right to treat people this way."
"You guys don't run shit," Mae continued. "You're not the final authority. And this is your problem: You guys are outta fucking control. You guys are outta control. You can't just go apprehending people like this. You have to have a reason to be putting your hands on people."
As the officers attempted to rationalize their perpetual physical abuse, Mae pointed out, "Look at the position that she's in. You have her in handcuffs already. There's no reason for you to be twisting her arms up like this."
Instead of lowering the restrained woman's arms, the officer continued contorting her extremities as she remained compliant on the ground. Mae observed, "She's in a half-split, and you have her arms behind her back like that, and that's alright? Would you like somebody to do you like that? No, it's not okay."
Earlier this year, Mae filmed another video appearing to depict San Diego police officers pulling out their weapons and arresting a homeless person lying on the sidewalk. While walking to a class at San Diego Community College, Mae began recording the incident in an attempt to hold the officers accountable. Instead of arresting Mae for disturbing the peace or failing to comply with a lawful order, the officers in the video simply backed away.
Was Mae's intervention justified? Let us know in the comments below.