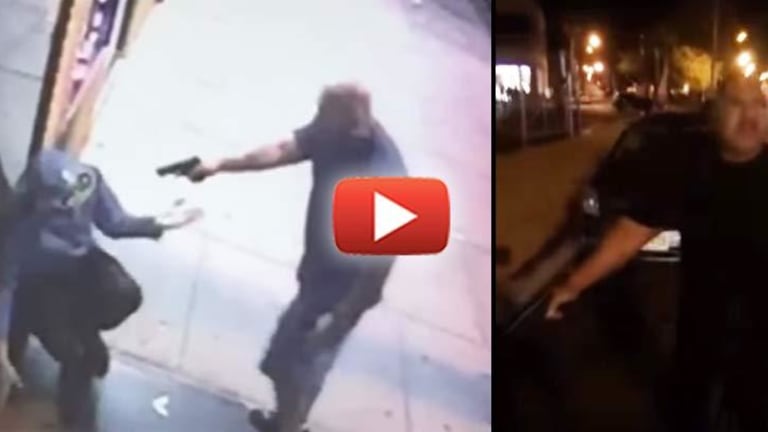 Crazed Cop Caught on Multiple Videos Beating Innocent People and Holding them at Gunpoint
Multiple videos catch a cop as he went on a rampage, throwing people around and pointing his gun at innocent people.
Paterson, NJ — Several videos have recently emerged depicting an off-duty cop attacking innocent people and threatening them with a loaded gun in their faces. Instead of waiting for his fellow officers to locate the suspect, this rogue cop began assaulting innocent residents while refusing to even show his badge.
On September 24, surveillance video captured an off-duty cop approaching a small group of men and immediately hitting one of them in the head with the butt of his gun. As the innocent 20-year-old man drops to the ground with his hands up in the air, the enraged officer kicks him before turning around and walking away.
Moments after beating down the wrong person, the cop was caught on cellphone video crossing the street and detaining another innocent bystander at gunpoint. As the second unarmed man sat on the curb with his hands up, the officer turned to someone off-screen and demanded, "Who the fuck is it?"
As bystanders repeatedly ask the off-duty officer to show his badge, the cop ignores them while pointing his gun at the compliant young man on the curb. After a woman arrives to apparently stop the officer, he immediately begins chasing down another unarmed person. The witness recording the incident follows the cop repeating, "I'm recording him."
"Aw, shut up," the cop responds.
"Yeah. You going to jail," the cameraman replies. "You didn't show no badge!"
The video ends with the officer attempting to grab a third unarmed victim by the throat.
"He was saying, 'I just want to know who fought with my son, who stabbed my son,'" a witness told ABC7. "He was just going crazy."
According to witnesses, the off-duty cop's son had been stabbed in a fight earlier that night a few blocks away. Instead of allowing his fellow officers to investigate the incident, the unidentified cop went rogue attacking anyone standing outside while aiming a gun in their faces.
The 20-year-old man seen being kicked on camera has retained an attorney and plans on filing a complaint with the prosecutor's office and with federal agents. According to police, the officer in the videos remains on active duty.