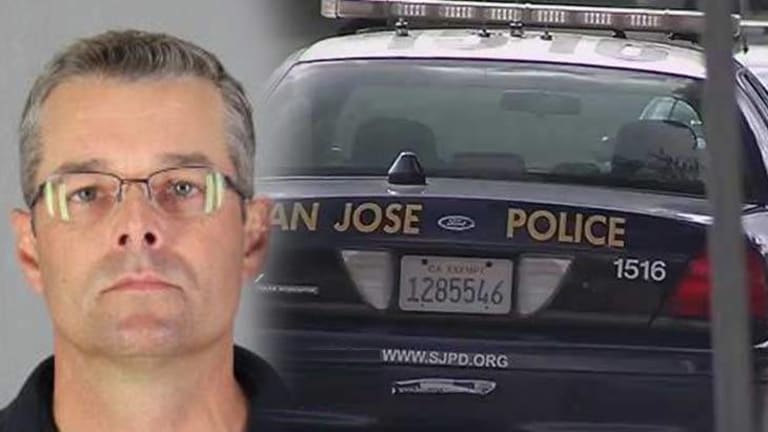 Pervert Cop Chased Woman Down as He Masturbated, Luckily She Got Pictures to Prove It
A vigilant citizen refused to be sexually bullied and pulled out her cellphone as a cop attempted to corner her.
San Jose, CA — While walking down the sidewalk this month, a vigilant citizen pulled out her cellphone and took photos of a perverted police sergeant exposing himself while harassing her. Instead of remaining silent and accepting his abuse, the 39-year-old woman notified the police and showed them the vulgar photographs. A few days after the sergeant was arrested, the San Jose Police Department finally decided to place him on paid administrative leave.
Around 5:15 p.m. on September 4, a 39-year-old woman was walking down the sidewalk when she noticed a man sitting in a parked car. After she realized that the man was exposing himself and masturbating in the car, the woman immediately turned around and began walking the other way. To prevent her from escaping, Sergeant James Rainey Mason allegedly pulled up in front of her and parked his car while continuing to expose himself.
Afraid that Sgt. Mason could attempt to hurt her, the woman started taking pictures of the traumatic incident on her cellphone. When Mason realized what she was doing, he suddenly drove off but not before she took photos of him and his license plate.
After notifying the police, the woman showed the photographs to investigators from the San Mateo Sheriff's Office. By running his license plate and photo through the DMV database, investigators discovered that the pervert in the pictures was a San Jose police sergeant who had been with the department for 13 years. According to San Mateo County District Attorney Steve Wagstaffe, the woman also identified Sgt. Mason through a photo line-up.
On Friday, Sgt. Mason was arrested and charged with misdemeanor counts of indecent exposure and engaging in a lewd act. San Jose police spokesman Albert Morales confirmed on Wednesday that Mason has been placed on paid administrative leave.
"It's an unfortunate situation, and we are disappointed to hear about the allegations against Sgt. Mason," Morales stated.
Mason has posted bail and his arraignment is scheduled for October 14.