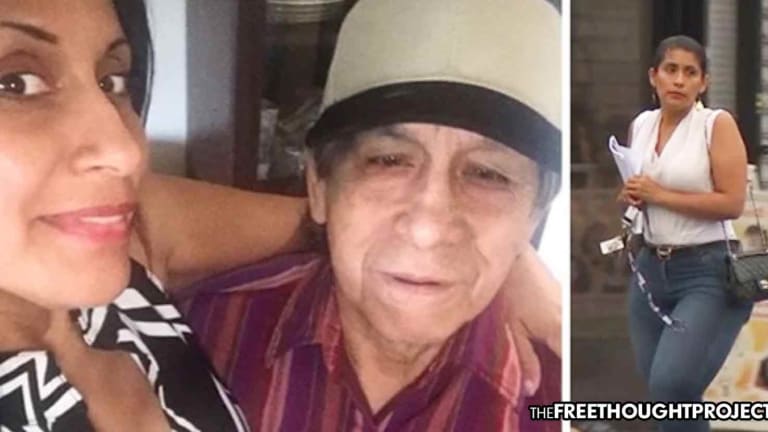 Cops Refused to Investigate Her Father's Murder, So a Nurse Found the Killer Herself
After her father was murdered, the NYPD refused to help her or even investigate, so this vigilante nurse took matters into her own hands and found the killer.
New York, NY — Jennifer Espinal was utterly heartbroken when she learned of the death of her 76-year-old father, who died from injuries consistent with an assault last month. However — perhaps because they were too busy beating the hell out of people for not properly social distancing — the police refused to help find the alleged assailant. Just like that, the service that Espinal is forced to pay for — for her ostensible protection — refused to do its job. So, Espinal, who is a nurse, took it upon herself to find her dad's killer, and find him she did.
Despite authorities claiming that Espinal's father, Jorge Cornejo, had died from a fall, neighbors told her otherwise, claiming he'd been murdered. Espinal's experience as a nurse also made her question the way her father died as his injuries were not consistent with a fall.
"I'm a nurse. I know the difference," Espinal said. "Medically, it didn't make sense to me."
After gathering a few details, she went to the NYPD's 103rd precinct to let them know what the neighbors said and her findings as well. But when she tried to tell the officers what happened, they essentially told her to kick rocks.
"He talked down to us," Espinal, 45, said of the lieutenant. "He declined to make report, and told us to get more evidence."
Espinal, like so many other folks, was denied the help she pays for police to do, so she took matters into her own hands.
"At three in the morning and eight in the morning I was out asking around," said Espinal.
"He made me be a vigilante," she said of the NYPD lieutenant who dismissed her claims, according to the NY Daily News.
During her own investigation — which cops could've done in an hour — Espinal found out from knocking on doors and talking to witnesses that a shirtless man had stormed out of a grocery store and randomly attacked her father before running off during the June 20 attack — a day before Father's Day.
When authorities found Cornejo, he was unconscious and rushed to a hospital but unfortunately, he died 5 days later.
Espinal couldn't understand why a random man would attack her beloved father as he's never harmed anyone.
"It's sad that a man that was so happy was murdered," she said of her beloved father. "He was an amazing man."
Espinal was able to obtain the footage from the grocery store and it captured her father's murderer on video.
The police could no longer ignore her now, so she brought it in and showed them.
"The only question they asked me was why we had not filed a report sooner," she said. "If the lieutenant had done his job the man would have been caught."
"He literally put my life in danger," she said.
According to the Daily News, a spokeswoman for the NYPD said that Espinal's claims of being ignored and talked down to were "under internal review."
"I don't know why (the cops) declined to take a report," Espinal's brother, Jorge Cornejo Jr. said. "Had this lieutenant opened up a case within 72 hours, I have no doubt he would have been captured."
That's the truth too.
Just days after Espinal conducted her own investigation and did the NYPD's work for them, her father's killer was captured.
Daniel Rodriguez, 45, was arrested for Cornejo's murder last week and now faces charges of murder and assault.
"It's not going to bring my dad back, but I am so happy for the support," said Espinal, who had a New York Mets-themed picnic in celebration of her father's life. "Everyone is going to be wearing Mets hats."
In regard to the detective who refused to do his job and investigate her father's murder, Espinal had some strong words.
"He didn't even care, my dad to him was nothing, but to us, my dad was everything, he mattered," she said.