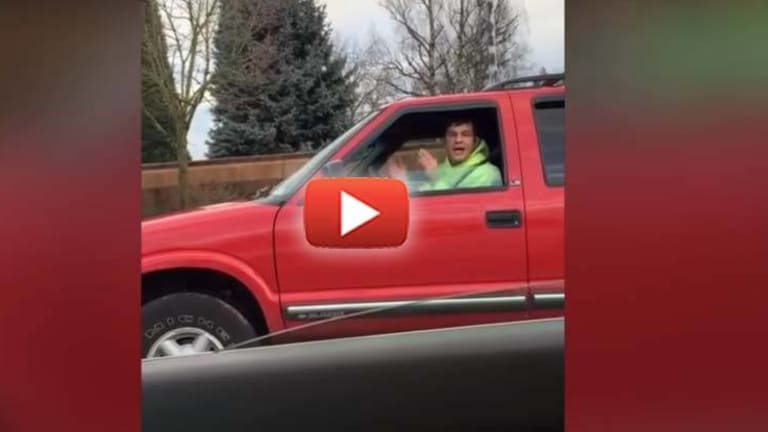 Viral Road Rage Video Proves Plumbers are Held More Accountable than Racist Killer Cops
A plumber from Beaverton, Oregon who shouted profane racial slurs at a Jordanian-American woman was fired hours after video of the event was brought to the attention of his employer. At about the same time this plumber lost his job for vulgar things he had done on his own time, a police officer in nearby Portland who had killed a black man without legal justification six years ago was formally reinstated with full back pay.
Apart from geographic proximity, these developments are not connected – yet they do underscore the fact that private employees face a much higher standard of accountability than police officers.
"I did something to obviously set him off," Susan Khalaf, who recorded the road rage episode, told CBS affiliate KVAL. Prior to the exchange caught on camera, according to Khalaf, the driver directed obscene gestures at her and screamed, "You immigrant, go back to your country." In the portion that was recorded, he barrages the American-born woman of Arab ancestry with vulgar racist epithets more frequently employed against Latinos.
After learning that Wolcott Plumbing, the man's employer, had fired him, Khalaf said that she hoped "he will change his ways."
"I am sorry that he lost his job, but he will learn from it and move on," she predicted.
The only lesson learned by Officer Ron Frashour following his unjustified killing of Aaron Campbell was that "qualified immunity" covers a multitude of sins – including homicide.
Frashour was one of several Portland officers who responded to a frantic call from Campbell's girlfriend in January 2010. Campbell's brother had died a few hours earlier, and his girlfriend was worried that he was suicidal. When police arrived, Campbell – who was an emotional mess, but cooperative – emerged from the apartment with his hands on his head.
Standing at a substantial distance from the police, Campbell had his back to the officers and his hands in the air when one officer fired several bean bag rounds at him. Another unleashed a police dog. Those actions were taken, according to the officers, because Campbell "wasn't following commands." Understandably fearful for his own safety, Campbell started to run – only to be brought down by a single shot fired into his back from an AR-15 wielded by Officer Frashour.
A few weeks after the killing a grand jury – which, in keeping with the dictates of Blue Privilege, was presented with exculpatory "expert testimony" by a prosecutor determined to exonerate Frashour – declined to indict the officer. During labor arbitration hearings in 2012, Portland Police Chief Mike Reese admitted that Frashour didn't have the legal right to shoot Campbell. However, the arbitrator ruled in favor of Frashour and ordered the Portland Police Bureau to reinstate him with full back pay – which made the killer cop Portland's fourth-highest-paid employee in 2012, despite the fact that he didn't return to the force until the beginning of this year – four days prior to the road rage incident involving Susan Khalaf.
Last summer, the same Portland Police Bureau – which "serves" one of the most progressive cities in the western United States – paid a $5,000 settlement and erased the disciplinary record of Captain Mark Kruger, who had been suspended for 80 hours after an internal investigation concluded he had brought "discredit and disgrace" on the agency. Kruger's offense was to create a shrine – what he called an ehrenbaum, or "honor tree" – in memory of four Nazi military officers in a city park. He was also accused of retaliating against a female lieutenant who was involved in the investigation.
Kruger garbed himself in a Nazi uniform at the time he erected the tribute to four Nazi officers – Erich Barfenfager, who joined the Brownshirts in 1933 and rose to become one of the highest-ranking generals in the German Army; Michael Wittman, a tank commander in the Waffen SS; Walter Nowotny, a Luftwaffe pilot; and General Harald von Hirschfeld, who was involved in the notorious Cephalonia Massacre in which thousands of Italian POWs were slaughtered.
Kruger hastily removed the plaques honoring SS officers after he was hit with lawsuits alleging the use of excessive force during antiwar protests in 2002 and 2005. Tracy Reeve, who as an assistant city attorney represented the Nazi-loving Captain Kruger in his federal lawsuit, is now Portland's City Attorney.
There are more severe professional consequences for a plumber who screams racist epithets on his own time, than for a police officer who disgraces his department by honoring Nazis – or one who kills an innocent, unarmed man.