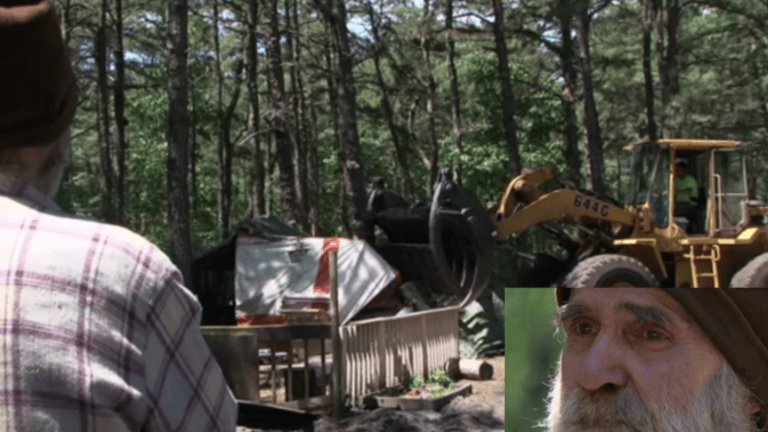 The War on the Right To Exist Wages on As Cops Clear Largest Homeless Camp in the US
Authorities in San Jose have cleared out "The Jungle," considered one of the largest homeless encampments in the nation, as high rents and tough economic times have hit many in California's Silicon Valley, a region where the tech industry dominates.
Municipal workers, including police and social services, as well as animal control and construction contractors moved into the camp on Thursday, according to reports, to help clear out the creek-side camp where as many as 300 people lived in tents and other makeshift shelters.
Residents of The Jungle were told Monday that they had to vacate the area by Thursday or face arrest for trespassing, the Associated Press reported. Officials said many residents left the camp, just minutes from downtown San Jose, upon the initial notice. How many were left after Monday was yet undetermined.
"It's like a big family," Yolanda Gutierrez, a former Jungle resident, told AFP. "We all looked out for each other, especially the females that are single. We all had our own little group that we would check up on each other."
"But unfortunately what they just did to us today it's like they split the family apart," she added.
Another former Jungle resident, Andrew Costa, said homelessness could happen to anyone who can't catch a break.
"They are part of the society that are discarded. They're your son who doesn't get a job, they're your daughter that takes too much drugs and is not understood, they're the ones that didn't want to go to school," he told AFP.
"They're run-away people."
San Jose homelessness response manager Ray Bramson told AP the city decided to clear the area based on increasing security issues, public health and pollution issues, as well as lowering winter temperatures.
"We have been rehousing for the last 18 months," San Jose city spokesman David Vossbrink told AFP, adding that about 140 people were placed in shelters, hotels and motels. Another 60 were given offers of rent subsidies but have yet to find a place to live, he added.
Vossbrink acknowledged that not all Jungle residents could count on the city to place them in new homes, as the city has only budgeted $10 million over the next three years for the homeless.
There were no reports of violence or people refusing to vacate the area, AP reported.
Silicon Valley is known as the heart of the booming tech industry and the venture capital that accompanies it. Though with increased affluence, along with the 2008 global financial crisis, came high rents and a lack of unskilled jobs.
Homeless advocates pointed to these conditions, especially the lack of affordable housing, as reasons why the city must rethink its housing policies.
"It is a disgrace," housing advocate Sandy Perry told AFP. "It's an example of the total failure of our city's housing policy as well as our state and our nation."
Scott Wagers, a pastor and leader of a homeless support organization, said the camp materialized after a previous slum in San Jose was cleared two years ago.
"The people are just going to move to another place that will become another jungle," he told AFP.
The Jungle was previously cleared in May 2012, according to AFP, when 150 people were displaced.
The city said it has spent more than $4 million on the encampment in the last year and a half.
The city now plans to find any belongings or personal identification it can within the camp, and then try to find the rightful owner.
City officials told AP it will, over the next few weeks, send trash trucks and bulldozers to clear waste in the camp, excavate underground shelters that were established, work to restore Coyote Creek and install a reinforced fence to keep settlers out.
Republished with permission from Russia Today