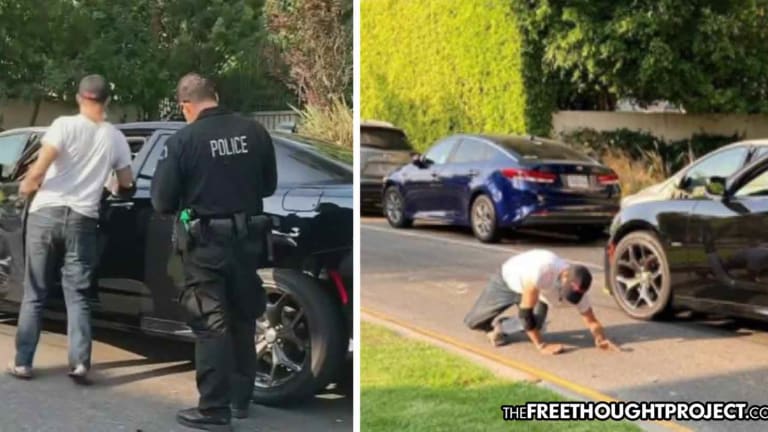 WATCH: Blatantly Wasted Man Hits 3 Cars, Gets Let Go By Cops After Saying 'My Uncle is a Congressman'
A visibly intoxicated man crashed into 3 cars, and was falling all over the place as cops "investigated" and was subsequently allowed to simply walk away.
Los Angeles, CA — Over the weekend, TFTP reported on the police union's use of 'get out of jail free' cards which are handed out to the friends and family of cops and the politically connected, allowing them to escape charges for crimes other citizens have been killed over. While we do not know if the man in the video had one of these cards, he was given the special treatment — and likely much more — of one of these cardholders.
As a video that was posted to Instagram shows, the man appeared visibly intoxicated, slurring his words, falling over, unable to even stand up, and had crashed into multiple parked cars. Despite all of these factors, when police showed up, they let him go. Apparently, he told them that his "uncle is a congressman."
The footage, first posted on Instagram by witness Katy Wicker, infuriated residents who claim the responding officers simply allowed this man, who could've killed someone and who was visibly DUI, who crashed into three cars, to walk away after the crash.
"Last Saturday, around 4 p.m., a drunk driver hit three cars on the street in front of our house. He was clearly wasted (he kept falling over) and belligerent. He kept yelling at everyone – especially the cops, firefighters, and tow truck drivers. He claimed his uncle was a congressman," Wicker wrote.
Whether or not his uncle actually is a congressman is unclear. However, what is perfectly clear is that the cops treated him like he was royalty and allowed him to leave the scene.
"About an hour later, once his car was towed, the cops just let him go. They never breathalyzed him (we asked them if they did, they said no). At the end of the video you'll see several witnesses yelling at the cops, asking why they didn't arrest him. They didn't respond and just drove off," Wicker said.
Wicker, a resident in the area, told CBS Los Angeles that she started recording the aftermath around 4 p.m. Footage shows the man stepping out of his damaged Dodge Charger and falling over into the grassy median.
"He was completely intoxicated the entire time," she told the station. "It was apparent to everyone that was there. He was yelling at everyone. He was yelling aggressive comments at police officers, at the ambulance that was there, at the tow truck driver, and he literally stumbled away."
"He could have killed someone," Wicker added. "He could have injured people. He could have done a lot more damage than he did."
She continues, "We asked them why they didn't provide him a breathalyzer test, and they couldn't give us any answers."
As the video shows, when the cops let the man go, the man could barely stand and in fact, fell down several times — in front of the cops — as they allowed him to walk, or rather, stumble off. The officers essentially assisted the man — making them accessories — in the crime of hit and run. Literally.
After the video began to go viral online, the LAPD received massive backlash and were forced to respond by claiming they are now investigating the responding officers.
We won't be holding our breath waiting for the results of that "investigation."
TFTP would be remiss if we did not point out the glaring differences in this video, compared to others involving minorities. This man clearly presented a danger to those around him, damaging multiple cars and he was allowed to simply walk away.
If we look at the case of Rayshard Brooks, this double standard becomes infuriating. Unlike the man in the video above, Brooks had harmed no one and was simply asleep in his vehicle. According to the Georgia Bureau of Investigation, Atlanta police responded to a call of a man asleep in the Wendy's drive-thru.
When police showed up, after interrogating Brooks, Brooks simply tried to walk away like the man in the video above. Instead of allowing him to walk away, however, Brooks was killed.
Also, Ronell Foster, 33, had harmed no one, was not committing a crime and was simply riding his bicycle in downtown Vallejo. However, because he didn't have the proper light on his bicycle, he was pursued by Vallejo police officer Ryan McMahon, who told investigators that he stopped Foster in order to "educate the public on the dangers that this person was creating for himself and the traffic on Sonoma Boulevard."
When Foster tried to go home, like the man in the video was allowed to do, McMahon pursued him, tackled him, beat him with his flashlight, and then shot him in the back of the head, execution style. Unlike the man claiming to be the nephew of a Congressman, Foster did not destroy anyone's property and presented a danger to no one.