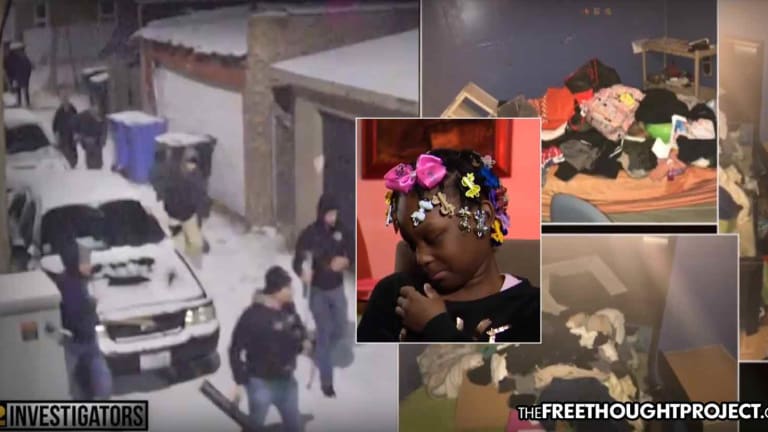 WATCH: 17 Cops Raid 4yo Boy's Birthday Party 'by Mistake,' Terrorize Family, Destroy Their Home
An innocent family was terrorized, threatened, and mistreated during their 4-year-old's birthday because police raided the wrong home looking for drugs.
Chicago, IL — When Samari Boswell, 7, was celebrating her younger brother, TJ Broswell's 4th birthday last month, she never expected to see 17 heavily armed cops come smashing through her door. However, thanks to a severe case of police incompetence, that is exactly what happened. And now, a family is left traumatized and frightened of the very people they are told are there to protect them.
The incident, which happened on Sunday Feb. 10, was captured on nearby surveillance footage and showed at least 17 cops holding battering rams, sledge hammers, and with guns drawn. They were raiding the little boy's birthday party based entirely on bad information and over alleged MDMA pills—17 cops for some ecstasy.
The innocent family said when cops busted down the door, they thought they were being robbed. Cops came in, pointed guns at everyone, including tiny children and began demanding everyone get down.
"They were saying F words and stuff," Samari said. "It was horrible."
Another relative explained to CBS 2 that when police came in, they had no problem throwing innocent people around, including children and terrorizing them with threats and guns.
"They manhandled me it took two officers to get the cuffs on me," Kiqiana Jackson said.
Jackson asked to see the warrant and was denied before being thrown outside in the freezing sub-zero temperatures.
"I wanted to know why were they there. Who are you? Show us a search warrant," Jackson said. "I asked for a search warrant, I guess, one too many times. And [the officer] was like, 'Arrest her.'"
"I thought they was going to shoot me, and my brother, and everybody else," Samari said, who told reporters she was playing 'duck, duck, goose' as the armed assailants ransacked her home.
"We are people, we have rights, we deserve to be respected," Jackson added.
According to CBS 2, Jackson, a public school employee who works with children with disabilities, said she was scared, got angry, and repeatedly told officers she had a right to see the search warrant. She was denied, even though Chicago Police's own search warrant policy says warrants need to be turned over "promptly."
According to the family, the warrant wasn't shown to them until after the entire family had been terrorized, their apartment trashed and their TV smashed on the ground. The officers even smashed the 4-year-old's cake and threw it on the floor.
"There it was in the corner, on the floor, with the number 4 stuck in it," Jackson said.
That's when police realized their terroristic home invasion, looking for an illegal substance, was entirely based on wrong information.
After finding out that the officers acted on bad information and terrorized their innocent children, the family has since hired an attorney to represent them.
"As long as they continue to do that, there will never be trust between citizens and the Chicago Police Department," said Al Hofeld Jr., the attorney who represents the family.
According to Hofeld, the department has a history of carelessly gathering information for search warrants and raids innocent families. Showing just how negligent the cops were in carrying out this search warrant, Hofeld conducted a search for the suspect himself and found him in just 30 seconds.
"My law firm took 30 seconds to do a person search and came up with [the suspect's] most current address, which is on 83rd street nowhere near the property," Hofeld Jr. said.
Hardly an isolated incident, this is the fourth search warrant case Hofeld Jr. has handled involving allegations that police raided the wrong homes and pointed guns at innocent people, including children, according to CBS 2.
In fact, TFTP has reported on several of them. Just last August, two little boys who used to look up to police were traumatized and their view of police tarnished after a SWAT team burst into their home at night and held the entire family at gunpoint, including the children. The family was innocent and just like the above case, the raid was on the wrong home.
Those two children now suffer from PTSD and have to attend counseling.
It's not just children either, Chicago cops have raided the wrong homes of elderly women too.
Elizabeth Harrison, 82, used to tell kids to "respect the law." Then on March 17, 2016, a gang of Chicago cops raided her home, busting down the door and holding her at gunpoint. Because of this trauma, Harrison had to be rushed to the hospital.
The great-grandmother said police must have had the wrong house, but they insisted it was the correct address based on their "intelligence." No one believed her when she said she was a widow and lived alone. Harrison was made to sit in a chair, overwhelmed with anxiety, while they searched her home for non-existent drugs. The stress was so overwhelming, Harrison was hospitalized.
Despite this history of dangerous terrorism from raiding wrong homes, it appears Chicago cops aren't trying to get any better at their jobs and remain entirely unapologetic.
"Police officers are supposed to protect and serve, not talk to us like we're nothing, like we're beneath them," Jackson said. "And it was really hurtful, really hurtful."