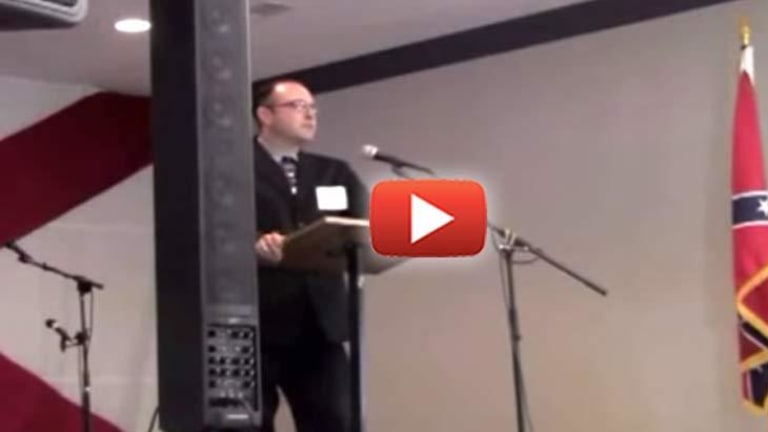 Shock Video: Police Lieutenant Addresses White Supremacy Group of Which He's a Member
Two police lieutenants in Alabama have been suspended pending an investigation after being ousted as members of a hate group.
Anniston, AL (RT) -- The city of Anniston, Alabama has placed two police officers on administrative leave over allegations that they belong to a hate group.
The Southern Poverty Law Center (SPLC), a left-wing legal advocacy organization, posted an article on its Hatewatch blog that alleges Lt. Josh Doggrell and Lt. Wayne Brown have ties to the League of the South (LOS), an organization that the SPLC has deemed as "neo-Confederate." The allegations are being investigated by the City of Anniston.
The SPLC website explains that neo-Confederacy is "strongly nativist and advocating measures to end immigration." It goes on to say "neo-Confederacy claims to pursue Christianity and heritage and other supposedly fundamental values that modern Americans are seen to have abandoned," and it exhibits "an understanding of race that favors segregation and suggests white supremacy."
In a statement made on Friday afternoon, the city announced that the two officers were being placed on leave.
"After being made aware of the Wednesday, June 17 article by the SPLC, the City of Anniston is taking the allegations made against Lt. Brown and Lt. Doggrell very seriously and have placed both officers on administrative leave," the statement reads.
The SPLC article mostly concerns Doggrell's ties to the LOS, with the only mention of Brown concerning him joining Doggrell at a conference.
Aziza Jackson, a spokeswoman for the City of Anniston, said that she didn't know whether the two were placed on paid or unpaid administrative leave.
Doggrell said he told police officials during an interview that "I'm not going to sell out my position with the League, as something I believe in strongly. If it came down to it, I'd choose the League,"reportedAL.com
To add insult to injury, the interviewing police chief responded, "We pretty much think like you do."
AL.com reported that it's not clear who the police chief in question was or when this conversation took place.
From the League of the South's website:

Q: Why does the LS seek to protect the Anglo-Celtic core population and culture of the historic South?

A: The Anglo-Celtic peoples settled the South and gave it its dominate culture and civilisation. We believe that the advancement of Anglo-Celtic culture and civilisation is vital in order to preserve our region as we know it. Should this core be destroyed or displaced the South would be made over in an alien image - unfamiliar and inhospitable to our children and grandchildren. We, as Anglo-Celtic Southerners, have a duty to protect that which our ancestors bequeathed to us. If we do not promote our interests then no one will do it for us.