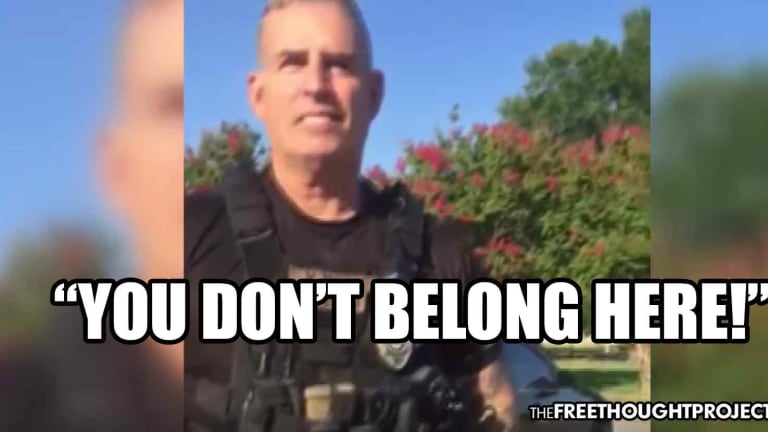 WATCH: Bully Cop Tells Group of Black Men 'I Know Who My People Are' and 'You Don't Belong in My City'
A bully cop has been fired after stalking an innocent group of young black men, threatening them, and telling them they don't belong in his city.
England, AR — An Arkansas cop was fired this week — for the second time in just a year —after a video was uploaded to Facebook showing him tell a group of innocent black men that they "don't belong" in his city.
The video, which was uploaded Tuesday, was filmed by England resident Demarcus Bunch on July 21. Bunch explained that when he and his cousin attempted to make a music video, officer Michael Moore began following and harassing them.
"With all the racial discrimination that's going on across the world, will I be another victim? Will I be a statistic?" Bunch explained of how he felt during the stalking.
Bunch said that the officer followed them nearly all day and eventually parked and just stared at them.
"I was wondering, 'Why is he doing this," Bunch said. "We're in small England. Everybody knows everybody."
After Bunch and the other young men on his filming crew moved to the final shooting location for the video, that's when they felt compelled to ask why they were being harassed.
"He slowed down again just to see what we were doing," Bunch said. "That's when my cousin and I said, 'Let's go let him know who we are and what we are doing.'"
The two innocent men, who'd done absolutely nothing wrong, then walked over to Moore to ask him why he was stalking them.
Bunch explained that his uncle is also a police officer named Dale Scribner in an unsuccessful attempt to break the ice. The conversation went as follows.
Ofc. Moore: "I'm Mike Moore."
Bunch: "We are Dale Scribner's nephews."
Scribner: "We are here just trying to record a video."
Ofc. Moore: "Okay, and?"
Bunch: "We just noticed you've been following us everywhere."
Ofc. Moore: Are you recording right now?"
Bunch: "Yeah, we are."
Ofc. Moore: "You know why? Because you don't belong in my city."
Bunch: "We're from here."
Ofc. Moore: "But you understand, I know who my people are, right, who belongs here and who doesn't? We've got gang wars going on, we've got all kinds of stuff. I come from the big city where this stuff is small, okay? So, that's cool. Do your thing."
Bunch: "You said we don't belong in your city, though?"
Ofc. Moore: "Can I say something? I have never seen you here before, and I know almost everybody here."
Bunch: "I grew up here, in 101. I graduated from England High."
Ofc. Moore: "Well good for you, my name is Mike Moore. I'm not from here. Step away from my car, I'm about to get my dog out."
After threatening the men, Moore then took his K9 out for several minutes before putting him back in.
Luckily, the innocent men escaped without being mauled or otherwise kidnapped and arrested by this man who was clearly in the wrong.
After the incident, the young men immediately went to fill out a complaint and showed the department the video.
"We wanted to give the chief the opportunity to perform her investigation," Kevin Scribner, the uncle of the two young men said. "So we held the video close to our chest and waited for her to provide a response."
However, more than two weeks passed and they hadn't heard anything back from the department, so on Tuesday they released the video publicly. It quickly went viral.
Only after the video was released publicly did the department fire Moore.
"Personally, I feel like the Chief should be held accountable as well for allowing him to even continue to work as long as he's worked after showing of the video," Bunch said.
During an investigation by local news agency THV11, a reporter discovered that Moore had recently just been fired from another department in Lonoke County.
Lonoke County Sheriff John Staley said Moore was terminated from his position at the sheriff's office prior to his employment at the England Police Department, according to THV11.
Staley then made sure to tell THV11 that Moore was definitely not fired for being racist. Instead noting that he was merely antisocial.
"It is not a race issue, it is a personality issue. He was terminated from Lonoke County Sheriff's Office because he couldn't get along with other officers and other agencies," Staley said.
After being fired for being antisocial, the England police department had no problem hiring this gypsy cop. Rest assured, Moore—who has once again become a gypsy cop—will be hired on elsewhere and likely be caught conducting himself in a similar manner. Hopefully, the sake of the citizens in whatever town he's hired in, he doesn't kill anyone.