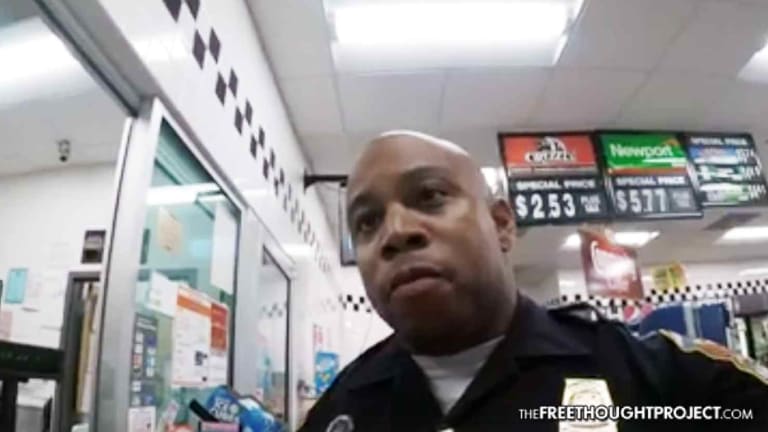 WATCH: Cop On Power Trip Becomes Internet Famous For Arresting Woman Who Said 'Ass'
A radio DJ was harassed and eventually arrested by a power tripping cop who violated her freedom of speech and arrested her for saying "Sh*t" and "Ass" in public.
Birmingham, AL — "If you say it one more time, you gonna go to jail," said Alabama Highway Patrolman George Thomas to a celebrated local radio personality. Amie Scott Ceo, a guest panelist on the show "Vital" at 95.7 Jamz, was on her way to the station for weekly Sunday broadcast when she took a moment to pull an officer's leg about his driving habits.
Here's what she said happened;
Let me start with I AM NOT AGAINST OFFICERS OF THE LAW, so whenever I get a chance to joke with one, I try to. So last night I was on Hwy 280 approaching a yield sign on Hwy 119 when I noticed a Alabama State Trooper shoot pass me, he had the right of way. I wanted some breath mints so when I saw him pull into the Chevron, I pulled in behind him, he pulled up to a pump and I parked in a parking space in front of the store, I'm not going to lie, when I noticed that the officer was Black, I just knew that he would have a sense of humor when I said "You trying to get there aint it?!?! You shot across like a bullet and almost hit my car" laughing as usual. He didn't almost hit my car, it was a joke..........VIDEO NUMBER 1........
Officer Thomas did not apparently like being "accused of breaking the law," and confronted Ceo at the gas station where the two had parked their cars. Thomas was pumping gas in his cruiser, while Ceo was stopping to make a purchase. Possibly sensing the encounter was a bit more serious, the seasoned DJ had the wherewithal to begin recording — because photography is not a crime.
The altercation seemed uneventful until Ceo ended the conversation with a bit more of her characteristically sarcastic sense of humor. "I hope you have a better day. And have a happy Fathers Day...with your rude ass," she said slightly under her breath but loud enough for the officer to hear.
Officer Thomas was walking away but turned around to pursue his suspect now accused of describing him as a donkey. He told her she was breaking the law by cussing in public.
"I can say, ass, I can say ass," she responded as the officer verbally reprimanded her. Thomas, who apparently couldn't let it go, even followed her into the convenience store to continue to engage the woman.
Ceo attempted to downplay the conflict by saying she was "playing with" Thomas. "I was playing with you," she said over and over again. "I wasn't trying to cause a scene and have you get upset," she implored.
Thomas even attempted to get her to "turn around" and place her in handcuffs. Ceo responded by saying she wouldn't comply because she didn't do anything wrong. All the while, she walked to get her breath mints, approached the cashier, and attempted to pay.
"Now, you're harassing me, I was playing with you," she said. "Why are you bothering me," asked the woman.
Thomas told her, "You need to pay for what you're paying and you need to leave." The radio host ended the conversation by telling him he takes his job too seriously and needs to calm down. She added, "I don't have any problems with anyone but you." She even said she was friends with many officers in town.
Officer Thomas' attempts to intimidate Ceo, failed miserably. Not only was he not able to place her in handcuffs, but she reminded him, "At this point. You can leave me alone." "Could you leave me alone at this point," she asked repeatedly. But that wasn't the end of the story.
If you listen closely, you can hear Ceo say, "shit", when she thought the confrontation was over. That little four letter word got her arrested and charged with disorderly conduct and resisting arrest. Her car was towed and she had to pay $500 to bond out of jail. Here's what she said happened after she let the s-word slip in Alabama.
So if you all noticed at the end of the last video, I made a mistake and said "shit".....I wasn't trying to, cause if you notice in the last video, my punk ass didn't say "ass" again because I KNEW better, ya feel me?! A) I didn't have that type of bond money that I had to pay to get out of jail (Oh yea, I was arrested for Disorderly Conduct AND resisting arrest) AND he had my vehicle towed to a tow yard so far away that I had to pay $297.50 to get it out and the tow truck driver said he didn't have to have it towed that damn far out. So a bitch is out of $500. I can't get over this. Well, a bitch fucked up and said "shit" out of mere frustration.......
We, at The Free Thought Project wonder if her use of the f-word in a public forum (Facebook) will get her more charges. The audacious behavior of the police officer whose driving speed was questioned by a member of the public, arguably led to the charges.
It appears, from the video, he didn't like to be called out for "almost hitting" Ceo. Her backing down from her comments seemed to be a way to minimize the conflict and walk away. But why should she have to choose her words wisely around police officers?
Ceo, admittedly, makes a habit of flirting with police officers in a friendly way of being social. She uploaded another video to her Facebook page where she asked an officer if she could "have a ride." The other officer, who wasn't Thomas, knew she was joking and comprehended the sexual innuendo. The two had a chuckle together. But after being kidnapped, caged, and extorted, her legal troubles are now no laughing matter.
The radio host admits her arrest has now caused her to second guess being so friendly with police. She wrote, "I hate to even advise people....When you see police officers, look straight ahead, don't speak, don't joke, don't even ask them about their day. Is this the way we should treat officers?"
While it's crystal clear the Alabama State Highway Patrol has plenty of time on its hands to arrest flirtatious DJ's for letting a few cuss words slip, they have no time or money to process the over 2,000 rape kits currently sitting in storage. Go figure.