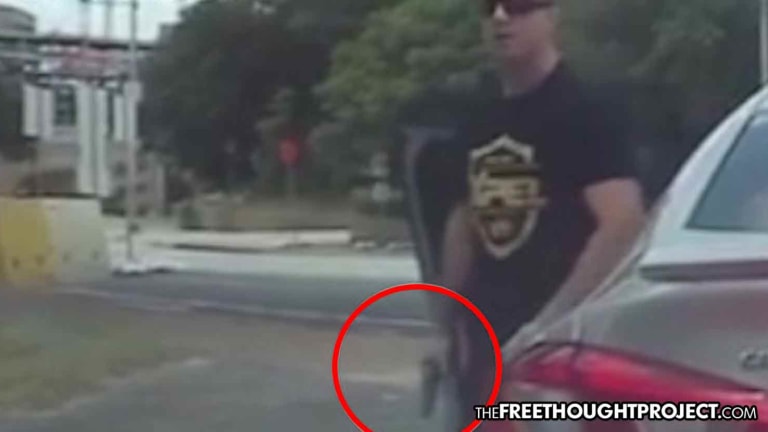 WATCH: Citizen Catches Road Raging Cop Drive 100mph, Causing Crash, Pulling Gun On Driver
A road raging cop was caught driving over 100 mph, endangering countless motorists before causing an accident and pulling a gun on a driver.
Austin, TX — Road rage, in the land of the free, is an unfortunate reality. For some reason, humans fail to see each other as humans from behind the wheel and are extremely quick to violence over the other person's driving. As TFTP reports on a regular basis, police officers are caught in fits of road rage all the time. When a police officer is involved, the situation becomes far more dangerous as they have authority, and they have a gun. All too often police officers will be caught road raging on innocent citizens and it is the citizen who suffers. In the following incident, however, the citizen had his own dashcam, so the officer was caught red-handed committing multiple crimes.
Austin police officer Thomas Tuminelli apparently thinks he is above the law. Last year, he was recorded driving at speeds exceeding 100 mph on his way to work. He was not on a call, in fact, he was not even on duty when he was recorded cutting off other drivers and weaving in and out of traffic.
The Austin Police Department released a memo in November detailing the crimes committed by officer Tuminelli. According to FOX 26, the memo states he broke eight different traffic violations, some of which include: reckless driving, brake checking, speeding, crossing a solid white line, and tailgating.
This was likely Tuminelli's daily routine but on May 23, 2020, he would be caught by a vigilant citizen with his own dashcam.
When Tuminelli realized this person was following him, he slammed on his breaks in the middle of the road, causing the driver behind him to rear-end the off-duty cop. That is when things almost got deadly.
After causing an accident, Tuminelli grabbed his gun and got out of his vehicle, threatening the other driver's life. For over a minute, Tuminelli yelled back and forth with the driver, holding the gun the entire time.
Eventually, cooler heads prevailed and the officer put the gun away without killing anyone.
Tuminelli — apparently unaware that the driver recorded him breaking several traffic laws before causing an accident — would claim in a statement that he pulled out his gun for safety reasons, "[T]his individual had possibly rear-ended me on purpose and I'm - I was unsure of his intentions or actions at that point," he stated. But it was apparent from the video that Tuminelli caused the accident.
Despite being caught abusing his authority, acting above the law by exceeding 100 mph while driving to work, and assault with a deadly weapon, Tuminelli was not fired nor charged. Instead, he was given a 60 day suspension which ended on January 9. He is now back on duty, likely giving people tickets for the very crimes he committed.
According to FOX 26, APD was unable to comment on what his duties look like now that he is back. But, Tuminelli does have to go through training that will be specified by his chain of command and is on a probationary period for one year.
What makes this case particularly worrisome is that TFTP just reported on an alleged road raging cop in the same department earlier this month. In that incident, a mother and father were shot by an Austin cop as they had their 1-year-old baby in the backseat.
Though police would not speculate, video of the off duty cop shooting a father and mother, appears to be an incident of road rage. An Austin man, Alexander Gonzales, 27, was killed after an interaction with an off-duty cop that started on a highway. The officer claimed Gonzales cut him off and brandished a gun, so he followed the man and shot at him six times — as they drove down the road — hitting Gonzales and his female passenger.