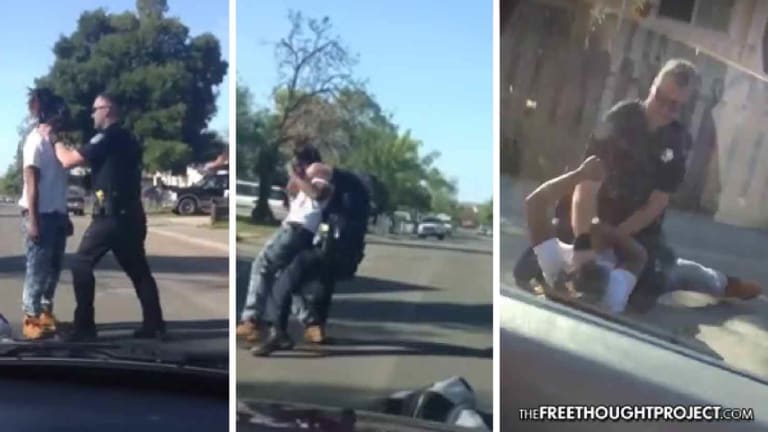 WATCH: Cop Chokes Then Bashes In Man's Face — For Jaywalking
For the alleged crime of jaywalking, a young man quickly found a cop's hands around his neck and repeated fists to his face.
Del Paso Heights, CA — Walking across the street in a manner not fit for the police state can often end in serious injury or death — not necessarily because of a car running you over either. The enforcement of jaywalking laws in this country have gone to the extreme and a new video out of California shows just how extreme.
According to witnesses, and backed up by video, Nandi Cain Jr. was crossing the street when a Sacramento police officer approached him. As seen in the video, the pair exchanged some words just before the officer charged Cain and began choking him.
Cain never swung at the officer and it appears that he was merely defending himself from the officer's onslaught. For a brief moment, the camera pans away as the people filming pull over. When it turns back to Cain, we see the officer waylaying the young man.
Naomi Montaie was the one who filmed the abuse and said she posted it to Facebook because she felt everything she saw was wrong.
"I never witnessed anything like that. He just kept hitting himand kept hitting him, and I was like 'oh my God...why you hitting him like that? Why you hitting him like that? You need to stop hitting him.' And he kept hitting him," she said with tears streaming down her face, according to FOX 40.
Montaie is so close to Cain that she calls him her nephew. She explained to FOX 40 that after they beat him down, police told her they were attempting to stop Cain for jaywalking.
Naturally, Montaie, like most people who will watch the video below, is wondering how on earth a jaywalking citation could've ended up like this. Cain's live-in girlfriend wants to know the answer to that question as well.
"I just want some answers. What happened?" said Cain's live-in girlfriend Antoinette Stewart.
As FOX 40 reports:
She says she fell in love with his goofy, spirited personality two years ago and can't imagine why something like this would happen.

She can imagine him cutting across a street in his long walk home from his co-manager job at a TV store, but as far as her knowledge of him breaking any laws?
But, as the Free Thought Project has reported numerous times, walking across the street improperly — even if there is zero traffic — can and will end in violence and/or kidnapping. 
According to Stewart, Cain's never been to jail. However, because he crossed the street in front of the wrong cop, all that could be about to change.
The Sacramento police have refused to release any details in regards to this incident, noting only that an officer stopped a man for a violation at Cypress and Grand.
As FOX 40 reports:
They couldn't detail what kind of offense was committed or confirm Cain's identity.

Spokesmen also couldn't say if there were body cam or dash cam recordings of the arrest.

FOX40 sent the department Montaie's video and supervisors are reviewing it.
"Any human being don't deserve that. Nobody deserves that," Stewart said.
Below is a video of what can and will happen to you for crossing the street the wrong way.