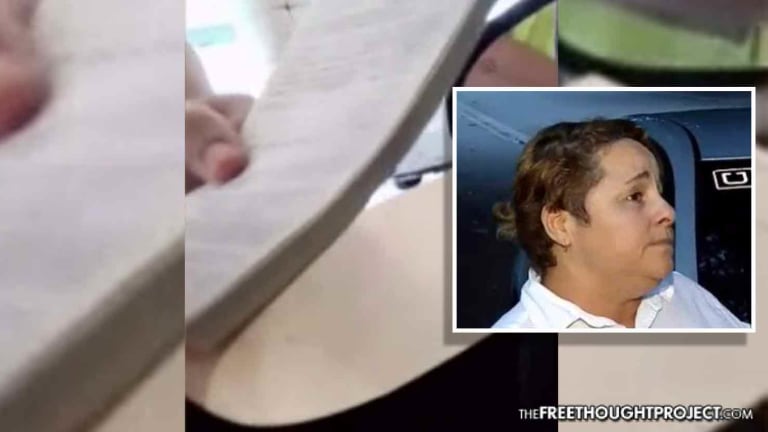 WATCH: Cop Fines Woman $250 for "Not Communicating in the English Language"
In the Land of the Free, failing to speak impeccable English will result in the police being called and will end with a $250 notice of extortion.
Miami, FL — In the Land of the Free, failure to speak English will result in a citation. Uber driver, Carmen Echevarria found out the hard way that not speaking English in today's America — is a punishable offense.
Echevarria's fine was the result of a discriminatory Miami-Dade County memorandum that demands any driver of a transportation vehicle be able to communicate in English. Up until this week, Echevarria, who doesn't speak the best English, has not had any problems.
However, all that changed when a see-something-say-something citizen got into Echevarria's Uber car and demanded she speak English. Instead of simply getting in the car and letting her drive her to the destination, the Uber customer became enraged that Echevarria would ask a passenger in her vehicle to translate. So, the customer called the police.
"I felt discriminated against," Echevarria told the station in Spanish. "I asked the (passenger sitting in her car) 'Can you please help translate what she is saying?' Then she asked why, if I was an Uber driver, I didn't speak English."
As Telemundo reports, in May 2016, Miami-Dade County issued a memorandum with rules for drivers of the transportation network, and one of the prerequisites is "the ability to communicate in English."
"I told her 'so sorry, a little English' then she called the inspector who also confronted me and told me in order to be an Uber driver I need it to speak English," Echevarria explained.
In a sad attempt at justifying the ridiculous code, Miami-Dade Department of Transportation Public Relations Officer Karla Damian issued a statement attempting to clarify the rule.
"The Code doesn't require the driver to be 'proficient' in the English language, but the driver should have some knowledge of the English language in order to communicate with a passenger in case of an emergency or to receive and understand basic directions from the passenger(s)," Damian wrote.
As mentioned above, Echevarria has never had a problem with getting her passengers where they needed to go. And, had the passenger this week, who turned her in for lack of English skills, simply got in the car and let Echevarria do her job, there would still not be an issue.
As anyone who's ever taken an Uber knows, the route, destination, and payment are already entered into the driver's system before they even show up to drive you. There is absolutely no need whatsoever to engage in conversation with the driver.
In another sad attempt at justifying the citation, Miami-Dade Mayor Carlos Gimenez said usually warnings are given instead of citations, according to NBC. And, in their statement, the mayor's office even noted that the woman could speak some English.
"It does seem like she could communicate in the English language and take directions so it's unfortunate that a fine was issued," said Mike Hernandez, the mayor's communications director. "The county can work with this driver and with Uber to address this situation."
As NBC Miami reports, Uber spokesman Javi Correoso sent a statement to NBC 6 saying the company is "proud of the diversity of driver partners in the South Florida market." Correoso went on to say that until statewide regulations go into effect on July 1, Uber asks all driver partners in the state to follow all applicable local laws and regulations.
The statewide regulation to which Correoso is referring is CS/HB 221. This bill was signed into law in May and overrides these ridiculous requirements for speaking English.
The good news is Uber stated that in the case of a driver receiving a ticket for not speaking English, they would cover their expenses. Also, since this story began gaining traction and resulted in subsequent backlash for the county, there are reports that the ticket may be excused.
However, until that time, officials would do well to realize the grave nature of such a law. For being different, in the Land of the Free, you can and will face steep consequences through police enforced extortion — or worse. Make no mistake, if you refuse to pay this extortion fee, you will be kidnapped and thrown in a cage.