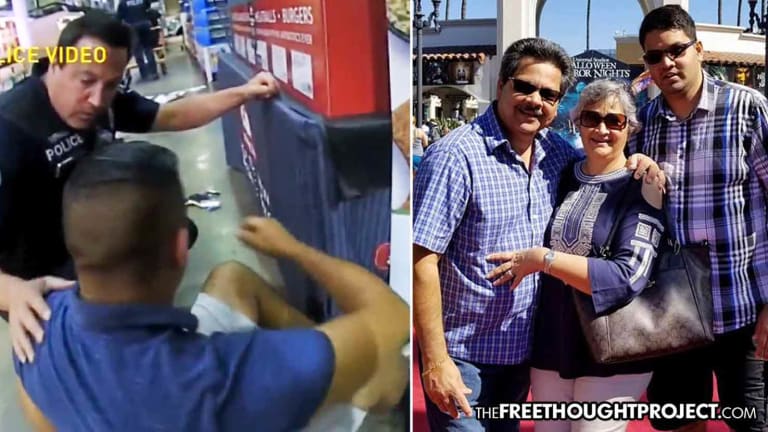 WATCH: Cop Gets Special Treatment After Gunning Down Mentally Ill Man & His Parents in Costco
Despite gunning down an unarmed non-verbal mentally ill man and his parents in Costco, police showed up and didn't even handcuff the shooter — an off duty cop.
Los Angeles, CA — As TFTP reported in June of 2019, panic erupted inside a Corona, California Costco as multiple people were injured and one man was killed during a shooting. Dozens of shoppers immediately dropped to the ground as fears of the next mass shooting filled their thoughts. However, it turns out the "mass shooter" was an LAPD cop and his unarmed victims were a mentally disabled non-verbal man and his parents. After months of slow playing and refusing to release the surveillance footage, the Riverside County District Attorney announced that they would not charge the cop.
Now, nearly two years later, video of the aftermath of the shooting was released and it shows police giving special privilege to officer Salvador Sanchez after he killed a mentally ill man and shot his parents. They didn't even immediately place him in handcuffs.
The incident unfolded on June 14, 2019 and Russell and Paola French spent weeks in the hospital after officer Sanchez opened fire on them and their son Kenneth, who had schizophrenia and was non-verbal.
No one disputes the fact that Kenneth, unprovoked, walked up to Sanchez from behind as he fed his toddler a sample and slapped him from behind. Kenneth's behavior here, most assuredly deserved a reaction, especially since Sanchez was holding his child. Any parent in their right mind would've gone into fight or flight mode and that is what Sanchez did, pulling his gun and identifying himself as a cop.
However, as Kenneth's parents informed the cop that their son is mentally disabled and did not realize what he was doing. The cop continued to escalate anyway.
Surveillance footage released months after the shooting shows Kenneth being pulled away from Sanchez before Sanchez opened fire on him — meaning there was no longer a threat.
The DA, whose job consists of protecting cops and charging citizens, claimed that Sanchez opened fire within four seconds of Kenneth striking the man.
"One of the pieces of information that I think was uncontroverted was that the off-duty officer was struck by Kenneth French — struck in the head — and he went down as he was holding his infant child," District Attorney Mike Hestrin told a news conference. "And it all happened very fast, about less than four seconds from the moment that he (French) struck to the moment that he (Sanchez) fired."
A medical examination of Sanchez showed there was no injury to the officer's head, despite claims that he thought Kenneth "shot him." Sanchez would use this excuse to claim he thought Kenneth had a gun.
"Are you injured?" Corona Police Officer Robert Slane asked Sanchez.
"I see a blast and I feel my head get knocked out, and I fall to the ground--I dropped my son," Sanchez said to police when they showed up to the store after the shooting in the newly released body camera footage.
"When I dropped my son, and the guy like, hunkers down," Sanchez continues, and holds his hands together as if to show a person was holding a handgun.
"I believe he was still armed, so I shot," Sanchez continued.
"Those people, probably like, got in the way, I don't know," Sanchez said, referring to French's parents, who were each struck with one of Sanchez's bullets, alo0ng with multiple items inside the Costco.
When pressed for more detail about who he'd aimed at, Sanchez told officer Slane he didn't want to answer more questions.
"Ok, he was hunkered down over here--Did you see a weapon?" Slane asked.
"You know, I'm not gonna talk any further without my lawyers," Sanchez said.
According to the cop's attorney, David Winslow, during this four seconds, Sanchez lost consciousness and when he stood up — despite Kenneth no longer attacking and despite Kenneth's parents pleading with the cop — Sanchez had no other choice but to kill Kenneth and shoot his parents, in their backs.
Winslow said his client "had no choice but to use deadly force."
However, the child was not injured at all and Sanchez was fine which is why the family's attorney, Dale Galipo said the use of force was entirely unnecessary.
Galipo called Sanchez's response "a complete over-reaction," adding that it was disturbing that, "if anyone other than an off-duty police officer had shot three unarmed civilians in a Costco, that person would be in jail and facing criminal charges for murder."
NBC 4 Los Angeles reports:
According to Corona Police interviews, multiple witnesses said Sanchez was struck in the head by French's hand, as the two stood near a food sample table. Corona and LAPD detectives determined French never had a gun and no shooting took place before Sanchez opened fire.

Several witnesses said the strike, described as a punch or a slap, was unprovoked. One eyewitness told Corona Police that Sanchez collapsed to the floor so quickly she thought he had suffered a medical emergency; another said Sanchez "got down" to the floor, took a "defensive position," and began shooting, according to detectives' reports.
"After hearing Officer [Salvador] Sanchez identify himself as a police officer, I begged and told him not to shoot," Russell French said after getting out of the hospital months later. "I said, 'We have no guns, and my son is sick.' He still shot. I thought people don't do that."
Both parents were shot in their backs, indicating "they were not facing Officer Sanchez' direction at the time they were shot," a statement from the firm representing the family said.
Kenneth also had his back to the officer when he was struck multiple times, Galipo said.
"Not only did we lose our first-born son, my husband and I sustained injuries that will impact our lives forever," Paola French said in tears.
In what should've played out as an assault and battery by a mentally ill person, quickly turned into attempted mass murder and a murder by cop.
Though a grand jury failed to indict him, the LAPD found in June 2020 that Sanchez's actions that night were unreasonable and had violated the department's rules for use of lethal force. Sanchez was fired a month later.
Adding to the already incredibly suspect nature of this incident is the fact that in August, a Riverside Superior Court judge blocked the release of surveillance video that captured the entire ordeal. This is in direct contrast to the wishes of the victims.
What's more is the fact that when the commotion begun, a shopper pulled out their cell phone and recorded the incident as well, according to Galipo. According to KTLA, in that clip, which could not be released to the public, the officer's wife is heard asking Sanchez what he had done, saying he shot an entire family, the lawyer claimed.
"It could happen to anyone," Kenneth French's younger brother, Kevin, said.
Kevin also pointed out the fact, and expressed his anger over it, that Sanchez was never arrested after the shooting and was simply allowed to go home without even being questioned. This is now evident in the newly released body camera footage. Sanchez was also allowed to return to Costco the next day and watch the video — that was blocked from everyone else — before talking to authorities, Kevin said.
Had Sanchez been an average citizen and shot and killed a mentally disabled man, shooting his parents in the process inside a Costco, rest assured that this would've played out far differently.
Imagine for a moment that video of existed of some other shooting similar to this one, but without police involved. Do you think that the Costco shooter would be able to go back to the place of the shooting to view the video before talking to the cops and then swiftly cleared? No way.
But this is how the justice system works in the land of the free. There is one set of rules for the connected ones — which grants them privilege and special treatment — and another set of rules for the rest of us, which are constantly changing to benefit the connected ones.