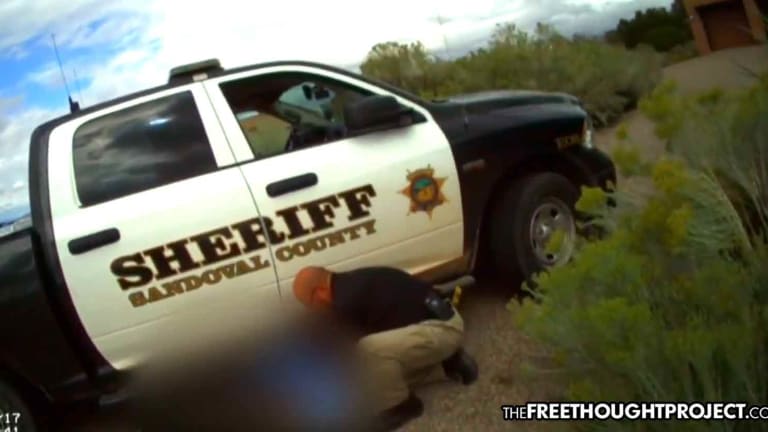 WATCH: Cop Kills Good Samaritan With Cruiser, Admits to Being on Phone, Then Lies About It
An innocent woman who was trying to be a good Samaritan was run over and killed by a deputy who admitted to not paying attention as he plowed over her.
Plicatas, NM — A New Mexico family is seeking justice and attempting to expose a police officer's deception after a beloved member of their family was run over and killed by a Sandoval County Sheriff's deputy.
As part of a recent lawsuit, video from the aftermath of the horrific incident was just released and it catches the cop in a lie.
The incident took place in September 2017 as Sandoval County Sheriff's Deputy Rudy Fields responded to a burglar alarm.
Linda Baragiola, who lives next door to the home the deputy was responding to, was on the alarm company's list of people to call in case the alarm went off. So, being the good neighbor that she was, Baragiola made the short walk over to her neighbor's house. Sadly, this would be the last walk of her life.
"Got a phone call from her neighbor, and from her neighbor's alarm company, letting her know that the alarm was going off across the street from her house," said the attorney representing the victim's family, Cristy Carbon-Gaul.
When Baragiola went to talk to the deputies, however, deputy Fields came barreling down the driveway in reverse and ran her over, killing her.
"Deputy Fields was backing up his car in the driveway and he ran her over, killing her," says Carbon-Gaul.
As the body camera footage from one of the deputies shows, Fields admitted to being distracted—being on the phone, while driving.
"Dude, I was on the phone. I was backing up and they were dispatching me to another call," he said as Baragiola lay under his truck, bleeding out.
However, a few days later when Fields was part of an official investigation conducted by the New Mexico State Police, his story changed. That was also captured on video.
"At that time, I put my phone down. I grabbed my radio and I check my mirrors, put it in reverse, check my mirrors. Check my rear view mirrors and then I turn around. I always do that," he said completely contradicting himself from three days earlier.
Had the deputy done what he described above, however, he would have seen Baragiola in the middle of the driveway and she'd be alive today.
Now, Carbon-Gaul is calling him out.
"How he could have been driving backwards for at least 50 feet and not seen a woman who was in the middle of a driveway? It's a long drive," she says.
Carbon-Gaul is now suing the department to seek justice for the family. Sadly, however, no amount of money or verdict will ever bring back Baragiola who spent her last moments alive knowing that she'd been killed by a man whose ostensible job is to protect her.
Despite being caught on video telling two different stories about what happened that fateful day, Fields remains on duty and will likely face no consequences. The taxpayers, on the other hand, likely won't be so lucky.
"Transparency and honesty is the most important thing," said Carbon-Gaul. Indeed.
Police officers running over innocent people is sadly not uncommon.
As TFTP previously reported, Lindsey Gordon, 24, was laying out, sunbathing on the beach when an out of control cop in his police cruiser came barreling through the sand and ran her over.
Gordon, who merely wanted to catch some sun with her friend, was hospitalized in critical but stable condition with a shattered pelvis and internal bleeding.
In Franklin Township, New Jersey, a 10-year-old boy was struck and killed by a speeding police vehicle as he walked to his friend's house for a sleepover. The officer was reportedly responding to a call and did not have his lights on when he hit the boy in front of the child's two young friends.
In Miami, Florida, parents were horrified after watching a police cruiser run over a 6-year-old boy who was playing in his neighborhood.
According to a San Francisco Police Department news release, officer Christopher Kohrs rammed his Dodge Charger into two men who were crossing near Broadway and Montgomery streets in the city's North Beach neighborhood.
Instead of stopping and rendering aid to the two people he just ran over, police say that Kohrs ditched the car and ran from the scene around 2:20 a.m. Having the unmistakable face of 'Hot Cop' made Kohrs readily identifiable and he was arrested later that day on two counts of felony hit-and-run.