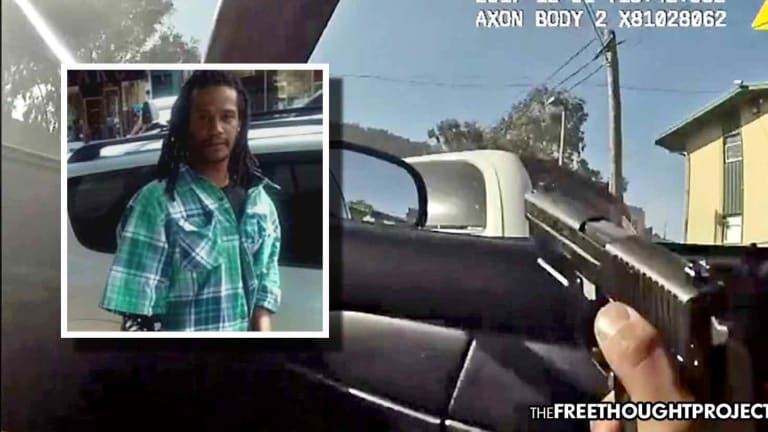 WATCH: Cop Kills Unarmed Man in Drive-By Shooting Fashion — Taxpayers to be Held Liable
It took former San Francisco officer Chris Samayoa just four days on his job to get his first kill, shooting an unarmed fleeing man from the patrol car.
San Francisco, CA — It took former San Francisco officer Chris Samayoa just four days on his job to get his first kill back on Dec. 1 2017, yet it took nearly three years to get him charged. As he's yet to face any semblance of a trial for fatally shooting 42-year-old Keita O'Neil, this week, the civil suit against the department has begun.
San Francisco's district attorney issued a news release at the time noting that Samayoa was the first ever cop to be charged in the city over an on-duty homicide. This news comes after police admitted that an unarmed man was shot and killed by the rookie officer in an incident that was carried out in the style of a drive-by shooting.
Samayoa is currently awaiting trial — or a ridiculously sweet plea deal — after he was charged with fatally shooting O'Neil. Samayoa has been charged with voluntary manslaughter, involuntary manslaughter, assault with a semiautomatic firearm, assault by police officer and discharge of a firearm with gross negligence.
"As far as we are aware, this is the first ever time that the San Francisco District Attorney's Office has filed charges against a law enforcement officer for a homicide," District Attorney Chesa Boudin said at a news conference last November.
But as for the lawsuit, the city has been claiming Samayoa had qualified immunity and refused to hear their case as the killer cop "reasonably believed" his life was in danger as O'Neil ran away, unarmed.
On Monday, U.S. Magistrate Judge Joseph Spero concluded that a jury is better suited to decide if Samayoa acted reasonably or used excessive force when he shot and killed O'Neil, according toLawsuit Over Police Shooting of Unarmed Man in San Francisco Headed for Trial
" target="_blank" rel="noopener"> Courthouse News.
"A jury could conclude that O'Neil did not 'reach' for his waistband, that his hands were in the vicinity of his waist only as part of a natural running motion, and that any reasonable officer in Samayoa's position would have recognized that O'Neil was merely trying to run away," Spero wrote.
As TFTP reported at the time, Samayoa had been on the job for just four days when he opened fire onO'Neil, from the passenger window of a patrol car at around 10:30 a.m. on Dec. 1, 2017. The Body Cam footage shows that there was only a matter of seconds between the time the patrol car pulled up to O'Neil, and the time Samayoa fired the fatal shot.
"As other patrol cars closed in on him and blocked his path, Mr. O'Neil ran past the police car where Officer Samayoa was seated in the passenger seat. Officer Samayoa pointed his gun and shot Mr. O'Neil through the passenger side window of the patrol car, killing Mr. O'Neil," Boudin said in a statement.
"Body camera footage shows not a single other officer pulled out their service weapon or pointed it at O'Neil," Boudin said.
According to a report from The Mercury News, police officials claimed O'Neil was "suspected of assaulting a California Lottery employee and stealing a van that belongs to the agency." Officers then "chased the van and another SUV seen traveling with it to an area of public housing where O'Neil was shot."
Police claim that O'Neil was driving the Lottery van, when he jumped out of it while it was still running, and then ran towards their patrol car. They also noted that the four individuals in the SUV took a different route, were stopped by police and arrested, and were later released with no charges.
The text accompanying the Body Cam footage claimed that the San Francisco Police Department was attempting to increase transparency by requiring their officers to use Body Cameras, and by releasing the footage to the public. However, it should be noted that Samayoa did not turn his body camera on until after the shooting, but the camera still captured the shooting because of an automatic buffering system.
Naturally, the San Francisco Police Officers Association (SFPOA) said they are supporting the former officer and his family.
"The criminal justice system will allow for the facts surrounding this case to be disclosed," SFPOA President Tony Montoya said in a statement. "We are committed to ensuring that Christopher and his family are supported during this difficult time and that he is accorded his due process rights and provided with a vigorous defense against these charges."
When you watch the body camera footage below, imagine what completely delusional mindset it would take to justify opening fire from inside a police cruiser and killing this unarmed man.