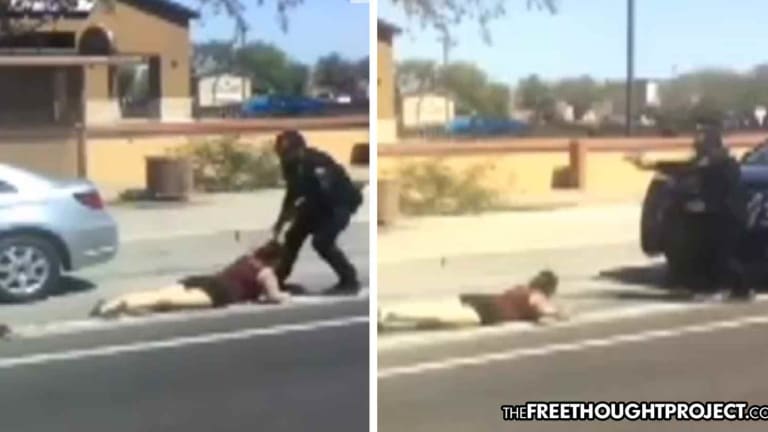 WATCH: Cop Pulls Gun, Drags Woman from Car, Punches Her in the Face Over Suspended License
An Arizona woman was punched and dragged from her vehicle all for having a suspended license, a ticketable offense. We've uncovered a flaw in the system which places police officers as well as unsuspecting members of the public at risk for harm.
Goodyear, AZ — More controversy created by law enforcement coming out of Arizona as a Goodyear police officer was caught on camera beating and dragging a woman out of her car on pavement which routinely reaches flesh melting temperatures. Her crime: having a suspended drivers license.
Unlike other states, Arizona has a flaw in its motor vehicle insurance tracking software. Inexplicably, as one resident told TFTP, a person's insurance can appear to not be valid. The Arizona MDV system then notifies the resident their appears to be a lapse in their insurance coverage. If the notice goes overlooked, the resident's drivers license can then be suspended.
The motorist will then be pulled over by police. If they cannot prove they have insurance, the car is towed and the motorist can be arrested for driving on a suspended license. Goodyear police did not say such is the case with the motorist in the following video but they did confirm she was driving on a suspended license.
The Goodyear PD officer can be seen dragging the woman from her car. He punches her in the face, and then drags her down the hot pavement. The man in the car with the woman was told to get on the ground as the officer pointed his service pistol at him. He complied.
The woman's daughter, Cassandra, told AZFamily reporters:
It was heartbreaking for me to see like, I just couldn't believe it, that's my mom. I didn't know what he was going to do to her, she was scared for her life. It was really outrageous, it shouldn't have went that far. It was ridiculous.
She believes the entire incident could have been handled differently. She said:
"I don't know why they treat people like that, she's human. She's a woman, he's a man," Cassandra said. "They need to be able to nonviolently arrest people, they need more training. You shouldn't do that to someone. We're all humans."
Unfortunately, when it comes to the police state generating revenue for the county, all bets are off in regard to police officers treating citizens like humans. We at TFTP have confirmed with numerous individuals in Arizona that the AZ MDV system is flawed, whether unintentionally or intentionally, to drive up the issuance of citations, arrests, and court costs—all of which necessitates the contracting of lawyer services.
Whether or not Cassandra's mom and her ordeal will be the catalyst for fixing the error is anyone's guess.
Goodyear Police Department responded with the following statement:
On Thursday, September 6, 2018, at 1148 hours, a Goodyear officer conducted a motor vehicle stop near the northwest corner of Van Buren and Dysart. The driver who had a suspended driver's license was notified that she was being placed under arrest; at that time she began to retreat.

When a conflict with a suspect occurs during an arrest, this presents a challenging and often dangerous situation for the arresting officer. The top priority of the Goodyear Police Department is the safety of the public as well as our officers. When a situation such as this occurs, it can appear frightening to passersby who don't understand the full context of the situation. In the interest of transparency and maintaining the trust of our public, the Goodyear Police Department is currently investigating the specific details of this particular case. We are working to review body cam footage and conducting interviews to determine exactly what occurred. Once our investigation is complete and all the facts are in, we will be better able to provide accurate information as to the details of this arrest. We appreciate your patience as we conduct our thorough investigation.
We at TFTP believe we've identified at least one error in the legal system. Because insurance gaps appear on AZ MDV programming, innocent people with insurance are being pulled over, threatened with having their car towed, and being arrested, all for paying their insurance premiums on time in a failed bureaucratic police state.