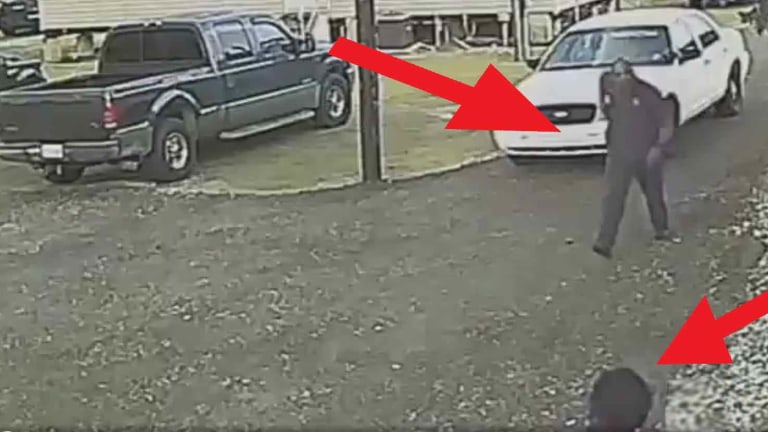 WATCH: Cop Pulls Gun on Innocent 14yo Girl - Not Even Suspended
A cop was recorded on video pulling his service pistol on an unarmed innocent 14-year-old girl in a fit of rage, and he's yet to even be suspended.
Basile, LA — Normally, when the Free Thought Project opens a story about a police officer, it begins with something like, "an officer has been suspended this week," or, "an officer was charged this week," because of random misconduct. Unfortunately, that is not the case in this most recent incident out of Mamou, Louisiana.
Last week, Officer Nicholas Richardson, a cop with both the Basile Police Department and Evangeline Parish Sheriff Department, was captured on video pulling his gun on an innocent, unarmed 14-year-old girl. He was not suspended and is still on patrol.
The incident happened in front of the residence of Darrell and Mia Reed. The Reed's daughter was the one assaulted at gunpoint by this officer. The entire incident was captured on surveillance cameras at the Reed home.
"As you can see, he's pointing and threatening my 14-year-old," said Darrell Reed as he showed the video to KATC. 
As KATC points out, the motive behind the confrontation is unclear. The Reed family alleges that Richardson said he was confronting their 14-year-old daughter — alleging she had bullied his own daughter.
However, as KATC notes, the Reeds suspect an ulterior motive because Mia Reed — the mother — was going to testify in a custody hearing involving Richardson's children the following day.
Either way, an on-duty cop, using his police firearm and patrol vehicle to settle family problems — while in the process assaulting a child with a deadly weapon — is no way to respond to either of the above scenarios.
Mia Reed is also Richardson's aunt.
After seeing her daughter assaulted with a deadly weapon, Mia Reed went after the officer with a broom and began hitting him. Luckily, she was not killed as her husband stepped in between the pair.
The Reeds eventually called police and other officers showed up. However, Officer Nicholas Richardson was not arrested. His two non-cop henchmen he sent to assault the residents, were, however, arrested.
For now, Richardson continues to patrol the Reed's neighborhood and their daughter is in constant fear of being assaulted by police.
"This is just blatantly telling me that the officer is above the law. Period," said Darrell Reed.
The Reeds are not sitting by idly as the both department for which Richardson works for refuse to take action. They have since sought out an attorney to go after the officer themselves.
KATC notes that they reached out to Deputy Nicholas Richardson, The Evangeline Sheriff's Office, The Basile Police Department and Evangeline Parish District Attorney Trent Brignac — none of them responded. The Basile Police Department responded and said they handed the case over to the District Attorney's office to see if charges should be filed. Those charges have yet to be filed.
What this incident illustrates is the sheer callous nature of police to act above the law. Make no mistake, had a civilian acted in the same manner and pulled a gun on a little girl, they would have been arrested and/or killed almost instantly.
If they were not on scene when the officers showed up, they would have most assuredly been raided at their home or a police bulletin would've been issued for people fitting their description.
The idea that this officer can pull a gun on an unarmed innocent child and not even be put on some sort of temporary suspension should shock the conscience.
It is this blatant unaccountable nature of police which has led to the problems we face in America today.