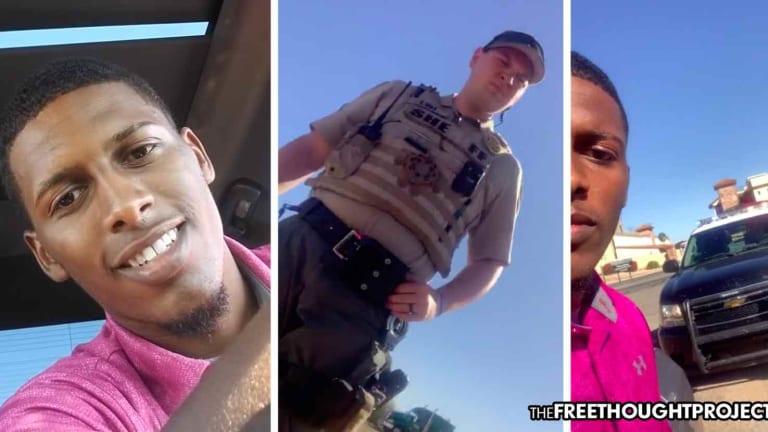 WATCH: Cop Pulls Innocent Man Over for Air Freshener, Shows Us Everything Wrong With Police
A stop that should have never happened over an air freshener quickly turned into an instructional video for cops on how not to act.
La Paz, AZ — A La Paz County deputy pulled over a young man in the Arizona desert for having a pine tree air freshener hanging from his rear view mirror. What happened next was a display of precisely how eager some law enforcement officers are to violate citizens' rights, all in the name of enforcing the failed and cruel war on drugs.
Last week, Grand Canyon University track star and graduate Phillip Colbert found it strange when a sheriff's deputy tailed him for 20 minutes. He knew his speed was below the speed limit but at some point the officer decided to pull over the young man who was simply traveling from Lake Havasu to Parker, AZ.
Colbert told the Phoenix New Times he thought the officer's actions were odd as well as the stated reason for pulling him over. Deputy E. Max told Colbert the hanging air freshener constituted an "obstruction" in Colbert's "line of sight" and it was illegal. The recent college graduate who is now a car salesman countered by saying his dealership routinely gives away air fresheners to those who purchase cars and added if it were illegal to have an air freshener hanging from the rear-view mirror then the dealership wouldn't do it.
Also upsetting to the young man was the follow up questions about whether or not Colbert used "marijuana", even asking him "when the last time" was that he smoked. On both occasions Colbert told the deputy he had never tried marijuana.
Deputy Max appeared to be escalating his contact with Colbert by his choice of words. He asked why Colbert was holding onto the steering wheel in the 10 and 2 positions and why he seemed nervous. He also asked leading questions with which a less than savvy motorist may have been entrapped by his/her own admissions. Accusing Colbert of dishonesty was another provocative move by the officer in an attempt to get a reaction out of the young man or admit to some form of guilt.
Max then asked Colbert to exit the vehicle, a request which rings the alarm bells for police accountability activists. Max assured Colbert when he objected to being out of his car that he "asks the same questions" on every traffic stop. We find it hard to believe that this cop would pull over someone who is not a person of color and demand they exit the vehicle over a stop for an air freshener.
Max then asked Colbert if he would allow him to search his vehicle. He also asked if he would submit to a field sobriety test. The video recording of the incident stopped just before viewers would see what happened next but Colbert told the Phoenix New Times he refused both requests. He was then allowed to get back into his car and leave with a warning.
Colbert explained why he purposely chose not to comply with the officers' wishes. Perhaps, since his arrest record was already clean, his fast thinking actions protected his financial assets and good reputation. He explained to the Phoenix New Times:
I denied any of the sobriety tests...I denied him checking the car, because I felt as soon as he checked the car, he was going to try to put something in there...It wouldn't be the first time police officers have planted drugs on innocent drivers.
The newspaper then contacted Max' superior, Captain Curt Bagby who said there will be a "thorough investigation into this matter." The veteran officer then seemed to downplay the incident by saying there were so many laws on the books it was impossible for "us to monitor everything deputies pull people over for," adding, "I'm not sure specifically about air fresheners...I know officers will pull people over if their view is obstructed."
As TFTP has reported on numerous occasions, the best advice for Colbert to have received before the police contact could have been for him to not answer any of the officers' questions. As we have reported, simply responding, "I don't answer questions," has been equated to a spray can of cop repellent. Many cops eventually turn around and walk away without extorting you.
Colbert's encounter with La Paz County cops cost him 40 minutes of his time. He was on his way to eat lunch with his father. It's unclear if that planned activity ever took place. One thing is for sure, however, Colbert is now consulting a civil rights attorney who will help the young man decide whether to sue the La Paz County for infringing on his 4th and 14th amendment rights.
We applaud the young man for remaining calm and respectful, even though pulling someone over for an air freshener just to see if they can smell weed in the car is a disgraceful act of modern day policing at its best. Below is a video illustrating exactly the kind of policing that continues to drive a wedge between the police and the policed.