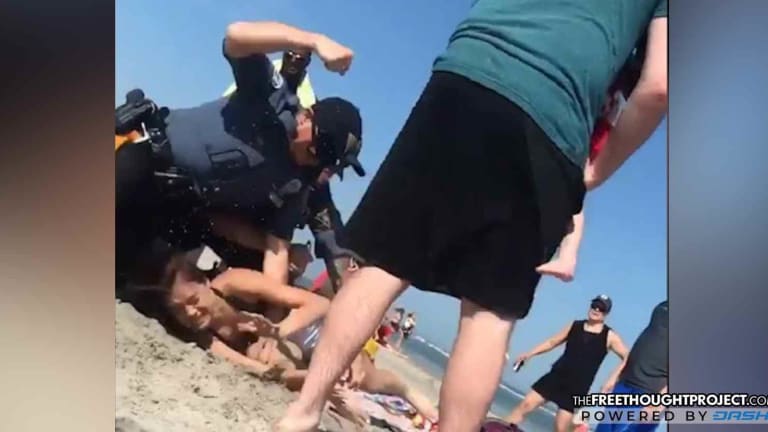 WATCH: Cop Punches Girl's Head Repeatedly In Front of Her Family Over Unopened Cans of Beer
A police officer was caught on video slamming a young woman to the ground on the beach, and then punching her head repeatedly and putting her in a chokehold.
Wildwood, NJ – A disturbing video posted on social media shows a police officer slamming a young woman onto the ground at the beach, punching her in the head repeatedly, and then placing her into a chokehold while surrounded by witnesses, including small children.
The incident took place on Sunday afternoon and was
I was sleeping on the beach and I woke up to this.. i can't believe it.. pic.twitter.com/UJE5Sy7E4G
— Lexy (@HewittLexy) May 26, 2018
" target="_blank" rel="noopener">posted on Twitter by Lexy Hewitt with the caption, "I was sleeping on the beach and I woke up to this. I can't believe it."
The video was later uploaded to Facebook by Emily Weinman, 20, who claimed that she was the girl in the video, and the incident began when she was on the beach with her family and two officers approached her and demanded to know her age and if she was drinking, according to a report from NJ Advance Media.
"I asked them, don't they have something better to do as cops than to stop people for underage drinking on the beach," Weinman said, noting that she passed the breathalyzer test she was asked to take and made the comment when she stepped away to make a phone call and one of the officers followed her. She said he responded by saying, "I was gonna let you go but now I'll write you up."
Weinman claimed that things escalated when the officer then asked for her name and threatened to arrest her, and she said she refused to give him the information, and tripped as she was backing up, which led to the officer tackling her.
A report from CBS Philly claimed that, according to police officials, Weinman was "underage and drunk on the beach and refused to provide police with her ID. She then kicked the officer in the genitals and ran off."
The Wildwood Police Department released a statement confirming that an internal affairs investigation has been launched into the incident and the officers who were involved "have been reassigned to administrative duty pending the outcome of a full and thorough investigation."
"Chief Regalbuto stated that while he finds this video to be alarming, he does not want to rush to any judgment until having the final results of the investigation. Emily Weinman, W/F, 20 years old of Philadelphia was charged with Aggravated Assault on a Police Officer (2 Counts), Aggravated Assault by Spitting Bodily Fluids at/on a Police Officer, Disorderly Conduct, Resisting Arrest, Obstruction and Minor in Possession of Alcohol."
This incident happened nearly one year after a Wildwood Police officer was caught on video walking up to an unsuspecting man and punching him in the face for no apparent reason.
While police claimed that the incident started out as a fight between neighbors over loud music, and they said that the man who was hit by the officer became "disorderly," it is still unclear what he said or did that made the officer think he was justified in striking the citizen.
Both the officer who appeared to randomly punch a man in the face and the officers who aggressively slammed a young woman onto the ground and then punched her in the head and choked her continued to receive their full taxpayer-funded salaries.
While Emily Weinman admitted that she refused to give her name or her ID to the officers, it is unclear whether she "kicked the officer in the genitals," or whether she passed a breathalyzer test. Even if she did everything she was accused of, it makes one wonder—why was a police officer, who was fully armed, bigger and stronger than the small, unarmed girl he was addressing, feel so threatened by her that he felt the need to shove her on the ground and hit her repeatedly, just to prove his dominance?
One thing is certain—the young children who witnessed the incident in person were likely traumatized as a result, and the public was not made any safer by the officers' actions. If you would like to voice your opinion on the officers' conduct, call the Wildwood Police Department at (609) 522-0222, or visit their Facebook page.