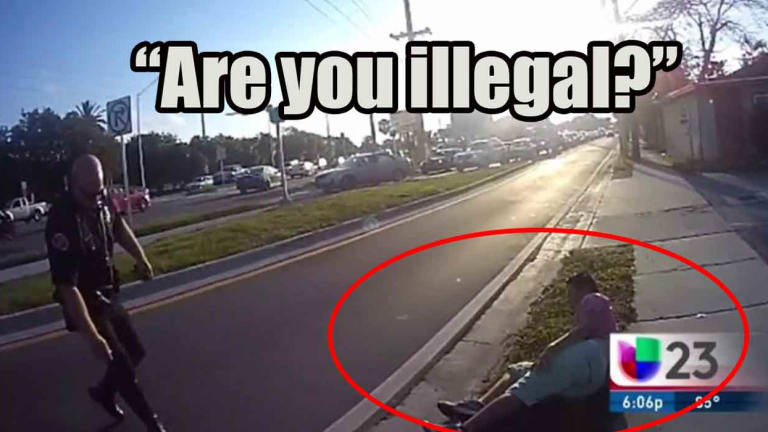 WATCH: Cop Refuses to Help Man Hit By a Truck, Cared Only About His Immigration Status
Highlighting the utter lack of humanity in policing, a Florida cop was far more concerned with a man's immigration status, in spite of the fact he'd just been hit by a truck.
Key West, FL — The police, Americans are told, are her to protect and serve. When the citizens are in trouble and in need of help, the police are but a phone call away and can quickly arrive on the scene to render aid or arrest the bad guys. However, the reality of this situation is far more complex and, in reality, many ways a fiction. Case in point, Marcos Huete — a cyclist hit by an SUV in need of medical care — received only interrogation and contempt when a Monroe County Sheriff's deputy showed up to 'help.'
As Huete lay bleeding on the ground, the first words out of the officer's mouth are not, "are you okay?" or, "can you move," they're "Speak English?" followed immediately by, "You're illegal? Are you a legal citizen or no?"
Huete was on his way to work when a GMC Sierra SUV hit his back tire, according to the traffic accident report. On top of being entirely unconcerned about the injured man who'd just been hit by a truck, this cop didn't seem interested in the details of the accident either.
As Huete sat bleeding, the deputy continued, "You got ID? Passport, visa, what?"
Not until the officer interrogated the injured man for several minutes did another deputy even ask him, "You want an ambulance or no?"
Huete then called his sister Olga who quickly showed up at the scene and helped her brother get to the hospital.
As Univision reports:
According to his sister, Olga Huete, after he was discharged from the hospital a police officer told them to return to the scene of the accident. "He did not tell us why, but we went back because my brother had not done anything. We had no reason to flee.

Once there, he says he was fined $75 by a Florida Department of Highway Safety and Motor Vehicles (FHP) officer for causing the accident. The incident report accuses Huete of obstructing/hindering traffic and listed his injury severity as "possible."

Huete allegedly "darted out in front" of the pickup as it turned right across a marked crosswalk striking the rear tire of Huete's bicycle. The officer decided that the driver, a 45-year-old Key West woman, was not at fault.
Olga noted the complete lack of investigation into the incident. She noted how the woman, who'd just struck a man on a bicycle was allowed to quickly drive away after giving her version of the events that unfolded -- which were quickly accepted as fact by the officer. No one cared to hear Huete's version.
Olga Huete says that while they don't have papers, she is outraged by what she called the lack of justice in blaming her brother after he was the victim, according to Univision. She said the woman driving the pickup was allowed to drive away "as if it was nothing."
"The fact that we do not have papers does not mean that we do not have rights," she said.
Within minutes of returning to the scene, border patrol showed up and immediately demanded Huete's 'papers' — papers which he does not have.
According to the Border Patrol, Huete has a deportation order dating back to 2010 and is being held at Krome pending arrangements being made for his removal. He's now facing criminal charges for being in the US after being told to leave.
Regardless of your views on immigration, to ignore a fellow human's suffering to carry out some arbitrary questioning shows an utter abandonment of humanity and a clear sign of a society in a crisis of conscience.
"Asking for immigration status to a person after being hit by a car offends human rights sensitivity and is very counterproductive for effective law enforcement," said Howard Simon, executive director of the Florida chapter of the American Civil Liberties Union (ACLU).
"The moment these agents become the mass deportation force of President [Donald] Trump will be the end of any cooperation between immigrant communities in the United States and the local police," said Simon.
First, they came for the foreigners....
Highway Patrol Asks Man If He's Illegal Before Helping Him

This man was hit by a car – but the police officer only cared about his immigration status (via NowThis Politics)

Posted by NowThis on Thursday, May 25, 2017