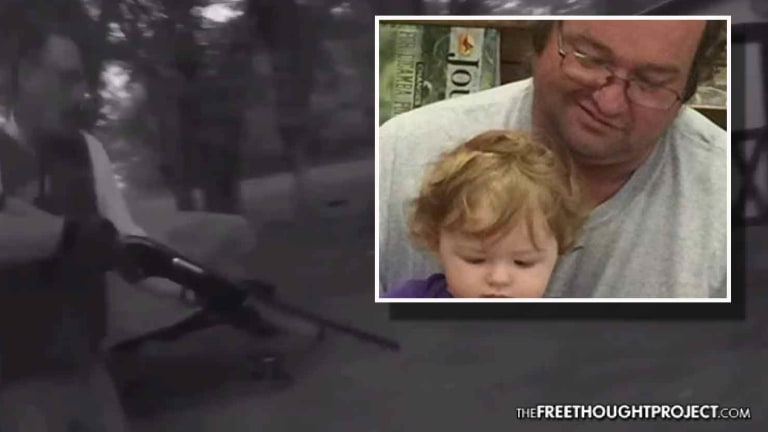 WATCH: Cop Removes Body Cam Then Shoots, Kills Unarmed Dad as He Complies
A Kansas cop conveniently removed his body cam and left it in the cruiser just before shooting and killing an unarmed man who was complying.
Barber County, KS — The widow of a Barber County man has been fighting for the release of the video showing police execute her unarmed husband since they killed him on Oct. 6. Then, without any warning, months later, the Barber County Sheriff's Department released the video—but it came with a catch.
"You know I could have been in the living room watching TV and it could have just come on. No one notified us that they had released it," said Kristina Myers, wife of Steven Myers who was killed by police in October.
The family's legal counsel had been fighting for the release of the video and had gotten nowhere for months.
Michael Kuckleman, counsel for the family told KSN "We don't know why it was released. Up until yesterday, the sheriff had been arguing that it was protected under the exception for criminal investigation."
Perhaps the reason they took so long to release the video is that they were trying to cover up the fact that the shooter removed his body camera just before firing a beanbag round at point-blank range into Myers' chest.
Although beanbag rounds are known as less lethal weapons, when they are fired at close range—especially into the chest or head—they can and have killed people. 
Conveniently for the sheriff's department, although the other videos show Undersheriff Virgil "Dusty" Brewer—the officer who fired the shot—none of them provide a clear enough angle to show the violation of department policy.
"Did you have a body camera?" Myers' attorney asked Brewer at a hearing last month in which a judge would decide if the department violated the law. Brewer acknowledged that he did have a body camera. However, he then claimed that it was fixed to his sun visor on his patrol vehicle while he shot Myers.
Adding to the already controversial killing of Myers is the fact that after Brewer shot, all the other officers began turning their cameras off too.
Police say they were responding to a call of a drunk man with a "long gun" when they found Myers. However, Myers had no such weapon when he was killed.
As the Wichita Eagle notes, Kuckelman has contended that Myers was not armed and was complying with a command to come out of a shed when he was hit at close distance with a beanbag round, fired from a shotgun, that hit him in the chest.
During the hearing last month, Kuckelman asked Sheriff Lonnie Small if it was within policy for deputies to remove their body cameras before grabbing a gun and shooting someone. Small said deputies have discretion on when to use their cameras.
However, as Kuckelman noted, the policy from the department clearly states, "All officers will wear the issued 'Body Cam' video camera on the front of their uniform in a place that will afford the best view … to the area in front of the officer."
The policy also states that "the camera will be utilized when at all possible on all major incidents … ."
When asked by Kuckelman if this was a "major incident," the sheriff said, "yes," clearly admitting that his undersheriff violated policy.
Kuckelman said that if the Sheriff's Office had "complied with their own policies and procedures that day (of the shooting), Steven Myers would be alive."
Indeed, had Brewer not shot a 12-gauge beanbag round from his shotgun into the chest of Myers at point-blank range—a clear violation—Steven Myers would be alive. At the very least, if Brewer would have been wearing his body camera that night, there would be evidence of his crimes and a potential to hold him accountable.
Now, a widow is going broke paying tens of thousands of dollars that she doesn't have just seek justice for her husband's death.