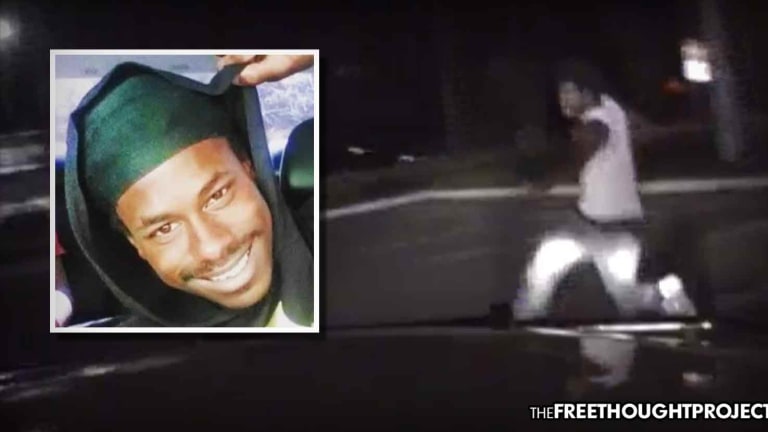 WATCH: Cop Runs Over, Kills Unarmed Man With Cruiser, To Stop Him from Fleeing
A Tampa cop ran over and killed a an unarmed suspect as he fled the scene. His family is now suing the cop and the city of Tampa for his death.
Tampa, FL — A family has filed a lawsuit this month against Tampa police for the alleged intentional running over and subsequent death of their loved one, Dusharn Weems.
Weems, 23, was reportedly driving a stolen vehicle when police ran the license plates and discovered the theft on October 20th, 2017. Officer Brian Kremler's dashcam captured the subsequent incident on video serving as evidence in the family's lawsuit against both the city and the officer.
As the video shows, Kremler can be seen sitting at a stoplight as he responded to the call radioed in from other officers. He then does a u-turn, appears to have lost control of his vehicle in a spin out, and then entered a parking lot.
In the right-hand frame of the video, Weems can be seen running toward Kremler's car. Kremler does not steer away. Instead, his car turns in Weem's direction, striking the young man, and coming to rest on top of him.
Having parked his car on top of the unarmed man, Kremler apparently knew Weems was incapacitated because he reportedly said at the time of the incident "well, he ain't going anywhere." Weems died from his injuries in the hospital three days later. According to the complaint filed last week in U.S. District Court:
(Kremler) purposely steered into Weems path of travel, with Weems only turning and noticing the police cruiser at the last second before impact and the police cruiser being left on top of Weems.
Of course, the department is not commenting on the lawsuit citing pending litigation as their reason for doing so. The family is suing for an unspecified amount of money but claims they have long insisted they only wanted justice for their loved one.
The Hillsborough State Attorney's Office also concluded the death was an accident and no charges were ever filed against Kremler. But it's not the first time police officers have intentionally struck and killed people with their police cruisers and gotten away with it. We are all too familiar with the practice which we believe is encouraged at the command staff level.
Weem's daughter's mother Shanteria B. Cooks was listed as a plaintiff in the lawsuit. She told reporters:
Are we going to allow officers to use their vehicles to stop people that are running?...What we ultimately want is for law enforcement agencies to take a look at this and say, 'How we can avoid that?'
According to those who wish to hold police officers accountable for their actions, there are many ways to change the practices of intentional death by cop car. One way is to get rid of qualified immunity which protects police officers when they kill someone in the line of duty.
Some cops know they have immunity from prosecution so they take advantage of it. Benton Township, MI patrol officer Eugene Anderson was driving twice the legal limit without lights or sirens active when he hit and killed a pedestrian.
Kimberly Bedford, 48, was hit so hard she flew up above the squad car, and down through the rear glass and into the backseat of Anderson's police cruiser.
Even though the judge declared Anderson to not be above the law and scolded him for his actions, he was sentenced to only 60 days in jail. Judge Dennis Wiley told Anderson:
The fact of the matter is that your behavior, as you said 'a human life is precious,' that woman did not deserve to die...Except for your excessive speed, your being in a big hurry and as you've just indicated, you have no regrets for not complying with the law.
Not only do police officers hit and kill perpetrators intentionally, but they do so accidentally and suffer little to no punishment for their actions. Until that changes, there will be no justice for victims of police homicide and negligent manslaughter.
https://m.youtube.com/watch?v=RgXv5YaGZhw