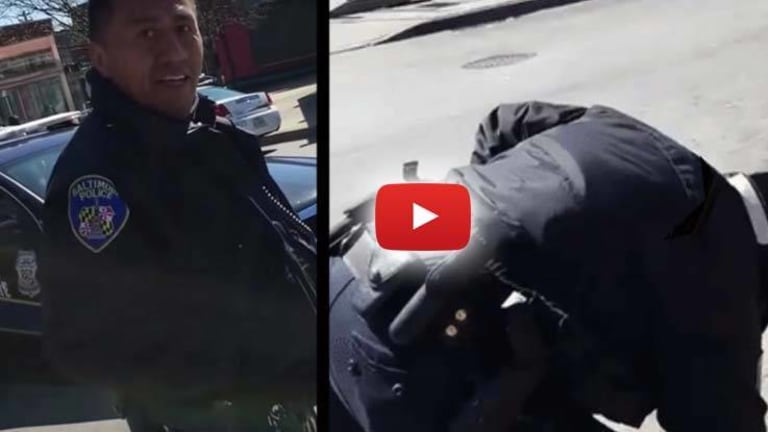 WATCH: Man Confronts a Cop for Littering, Tells Him to Pick Up his Trash -- He Does!
Not only did this video vigilante correct the officer, but he had him pick up his trash too!
Baltimore, MD -- It's estimated that every year cigarette butts make up nearly 1.7 billion pounds of toxic, non-biodegradable trash.  Not to mention, there's evidence every year of fires, large and small, that were caused by smoldering butts littered on dry, grassy areas.
While a cigarette butt is unlikely to cause a brush fire in Baltimore, the city is facing a huge pollution problem from littered smokes.
Cigarette filters are made out of cellulose-acetate, a plastic material that does not biodegrade. In spite of its cotton-like look, a butt littered today will remain in the environment forever.
As Baltimore pushed all smokers outside after the smoking ban, the streets slowly became covered in discarded cigarette waste.
Baltimore police can and will issue citations to people for throwing out their butts too, as it is a violation of Maryland's Criminal Code § 10-110. Litter Control Law, which states:
(2) (i) A person who disposes of litter in violation of this section in an amount not exceeding 100 pounds or 27 cubic feet and not for commercial gain is guilty of a misdemeanor and on conviction is subject to imprisonment not exceeding 30 days or a fine not exceeding $1,500 or both.
As littering is against the law, one would naturally think that a police officer would abstain from such practices. However, one would be wrong.
In a video uploaded to YouTube this week, a vigilant Baltimore resident filmed a cop litter, and not only did he call him out for it -- he made the cop pick it up.
Politely and eloquently, the unidentified man pointed out the officer's hypocrisy and then corrected it.
"Would you want somebody to come around your neighborhood and do that to you?" he asks the officer who seems caught off-guard.
Providing very little rebuttal, the officer then picked up his waste and retreated to a nearby Legends Fried Chicken to dispose of it. He conveniently remained inside as to avoid any further shame and accountability.
Thanks to the watchful actions of the man filming, this Baltimore public servant will think twice before he tosses another butt on the ground.
As the Free Thought Project reported last November, a female college student was tackled, slammed to the ground and arrested for trespassing because she and several of her classmates had cigarettes during a break from class.
Before that assault, an NYPD cop violently assaulted a 17-year-old boy, knocking him unconscious after he saw him smoking a cigarette.
There is also the case of Daniel Johnson, who was brutally beaten and tasered in his genitals after his father did exactly what officer Whistle did in the video above.
In July of last year, Sandra Bland was arrested and later found dead over an improper lane change and her decision to smoke a cigarette.
[author title="" image="https://tftpstagingstg.wpengine.com/wp-content/uploads/2016/03/magorist-e1456948757204.jpg"]Matt Agorist is an honorably discharged veteran of the USMC and former intelligence operator directly tasked by the NSA. This prior experience gives him unique insight into the world of government corruption and the American police state. Agorist has been an independent journalist for over a decade and has been featured on mainstream networks around the world. Follow @MattAgorist[/author]