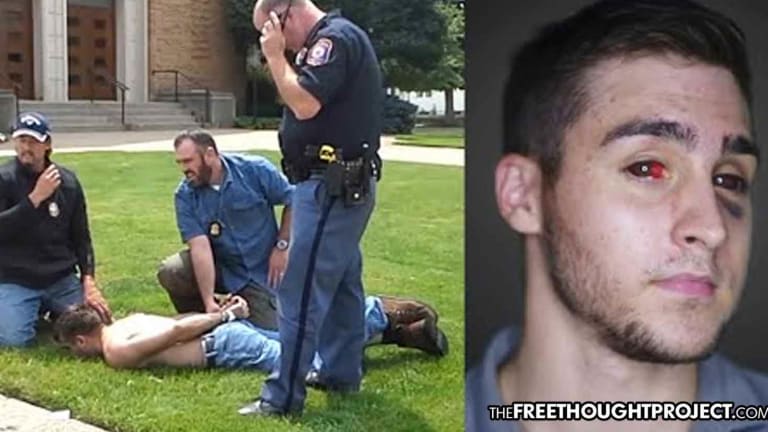 WATCH: Cops Beat Innocent Student Nearly to Death—Claim 'Immunity' to Get Away With It
One man's case against the federal government has the potential to rid Qualified Immunity once and for all but he suffered a horrible price to get there.
When it comes to police accountability, one overarching question remains. 'Do we want to live in a society whereby law enforcement officials can completely violate a person's constitutional rights and get away with it?' For our society to be free, the answer to that question must be a resounding, powerful, unwavering, 'Hell No!'
In what is shaping up to be a national challenge to law enforcement personnel's use and abuse of Qualified Immunity, the case of James King is poised to reform modern day policing as we know it. King was minding his own in 2014, working and going to college, when two plains-clothes law enforcement officers approached him. Looking like two regular dudes, King says they began asking him identifying questions, never acknowledging one was a detective and the other an FBI agent.
One of the law enforcement officials then reached in his pocket and took out his wallet. The dynamic duo was looking for a wanted fugitive who had allegedly stolen a box of empty cans and liquor bottles. Instead of finding the fugitive Detective Todd Allen with Grand Rapids Police Department and Special Agent Douglas Brownback with the FBI, found King.
Not knowing the two were officers, King fled when the officer took out his wallet. He said he thought he was "being mugged" and asked those passing by to call police. One woman did and said the two were giving King a beat down, nearly killing him in the process.
King, too, thought he was being killed. He said one of the officers applied a choke hold and he thought he was done for. Photos taken at the time of the attack show scrapes and bruises on his skin, chest, and back, as well as ruptured blood vessels in his eyes, black eyes, and a swollen face. Only when a uniformed officer arrived did King realize the two men were law enforcement officers. He knew they had the wrong guy, and when the cops discovered their mistake, they allegedly ordered those who were recording the incident on their cell phone to delete the footage.
"I a grew up on a farm, in a rural area," King says. "I was always taught to trust law enforcement, that police officers were the people you turn to when you need help. Now when I think about the police, it's just fear, uncertainty and doubt."
They then charged King with multiple violent criminal felonies: assault of a police officer, assault of a police officer causing a bodily injury, and resisting arrest. King fought the charges with the help of his attorneys, who encouraged him to take a plea deal. King was eventually offered a plea deal but he refused to accept it holding firm to his conviction he had done nothing wrong. After all, the officers pursued, apprehended, beat, choked, and arrested King whose only crime was the ignorance and belligerence of the cops.
Logic would conclude the officers would simply let him go, instead, they threw the book at him. Not only were the two men not the same age but the suspect the boys in blue were looking for was older and had light hair, not dark hair like King.
From 2014 until now, King has sought justice. First, he was acquitted of any wrongdoing in his criminal trial. One of the jurors even hugged him afterwards saying they knew he was innocent. Later, King and his attorneys filed a civil lawsuit against the officers involved, only to learn the officers claimed they were protected from lawsuits under "Qualified Immunity" laws which protect law enforcement personnel from frivolous lawsuits.
King's case now goes before the Supreme Court of the United States (SCOTUS). If the highest court in the land rules in King's favor, the precedent set will most certainly have a ripple down effect on modern-day policing.
Potentially, no longer will police officers be able to make mistakes during their policing duties and then claim they're above the law. No, their own personal assets will be the targets of civil rights attorney's and plaintiffs alike. Only if the SCOTUS wishes to take on the case will any changes to Qualified Immunity be in jeopardy. Let's hope King will be able to sue these incompetent officers and get justice for receiving the beat down of his life that nearly killed him.