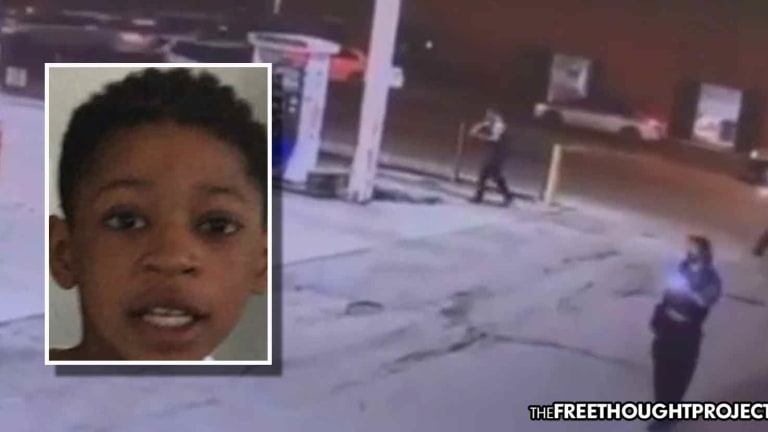 WATCH: Cops Chase Down Unarmed 13yo Boy, Shoot Him As He Put Up His Hands
A 13-year-old boy was chased down like an animal by Chicago police and shot in the back as he stood there with his hands up and unarmed.
Chicago, IL — As TFTP reported last Wednesday, Chicago police shot another unarmed 13-year-old boy. The boy had his hands up, was not a threat, and was merely a passenger in a vehicle that was suspected to be stolen.
This week, the boy's parents announced a lawsuit against the city and the Chicago police department claiming that the department has been too slow in adopting reforms to address CPD's "long sordid history of using excessive force" which led to their son being shot.
The boy, identified only as A.G. in the lawsuit has been hospitalized in critical condition since he was shot on May 18. Though he didn't die, the bullet hit him in the spine and has left him "permanently and catastrophically" injured, according to the lawsuit.
"CPD's shooting was wholly unjustified as A.G. was running away from the shooter, he was unarmed, and he posed no threat of harm to the officer who shot him or anyone in the vicinity," the lawsuit states. "Multiple witnesses at the scene reported that A.G. was complying with the officers' directive for him to put his hands up — and indeed his hands were up — when John Doe Officer shot him."
According to police, they were investigating a stolen car being driven by an alleged carjacker. The boy was not the driver but when police pulled over the vehicle, the child jumped out of the backseat and ran away.
Officers were trying "to stop a stolen vehicle wanted in connection with a vehicular hijacking from a neighboring suburb," in the 800 block of North Cicero Avenue about 10:15 p.m., according to a statement from Chicago police.
Police would claim that as the boy ran, he "turned toward officers" briefly before one of them opened fire and shot the unarmed child. Video shows that the boy did stop, but he was putting his hands in the air and had them up when the officer fired on him.
"All of a sudden, I see a little guy wearing all black get out of the car and run toward the gas station, and his hands were up," one witness who asked not to be identified  told ABC7.
"And I seen the cop run up to the boy and started shooting. That boy didn't have no gun or nothing," the witness said.
"They said, 'Put your hands up, put your hands up!' The boy's hands were up. There's other people out there that seen it. I got it all on my phone — his hands were up. He didn't have a gun," the witness said. "They shot him for no reason."
"No shots were fired at officers," Chicago police Superintendent David Brown said.
The Chicago Sun-Times reported that "police body camera video of the shooting was turned over to COPA, as well as video from a police POD surveillance camera and a third-party camera, the agency said in a statement. But because the shooting involves a juvenile, COPA said it is prohibited by law from making the video public under a city policy that requires most video be released within 60 days."
Footage from the execution of Adam Toledo was handled in a similar manner as COPA refused to release this as well. A.G.'s mother is now calling for this body camera footage to also be released.
If this child was involved in the original carjacking, he deserved to be held accountable for his crimes. However, it is not the job of the Chicago police department to play the role of judge, jury, and executioner. Now, instead of facing discipline and learning from his mistakes, this 13-year-old boy may spend the rest of his life in a wheelchair as the taxpayers of Chicago foot the bill.
"The police didn't have to shoot him. If he got out the car running and he wasn't a threat, they didn't have to shoot him," said a neighbor in her 70s who lives a block from the gas station. "I'm so sad. He's just 13. … they don't have guidance."
Below is the first video taken from the surveillance camera at the gas station. It shows multiple officers chasing after A.G. before he's shot and collapses.
View this post on Instagram

A post shared by Chicago Media Takeout (@chicagomediatakeout)
Though it is unclear in the video above whether or not A.G. had his hands up, in the video below captured in a pod camera obtained by WGN, we can clearly see that his hands were in the air when he was shot.