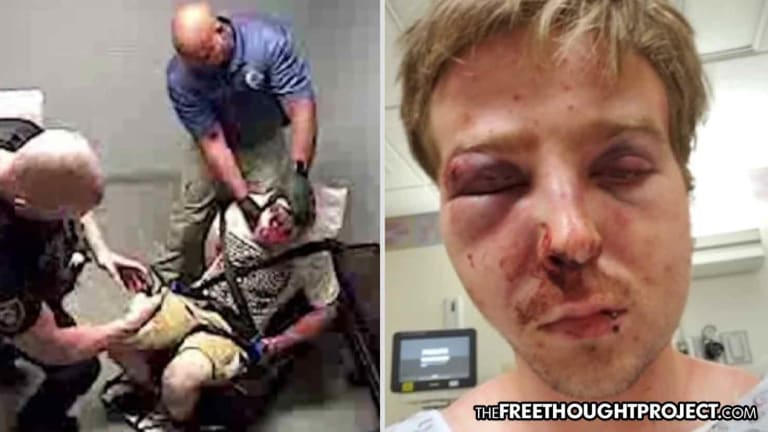 WATCH: Cops Literally Break College Student's Face Then Take Trophy Photos
A college student was arrested for being drunk in public and was brought to jail where his face was broken by police who took a trophy picture to remember it.
Dauphin County, PA — In June of last year, local college student Jarrett Leaman, 24, had a bit too much to drink and was arrested for public drunkenness. When he was taken to jail, despite being entirely compliant on the video, this student would end up with multiple cop fists to the face, a broken orbital bone, and strapped to a restraint chair — entirely unconscious.
Leaman's arrest was captured on jail surveillance footage and it shows him walk into the jail compliant and listening to officers' commands. He appears to be so compliant that the officers remove the handcuffs.
However, as they walk the drunk student through the metal detector he appears to accidentally turn the wrong way at which point he is shoved by a cop. When Leaman reacts to the shove by simply turning his body, all hell breaks loose.
As the video shows, Leaman is tackled to the ground by multiple officers with his face taking the brunt of the impact. It was this fall that broke the young man's orbital. The officers then jump on top of him, with one officer putting his knee into Leaman's neck, likely exacerbating the man's injury.
Clearly in pain, the young man writhed on the ground in agony, which of course, was interpreted by the cops as "resisting." One of the officers then wheels in a restraint chair as they drag Leaman's body into it. For good measure, several of the officers are seen punching the man after he is seated in the chair.
One of those officers seen delivering several blows to Leaman's shattered face is Harrisburg police officer Christopher Mackie. Mackie was the arresting officer who has a less than stellar past. In fact, this cop has been hit with excessive force allegations before and wasExclusive video shows night York-area man says he was beaten in Dauphin County custody
"> not supposed to be a cop.
After the cops put Leaman in the chair, they place a spit mask on him and wheel him into another room. He appears entirely unconscious. Showing exactly why he shouldn't be a peace officer, Mackie follows the restraint chair into the other room, lifts up Leaman's spit mask, pulls out his personal cellphone and takes a trophy picture — laughing and giving the thumbs up as he does so.
After the brutal incident, Leaman was hospitalized and an internal investigation was opened. Two correctional officers were suspended without pay pending the results of the investigation, while Mackie was placed on desk duty. However, during the investigation, Mackie quietly resigned to avoid any repercussions.
District Attorney Fran Chardo would then rule that no excessive force took place and that Leaman caused his own injuries. Apparently Chardo thought Leaman was punching himself in the face as he was being restrained in the chair.
After Chardo stood by his decision that no excessive force took place once more this week, Leaman's attorney, Leticia Chavez-Freed chose to release the surveillance footage.
In a statement, Chavez-Freed explained why she is releasing the video nine months later:
"Our office will be amending Mr. Leaman's federal complaint to publicly name each person responsible for the beating, failing to render adequate medical care and/or failing to have the courage to intervene and stop the vicious abuse of Mr. Leaman. We will try this case before a Jury to full verdict.

I did not expect District Attorney Fran Chardo to publicly state to Penn Live, the day after his election, that my client caused his own injuries. It is because of this statement, and the damage it can do to our federal case, that this footage is being released, in order to mitigate the statement. "
Chavez-Freed said the video is necessary to counter the erroneous findings by the DA.
"Somebody's not telling the truth," Chavez-Freed said. "You show me where they are justified," she said.
Chardo's decision was not supported by other city officials who called the officer's actions "inexcusable."
"The actions by Harrisburg Police Officer Christopher Mackie are inexcusable." City spokesman Kurt Knauss said. "After the incident occurred in June 2019, he was taken off the street and placed on desk duty. He has not been a member of the city's Bureau of Police since September 2019, when he resigned during internal investigations into this case."
"We appreciate everything our city police officers do to ensure public safety," Knauss added. "These are difficult, demanding jobs. But Officer Mackie's actions crossed a line. We regret this incident occurred and continue to work toward a resolution that is fair to Jarrett Leaman and the taxpayers of Harrisburg."
Because none of the officers were held liable for Leaman's injuries, the taxpayers will most assuredly be held to the fire in their place.