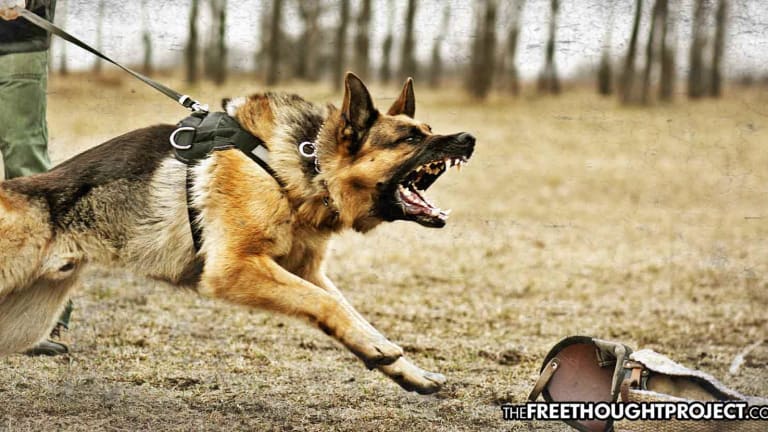 WATCH: Cops Tell Innocent Man to Lay Down for His 'Safety' Then Allow K9 to Maul Him
For the third time in recent years in the same city, a police k9 has been caught on camera attacking an innocent bystander while officers watched.
Another innocent person has been mauled by a St. Paul Police Department K9 — the third such incident in two years. While police were investigating a call about a man with a gun on Friday, the attack dog being handled by St. Paul Police Officer Mark Ross broke his collar and attacked 33-year-old Glenn Slaughter, an innocent bystander.
The dog did not respond to Ross's attempt to verbally control him once he broke free. From the recently released body camera footage, Ross can be seen attaching the dog's leash to his collar just before exiting the vehicle. Slaughter, who was in the vicinity of the call for police had already been ordered to lie face down on the ground "for his safety," even though he was not a suspect in the reported criminal activity.
Ross and his attack dog walked toward other officers but just before the two arrived, the K9 broke free and made a beeline for Slaughter. As the dog was running toward Slaughter, Ross can be heard yelling, "Hey..No, No NO!"
The dog bit and began mauling Slaughter's forearm, while he yelled in pain. Ross continued his commands, which were being ignored. Twin Cities Pioneer Press reported that Ross gave the command "Out," which was intended to signal the dog to release, but the biting continued. Ross and his fellow officer told Slaughter to "Stop pulling."
Slaughter can be heard saying, "Oh my God!"
He was treated and released by paramedics who reportedly told the young man he did not need the attention of the hospital. Slaughter did go to the hospital for treatment and is likely seeking legal representation for a lawsuit.
As The Free Thought Project has reported, in September 2017, Desiree Collins was taking out the trash when a police K9 attacked her. In Collins's case, the K9 did not break free from its handler but, instead, the dog was allowed to be on a long leash giving it enough distance to attack the elderly woman.
https://m.youtube.com/watch?v=NG93PtzLUm8
In 2016, Frank Baker was mistaken for a suspect and was mauled by a police K9, and beaten by officers. Baker spent two weeks in the hospital but was awarded $2 million by St. Paul for his injuries suffered in the case of mistaken identity.
https://m.youtube.com/watch?v=qXqwAotUYGU
As a result of the frequent errors in judgment by St. Paul's K9 units, Mayor Melvin Carter has ordered police to make immediate changes. Carter announced:
Last week's incident involving a St. Paul police canine is very disturbing, especially viewed in the context of other events that have occurred over the past two years...I am working with Chief (Todd) Axtell to implement a set of temporary restrictions on deployment of police dogs, effective immediately, until a full audit can be completed.
Ross has been reassigned pending the outcome of his first internal investigation. He has been an officer with St. Paul since 2016.
Following the mauling and Carter's announcement St. Paul Police announced command-level permission would be required:
for any canine deployment that does not involve instances where a suspect's actions are likely to result in death or serious bodily harm — or canine apprehensions that do not involve people suspected of murder, manslaughter, aggravated robbery in the first degree, kidnapping, criminal sexual conduct or drive-by shootings.
Just like any weapon in the police department's arsenal, the use of a K9 can be harmful, even deadly. Still, critics contend that the city and the department have made a serious error in changing the way police have done business with their K9s, which have been in use in St. Paul since the 1950s.
Calling it a "knee-jerk reaction," Dave Titus, St. Paul Police Federation president, defended Ross and criticized city leadership, saying:
I can guarantee you that he was working in good faith and no one feels worse about the citizen being bit than him...This was an equipment malfunction and for a highly trained K-9 officer like Mark Ross to be immediately removed (from the unit) was a knee-jerk reaction and irresponsible...The K-9 unit is nationally recognized as one of the best and they save lives, they protect citizens and they protect cops. This was a very unfortunate situation.
Critics contend that the use of police K9s in the line of duty constitutes torture, and the animals are used to intimidate and institute fear into the hearts and minds of those the police are sworn to protect, not punish. We couldn't agree more.