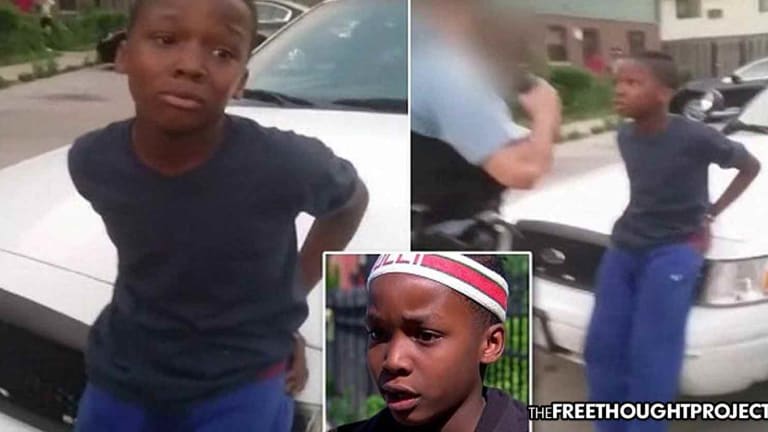 WATCH: Cops Terrorize Innocent 10yo Boy, Cuff & Detain Him Without Cause — Not Disciplined
A small boy was detained by Chicago police without cause, and terrorized as he was held in handcuffs for a prolonged length of time.
Chicago, IL — The parents of a 10-year-old boy were horrified after their son was detained and placed in handcuffs for no reason by Chicago Police. The interaction was captured on video and sparked outrage in the community when it originally happened. Now, however, more outrage is expected as the police review board has determined the cops should face no accountability.
According to the Chicago Sun Times, a single member of the Civilian Office of Police Accountability ruled Thursday night that no officers will face discipline for their role in handcuffing Michael Thomas Jr. and terrorizing him to the point of urinating on himself.
Originally, COPA investigated the boy's brief detention and recommended that two officers, Anthony Spicuzza and Robert Garduno, each be suspended for 30 days for their role in terrorizing the innocent child.
However, Chicago Police Supt. David Brown disagreed and recommended that Spicuzza and Garduno be found exonerated of any wrongdoing.
The differing opinions triggered a process in which a single member of the nine-person Police Board, chosen at random, would decide if any officers would face an evidentiary hearing, the Times reported.
"While COPA values the member's review and conclusion, it maintains that the officer's prolonged restraint of this child — after hewas searched, demonstrated he was not armed, could no longer present any threat and was experiencing emotional and physiological trauma — is unacceptable and in violation of CPD policy," COPA's chief administrator, Sydney Roberts, said after the ruling.
The whitewashing started from the very beginning as police claimed at the time they "followed all of the rules and protocols" when they handcuffed the innocent little boy after mistaking him for a criminal.
According to police, they received a call that a boy in the area was carrying a gun and was also wearing blue. When the officers arrived on scene, they stopped the first boy they saw wearing blue.
The boy they were looking for had just escaped from jail, according to 10-year-old Michael Thomas Jr. However, until that moment, the very frightened Michael had never so much as talked to the police before.
Cellphone footage captured the terrified child as cops treated him like a criminal. Thomas was so scared during the incident that this poor child wet his pants.
"They're telling them that someone called them saying that there is a 12-year-old black kid on a bike with all blue on had a gun," the uncle is heard saying in the video. "There was about five little black boys with all blue on."
As the little boy sits there in horror, his grandmother expresses her outrage.
"You can see that he doesn't have any weapons on him," Michael's grandmother said in the footage. "I raised up my grandbaby's shirt. He don't have anything on him. Take those handcuffs off of him."
"I want answers," said Michael's mother Starr Ramsey at the time. "You can look at him and tell he no teenager. Ten year's old you get handcuffed? You scarred him for life."
"They need to apologize. He's gonna be scarred for the rest of his life now," the mother told NBC-5.
After he justified the stop, Police Supt. Eddie Johnson said that he has ordered an internal investigation into the incident to make certain that the officers followed all protocols. Naturally, after investigating themselves, they claimed detaining the boy without evidence was find and dandy.
Police also claimed that Thomas ran from them when they pulled up, which they said justified this treatment. According to his family, however, the reason Thomas ran is due to the fact that he's terrified of police because they killed his father.
"Anything can happen. We might need him to call the police. And he's gonna be too afraid to even call," said Ramsey of how this incident has left her son traumatized.
"They put me in handcuffs. I was scared. I was crying," Thomas told NBC-5.
"They told me I escaped from juvenile and I had a gun. I said I didn't escape from juvenile and I don't have a gun…They handcuffed the wrong person."
As the cops were not held accountable, the taxpayers of Chicago were instead and paid out a settlement the following year.