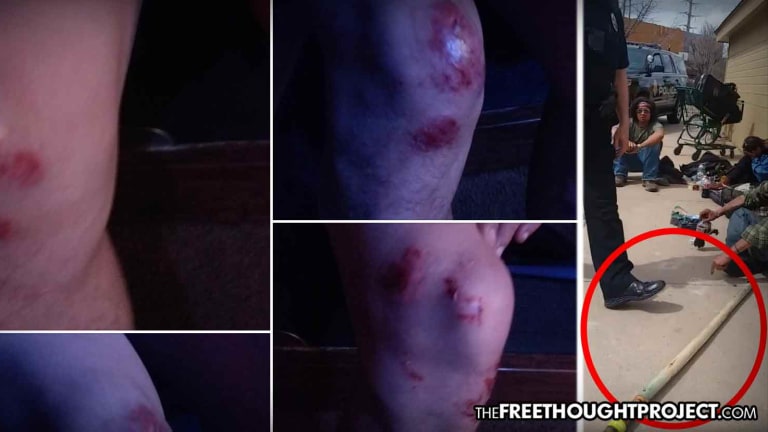 WATCH: Cops Think Epileptic Man's Walking Aid is a Weapon, So They Attack and Arrest Him
An innocent epileptic man was assaulted, injured, and arrested because police feared for their safety over his walking aid.
Boulder, CO -- Sammie Leon Lawrence IV was filming Boulder police harassing a group of homeless folks earlier this month and being very polite about it. Lawrence was well spoken, nice, and even went so far as to not film the officers' faces to protect their identity. Despite his polite demeanor however, he was tackled and assaulted by cops, and arrested for using his walking aid for his disability.
On April 5, Lawrence saw several officers harassing a group of homeless folks eating lunch. According to The Denver Post, Boulder officer Waylon Lolotai was on patrol when he saw three men "lounging around a large pile of property and trash."
According to the officers, the homeless group's lunch was litter so they needed to be extorted. The group of homeless folks disagreed and told police that they were only eating.
"I am actually blessed to have been present to witness an officer citing my friends in the last video with littering. As I watched this.. i decided to do more and walk towards the situation letting the officer know I was recording this incident. The video will clearly show that their belongings that the arresting officer considered litter were within an immediate proximity of them, he was trying to illegally cite these persons," Lawrence wrote in a post to Facebook.
According to Lolotai's report, a man holding "a large staff" in his hand approached the officers. This "large staff" is Lawrence's walking aid as he suffers from epilepsy and often times needs something to hold himself up during a seizure.
According to a report in the Daily Camera:
In the police report, Lolotai wrote he was OK with the filming as long as Lawrence dropped the cane. When Lawrence refused to drop the stick, Lolotai said he was "alarmed by Sammie's refusal to drop the staff" and told Lawrence he would be arrested if he continued to refuse orders.

Two other officers arrived on scene and also gave orders for Lawrence to move back. When he did not, Lolotai tried to arrest Lawrence. Lolotai wrote in the report Lawrence "violently pulled away" and did not let go of the staff until Lolotai kicked it away from him.

In the video Lawrence posted, he can be heard saying "Stop it, you are assaulting me," as the video shows him being taken down to the ground.

According to the report, Lawrence was taken to the hospital to be medically cleared before being taken to the Boulder County Jail on suspicion of obstructing a peace officer and resisting arrest. He was later released on bond.
Sadly enough, Lawrence's walking aid was kept from him in police custody -- as evidence. However, a few days later, he got it back.
In a statement, police said the officer "asked the man recording the video to either move back or place his walking stick on the ground so that the officer could finish his contact with the three individuals.
"The officer told the man that he would be arrested if he did not move back. He refused multiple requests from the officer. While being taken into custody the man fought with officers. The man was medically cleared at Boulder Community Health and then taken to jail."
He was arrested for obstructing a peace officer and resisting arrest, police said.
Lawrence posted the video to his Facebook page when it happened sparking backlash against Boulder police. He plans on fighting the charges and on Tuesday, he spoke at the Boulder City Council meeting to address the issue of police escalation.
Police Brutality for witnessing a potential wrongful citation that escalated into Assault on a Disabled Citizen for utilizing civil liberties.

Posted by Sammie Leon Lawrence IV on Sunday, April 7, 2019
Highlighting the tendency of the Boulder police department to escalate otherwise entirely peaceful situations is the fact that TFTP reported on them just last month. Instead of harassing people for littering, this time, they were harassing an innocent student for picking up trash.
In that incident, the innocent man was nearly executed by police for picking up trash on his own property. He was surrounded by nearly a dozen cops, some with guns drawn and, like Lawrence, he'd committed no crime. Citizens of Boulder beware, it appears that police in the area have a tendency to create crime when there is none, and innocent people suffer as a result.