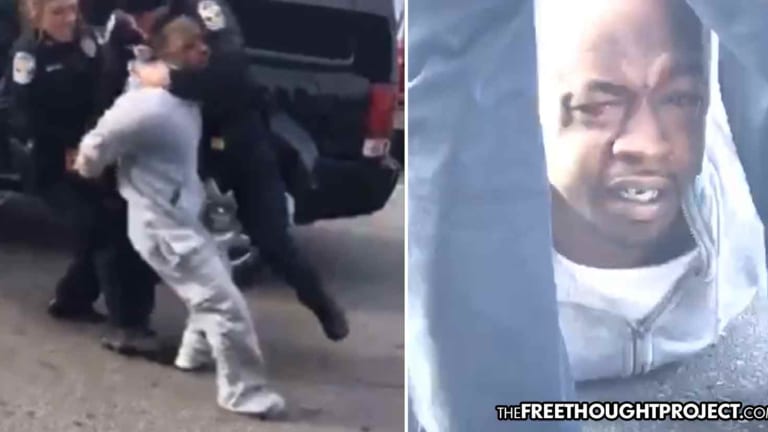 WATCH: Crowd Erupts in Anger as Cops Beat 5'1" Handcuffed Man and Pull Down His Pants
Multiple LMPD police officers were seen on video slamming and beating a man who was already in handcuffs over an alleged window tint stop.
Louisville, KY — Officers from the notorious Louisville Metropolitan Police Department are in the spotlight again this week after video was taken of several officers slamming down and punching a man who they already had in handcuffs. The scene was so disturbing that it caused a large crowd of people to surround the officers and voice their concern.
The incident took place in a Kroger gas station parking lot on Sunday around 1:00 p.m. The victim was identified as 32-year-old Jarrus Ransom, who was seen on video pleading with the witnesses to contact his mother.
While we do not know the reason police stopped Ransom on Sunday, he was ticketed for dark window tint and failing to wear his seat belt—so the stop may have been initiated over these "violations."
Ransom's mother, Gilda Lewis, told WHAS11 News police stopped him for a traffic stop but didn't know why he was pulled over.
According to witnesses, however, when police pulled Ransom over, one of them dumped a Sprite can out in his lap and then threw at him which reportedly made the driver angry and caused him to lunge.
The first video picks up at this point and officers are seen taking Ransom to the ground and holding him down while one officer begins punching him in the head repeatedly.
After police put Ransom in handcuffs, the violence did not stop. Ransom is seen attempting to stand up when two officers jump on top of him, sending him slamming into the ground once more.
During the melee, the officers appear to pull down his pants while trying to pin down his legs. This causes even more outrage from the crowd.
"They're pulling down his pants!" yells one bystander. "Why are y'all humiliating him like that?"
As police continue to shove knees, elbows, and legs on top of Ransom, he continues to cry out in agony. Eventually, the situation dies down and Ransom is taken into custody.
Ransom's mother eventually shows up on the scene and she says police refused to give her any information.
As WHAS reports:
She says one she arrived on the scene, police declined to give her any information. Lewis also says officials prevented her from riding in the ambulance with her son to the hospital.

Lewis says she wants to know what happened that could have led to what witnesses say was excessive force.
After the video was uploaded to Facebook, it went viral which prompted an inquiry by the LMPD. The department is being tight-lipped however, and has not released any information other than the statement below.
"We are in the process of collecting all body camera footage available from officers who were present. We have already begun a review of the incident, as we do in every case where force is used by officers."
Ransom is currently being held in jail—without bail—where he is facing charges of possession of a controlled substance (unspecified), tampering with physical evidence, resisting arrest, excessive windshield/window tint, and failure to wear a seat belt.
"It hits home, you never think it would happen to you. I'm 4'11 he's maybe a couple inches taller than me. 4 or five police just beating him dragging him and he's in handcuffs, they didn't have to do that. They didn't. Something needs to be done about it," Ransom's mother said.
This is the second time in only a month that TFTP has reported on alleged excessive force of the LMPD. In another incident, police were seen on video holding down a man while one officer repeatedly pounded a man's face in with his taser.