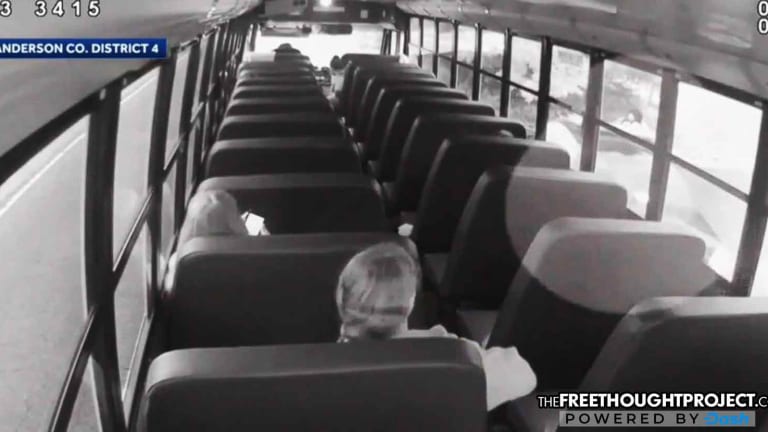 WATCH: Distracted Cop Forgets to Brake, Clips Child Waiting for a Bus
A young girl was clipped by a police car while attempting to board a school bus after a distracted officer failed to stop.
Anderson County, SC – Disturbing footage has been released that shows a distracted sheriff's deputy driving a patrol car, swerving and nearly hitting a young girl who was waiting to board a school bus.
Anderson School District Superintendent Joanne Avery said the school bus was stopped with lights flashing and following all protocols when student Jordan Reyes was suddenly clipped by a speeding police cruiser as she attempted to board the bus.
During a press conference, Avery said that the bus driver "noticed a car in her rear-view mirror that was not slowing down even though the amber bus and then red bus lights were flashing," and was forced to watch the incident unfold.
Driver Ilah Beard told WSOC that she was traumatized by the incident, and haunted by the officer's carelessness, which almost killed a young girl.
"I haven't been doing good at all," Beard said. "I've been reliving it every day. I pass by that house several times a day just to know that Jordan almost lost her life. It kills me."
Jordan Reyes, 15, is in stable condition after she was nearly run over by the police cruiser, and she said she hopes her experience will open the door for a conversation on distracted driving.
"I just wish that situations like these that no one else would have to go through like I did that day, what my bus driver had to go through," Reyes said.
The unnamed deputy claimed she could not keep her eyes on the road because she was checking her GPS at the time of the incident. She has reportedly been cited, suspended and reassigned, although the exact details have not been released.
Anderson County Sheriff Chad McBride has responded by using the incident as a way to improve public relations and market a campaign against distracted driving. "When we go down the road, we see people reading books, magazines, texting on their phones, putting makeup on in the mirror. We see a lot and I hate that this time it was one of us," he told WSOC.
In a statement, the department revealed that Reyes has agreed to partner with McBride to release a series of instructional videos dedicated to preventing distracted driving:
"Jordan's experience is a reminder to all first responders of the dangers of driving while distracted and encouragement for them to remain focused, when behind the wheel. Jordan and Sheriff Chad McBride are partnering to develop instructional videos targeted at first responders reminding them of the dangers of distracted driving and later this year, the two will develop back-to-school bus safety reminders for the public."
In one video, Reyes claims that if she has been looking at her phone or she had earbuds in her ears and was listening to music, she would not have heard the police cruiser and would have kept walking to the school bus—putting herself directly in the path of the car.
While it is true that everyone should be aware of their surroundings, especially when they are stepping out onto the street, it does not take away from the fact that the deputy who caused the incident was clearly in the wrong, and should be held accountable for the actions that almost killed an innocent 15-year-old girl.
If you would like to share your opinion on this incident, contact the Anderson County Sheriff's Office by calling (864) 260-4400, or visiting their Facebook page.
The incident has since sparked a PSA about distracted driving.