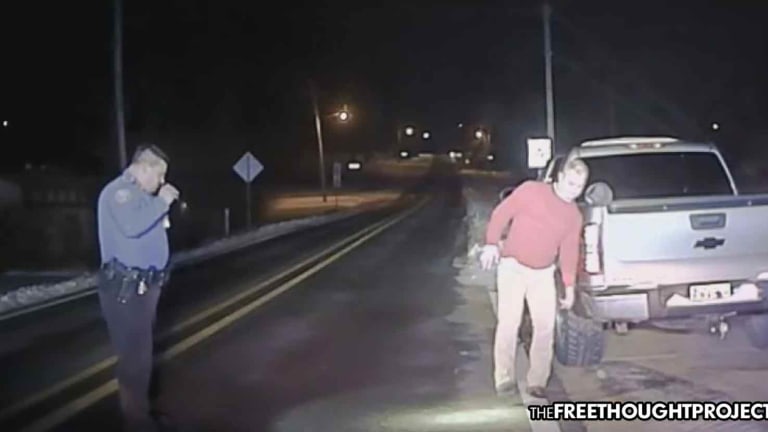 WATCH: Drunk Cop Leads Police on High-Speed Chase, Blames It All on His Wife in Passenger Seat
A wasted cop led police on a high speed chase before finally pulling over and blaming it all on his wife, who was the passenger.
Jonesboro, AR — The term 'blue privilege' exists and is well known because police officers will commit crimes, often far worse than civilians, and face little to no consequences. This is especially common among traffic offenses like speeding and driving under the influence (DUI). Sometimes, however, there are good cops out there who won't let their drunk brothers in blue keep driving and put everyone else on the roads in danger just to show that privilege.
On Feb. 20, 2021, Craighead County sheriff's deputy James Michael Teague was wasted and driving at a high rate of speed when he was targeted by Arkansas State University Police Sergeant Daniel Bradway for suspicion of DUI.
In his report, Bradway wrote that he noticed the truck in front of him "seemed to be traveling at a high rate of speed" so he initiated the stop. But Teague did not stop and instead, led Bradway on a high speed chase through town.
Eventually, Teague pulled over. Had he not been a cop, he would have likely been met with the barrel of a gun, taser, or dragged out of the vehicle. However, likely due to the fact Bradway knew who it was, none of this happened and Bradway showed Teague some officer discretion. Teague's special treatment ended there.
When Bradway approached the truck, he asked Teague if he had not seen his lights.
"To my surprise, the driver responded by saying, 'I did Broadway," Bradway, stated in his report.
That's when Teague tried to flex his blue privilege. "Do you know who I am?"
Bradway acknowledged he knew the officer and Teague apologized for speeding and running from cops and tried to be on his way.
But Bradway wasn't having it, especially after seeing a Miller Lite bottle in the cup holder and noticing Teague looked drunk.
"You were doing 65 and a 45 man," Bradway tells the drunk cop.
"I know man, she was yellin' at me," Teague says, attempting to deflect blame to his wife. When listening to the officer blame his wife, one cannot help but think of the 40% of police officer families who experience domestic violence. 
"She was yellin' at me," he continued.
Bradway told Teague that doesn't matter and he should not have been driving like he was. He then told the drunk cop to get out of the car.
Teague reportedly told him, "No. I mean, I'm good," before refusing a second time and telling Bradway, "I'm just almost home."
After blaming his bad driving and the high speed chase on his wife, he then blamed the beer bottle on his wife too. And, he still refused to get out.
At this point, any other non-cop driver would have been tasered, beaten, shot, arrested, or worse. However, since Bradway knew Teague, none of that happened.
Eventually, Teague exited the truck and it was blatantly obvious that he was drunk. What's more, he was wasted wearing his gun and badge.
According to the report, he "removed his badge and gun, then struggled to walk back to the rear of the vehicle" to perform the standard field sobriety tests.
Teague failed the test miserably, stumbling all over the roadside. Showing how wasted he was, at the end of the test, he couldn't remember if he agreed to taking it just moments earlier.
"Did I agree to do all of this? I don't think I did," said Teague as he walked to the car to call in a favor with his department.
Even after failing the sobriety test, Teague still thought he was going to get away with it. But Bradway held strong.
"He then began walking back to his truck and telling his passenger to start calling his captain," Bradway wrote in his report. "I allowed him to make a phone call prior to placing him under arrest."
According to the exclusive report from KAIT:
According to the incident report, Teague refused to sign both the BAC rights form and the Administrative License Suspension form.

Bradway then requested and received a warrant from Judge David Boling to get a blood draw search.

He then took Teague to a local hospital emergency room where Teague reportedly refused to let the nurse do their job.

When the nurse began to take his blood, Teague reportedly "ripped off the tourniquet."

Bradway says the entire time they were at the hospital Teague was aggressive and hostile.
Despite being hostile and disorderly in the hospital, despite leading Bradway on a high speed chase and eluding police, despite disobeying commands, and despite wearing his badge and gun while wasted, Teague was only cited for driving while intoxicated and hazardous driving.
Teague immediately resigned after his arrest and has a court date of March 24. Teague was the second cop in just two weeks to get a DUI from his department.