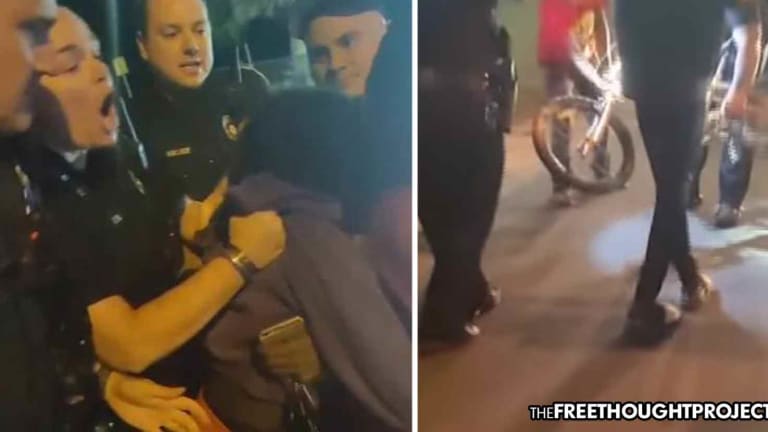 WATCH: Half Dozen Cops Attack, Handcuff 12yo Boy, Accuse Him of Stealing His Own Bike
A 12-year-old little boy was swarmed by nearly a dozen cops, attacked and handcuffed, because cops accused him of stealing his own bike.
Apopka, FL — There is an all too common story that plays out across the United States like a broken record — innocent Black people get accused of stealing or breaking into their own property. We've seen people beaten and arrested or even shot and killed for breaking into their own cars or moving into their homes. While most of these victims of racial profiling are adults, once in a while, as the following case illustrates, the wrongfully accused is a child.
Late last month, 12-year-old Jamir Bradford was riding his bike in his neighborhood like most kids do across the country. According to police, they received a call about a stolen bicycle and immediately targeted the child, claiming he "fit the description."
According to the boy's mother, however, and according to the complete lack of charges, the bike was never stolen. Instead, two men in a pickup truck pulled up to Jamir on Feb. 20 and accused him of stealing the bike.
Instead of simply questioning the child, nearly a dozen cops swarmed him. The interaction enraged bystanders who surrounded the cops in the boy's defense. One of the bystanders began taking video, showing the officers roughing the boy up.
"He's scared! He's scared, he's scared. That little boy's scared," a bystander is heard saying on the video.
"He was arrested, handcuffed and charged with robbery and battery for riding his own bicycle," the boy's mother, Melani Brown told WESH 2.
Police then handcuffed the child and held him until his accusers came back to the scene. When the accusers arrived, police finally checked the serial number on Jamir's bike and realized it was indeed his — a Christmas present he received from his mother.
Though Jamil was later released back to his mother, Brown says the emotional scars have left him traumatized — especially after Jamil saw one of the cops with his hand on his gun.
"He said 'Mommy, when I seen the officer with his hand on his gun, I wanted to run.' I said, 'For what? You did nothing wrong," Brown said.
Brown has since filed a complaint with the department and has hired a lawyer. She said that she believes Jamil was charged with a crime — despite the fact that he was the victim.
John Barnett, a national civil rights activist, told WESH that a local lawyer he's consulting with says they can't find charges when checking with juvenile court.
"How do charges just disappear?" John Barnett asked.
The department said they are now investigating the incident.
What this story illustrates is that for fitting the description in the land of the free, police officers will claim the authority to violently pursue, harass, and initiate violence against you. Your innocence is of no consequence when it comes to police claiming you "look like a criminal." In so many of the incidents on which TFTP reports, the majority of these cases involve innocent black men and cops have no problem laying waste to their rights.
Last year, TFTP reported on a similar incident in which police accused an innocent family of stealing their own car. Police were looking for a stolen motorcycle when they stopped on innocent family in an SUV.
Brittany Gilliam was parked in a nail salon parking lot over the weekend and was looking on her phone to find another one since this one was closed. As she scrolled down her phone, Gilliam and her family quickly found themselves surrounded by cops who ordered them out of the car at gunpoint.
Aurora cops accused Gilliam and all of the children in the car of stealing that car. But there had been no theft and it was police negligence that led to small children being held at gunpoint and forced to the ground.
The family was lucky to escape with their lives.