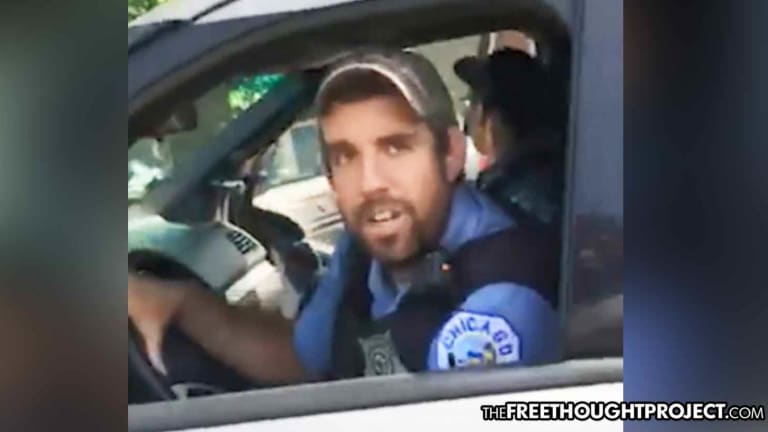 WATCH: "I Kill Muthafu**ers!" Chicago Cop Candidly Describes His Police Duties
A Chicago police officer was caught on film bragging about killing people as he harassed innocent kids for filming.
Chicago, IL -- An unnamed Chicago Police Officer is under investigation by the Citizens Office of Police Accountability (COPA) following declarations the officer made in a now viral video. The officer had no problem describing his job on camera as he candidly stated, "I kill motherfu**ers." The CPD officer apparently made the comment more than once as the citizen journalist caught him on camera apparently reiterating his statement.
"Don't try to film me dude, all right?" He says as he notices the citizen is holding a video camera. Seemingly aware his comments are being recorded, the officer, who was in an unmarked Ford Explorer, then turned his attention toward the citizen journalist.
"How about I lock you up for walking in the street?" He asks. Clearly the young man recording the video was on the sidewalk but diverting the attention away from the explosive comment must have been a necessary defense mechanism.
Exiting the vehicle, the officer then claimed Illinois is a "two-party state" implying it was also illegal to record police officers. That statement is also incorrect. Illinois police officers have no reasonable cause to believe their police actions are protected under the state's recording laws as he is a law enforcement officer engaged in his peace officer duties. Private citizens cannot be recorded when one of the parties involved is unaware such a recording is taking place. It is not a crime to film police.
The officer must have known he was in big trouble with his comments so he then escalated the police contact. As he casually walked directly behind the two young men who called him out for his egregious comment, he forced his shoe to make contact with the youth. "You just hit my shoe!" he said, as the trio headed to the community park.
"It's Hunt - 11442," the officer stated supposedly giving his name and badge number to the young men who promised to tell their mother he was harassing them. We are unsure if the name and badge number are the correct ones but the officer had every reason to lie about his identity as he was caught on film bragging about killing people, an assertion which may or may not be the truth.
More than likely, the officer made a very poor attempt to humor the community in which he serves by possibly referring to some version of a rap song. Who knows? At any rate, the viral video and all of its contents are now under investigation by the COPA.
The messages which were communicated in the video fed into the fears of the community who were quick to comment. The video was uploaded July 4th by a person with the Facebook name of "Ken Marino." It's unclear if the name is fictitious or real. Many who watched the video and commented relayed their own experiences with Chicago PD.
Several people who commented stated the city's mortality statistics, of dead individuals killed in street shootings daily, are full of victims who are not all killed by gang bangers, thieves and robbers. They claim the police are killing people, too. Others who commented, pointed out that they've been victimized by undercover detectives in traffic stops with one person claiming police used knives to cut open all of his seats looking for illegal guns. It's safe to say none of Officer Hunt's comments did any good toward establishing trust in the community and he will have to answer for such outlandish statements, at least to the COPA.
These the type of officers they allow onna streets????????‍♂️

Posted by Ken Marino on Wednesday, July 4, 2018
As TFTP has reported at length, the CPD has a long list of people they've killed. In March, police in neighboring Elgin county, shot and killed a mentally ill woman as she exited her burning vehicle.