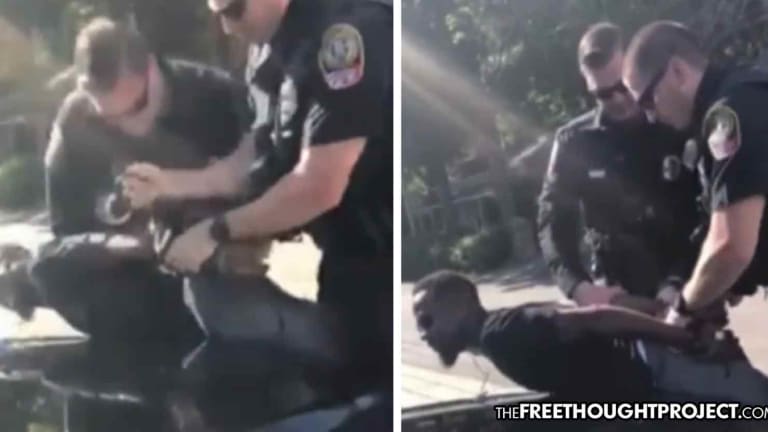 WATCH: Innocent Man Attacked By Cops, Kidnapped—For Driving a Nice Car While Black
An innocent man was stopped by police "for driving a nice car while black" and assaulted, arrested, and thrown in a cage. He did nothing wrong.
Franklin, TN — Last September, Timothy Hamilton of Franklin, Tenn. was doing nothing wrong, committing no crime, and simply driving home from work when he was targeted by officers with the Franklin Police Department. Despite having harmed no one and being entirely innocent, Hamilton was dragged from his car, assaulted, kidnapped, and thrown in a cage. Now, because the officers involved will likely face no accountability, the taxpayers of Franklin will be held to the fire for their brutality instead.
This week, Hamilton announced that he is filing an excessive force lawsuit against the Franklin police department, adding that he doesn't feel safe in his own neighborhood. Hamilton has good reason not to feel safe too, as it was the ones claiming to keep him safe who instead violated his rights.
The incident unfolded in September of 2018 when police stopped Hamilton, claiming his window tint was too dark. It was not. Hamilton explained to FOX17 that his windows were not dark and he was simply targeted for being a black man in a nice car.
"That's not possible, I work at a luxury car dealership and the people we use, that's who I used to professionally do (tint) my windows," explains Hamilton. "I grew up in this town and I know that's what you use to pull people over I was a Black male in a Black neighborhood and I was in a nice car."
Nevertheless, Hamilton was dragged out of his car by officers Nicholas Smith and Tyler Wiggers who proceeded to treat the man like an animal. The entire time he's being roughed up by the cops, Hamilton is asking them what he did wrong.
"As I proceeded out of the vehicle they grabbed me on both sides and I put my hands up and I said, 'What's wrong? Why are you grabbing me?' By that time, I have one on each side of me and they're jerking me back and forth," Hamilton said.
Despite claiming it was window tint for the original stop, toward the end of the stop, police claimed Hamilton had made an illegal turn. Officers then used this false violation to illegally search Hamilton's car without his consent. Police found and confiscated Hamilton's two cellphones, $1,300 in cash and two packages—for evidence, naturally. Even after a drug dog was called in, police found nothing else and the "packages" contained only speakers.
"All they had to do was tell him he violated traffic law and give him a ticket and go on but that wasn't their purpose, their purpose was to pick on a young man in a fancy car," explains Hamilton's attorney Richard Brooks. "They said he can't have this fancy car and be Black in Franklin unless he's a drug dealer."
Brooks explained to FOX 17 that he is suing the department to get this policy of racial profiling and abuse changed as it is standard procedure for black males to be routinely stopped for petty violations in less than ethical fishing expeditions.
"I'm trying to get a change in the attitude, this is not Gone with the Wind ," says Brooks.
After he was humiliated, assaulted, kidnapped, and thrown in a cage, police realized they had nothing on which to hold the innocent man. All of the bogus charges of resisting a stop were then thrown out. As the police officers will not be held liable, the taxpayers will now foot the accountability bill in the form of a lawsuit.