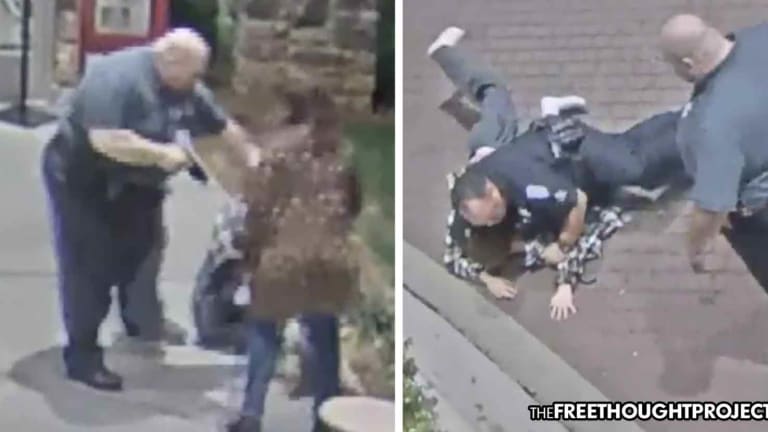 WATCH: Mom Brings Child to Hospital for Mental Help & He's Handcuffed, Beaten, & Tasered — Lawsuit
A child was tasered, beaten, and punched in the face while handcuffed instead of receiving treatment for the mental illness his mother took him to the hospital to receive.
Lincolnton, NC — A Lincolnton mother found out the hard way what TFTP has consistently reported over the years. Those who are suffering from mental health issues are uniquely susceptible to police brutality and an escalation of the use of force. Sadly, however, it was her mentally ill son who served as the example and she has no recourse because the officers "investigated themselves" and found no wrongdoing.
In December 2019, Jessica Long took her 16-year-old son to Atrium Health's emergency room for mental health treatment, the kind he'd received in the past. However, instead of mental health treatment, the teen got a beat down, courtesy of Atrium security guards and a Lincolnton police officer who arrived later — only to punch the already-bloodied, and handcuffed teen in the face.
Now, because the officers were not held accountable, Long is forced to seek justice through a civil lawsuit.
Long's attorney, Brad Smith of Charlotte, told the Charlotte Observer the video clearly shows that the Gaston County woman and her son came to the hospital "in crisis and in desperate need of medical care."
"What they received instead from these defendants was a horrific violation of their most basic and fundamental rights," Smith said in an email, adding that the officers' violent methods undermine community trust.
"Do we live in a society where people ... should be afraid to come to the hospital or call the law out of fear of being assaulted and arrested?"
According to the lawsuit, after they beat the mentally ill child, the officers libeled and slandered the family by making false statements about the confrontation and the teenager to justify their actions, while also sharing the teen's private medical records with unauthorized individuals.
As we reported at the time, Long's son was reportedly angry and didn't want to be at the hospital. It was just after midnight on December 8, 2019, when the family arrived. Long asked for security to assist her with her son. But instead of kindness and compassion, less than one minute after an Atrium Health security guard arrived, Long's son was violently thrown to the ground and threatened with a taser.
"At no point did they tell him to put his hands behind his back, to stand still, they never tried to deescalate the situation. They just immediately went for full-blown physical force," Long said.
The security guard grabbed the teen by the head. The frail teenager reacted to being assaulted by throwing a few powerless punches in the direction of the guard who apparently weighs several hundred pounds. The guard then threw him off the sidewalk and into the grass. Immediately, the guard went for his taser and threatened to taser the kid. We're sure that electrocution was not the kind of shock treatment the family was likely hoping to receive from the hospital.
After a second security guard arrived, and while the mother's back was turned, he grabbed the kid by the neck, leg tripped him, and threw him to the ground, causing the kid to bleed profusely from his mouth. Both guards then got on top of him, tasered him twice, and held him there until police arrived.
Once Lincoln County deputies arrived, things did not get any better for the boy. Even though he was sitting down on the curb and in handcuffs, he allegedly started spitting bloody spit at the cops. One of the cops lost all control and punched the handcuffed teen in the face twice before being restrained by a fellow cop who actually had to take him to the ground to restrain his fellow boy in blue. The cop who hit the handcuffed teen in the face was later identified as Justin Polson.
Long recalls the helpless feeling of being able to do nothing to help her son prevail against heavily armed cops and security guards.
"I was in shock! I didn't know what to do...I was just kind of helpless to do much of anything," she said.
Sheriff Bill Beam completely denied Deputy Polson hit a handcuffed teen in the face after being spat upon. Beam was asked by a WBTV reporter if that action was an "appropriate use of force." Beam adamantly denied the fact his deputy punched Long's son in the face.
All I saw was once and he was pushing him back away...No, he did not punch him in the face...Deputy Polson had a reaction to a felonious assault...Spitting in a law enforcement officer's face - spitting blood in a law enforcement officer's face - is a felonious assault and he had a right to stop that assault from occurring.
Polson has since filed a counter suit against long, in which he accuses the teen of felonious assault for the alleged bloody spit.
Like Sheriff Beam, Atrium hospital officials are also standing by their security guards. Maureen Swick claims the actions of her officers were "safe and appropriate" but added they are "truly sorry for what this young man went through."
In our opinion here at TFTP, it all started because a massive hospital security officer did not know how to control a teenager without laying hands on him. Had he been a teacher he would immediately been fired. But given the fact he has a badge and a taser, he is able to get away with unnecessarily escalating use of force against a teen who needed a hospital bed instead of being placed behind bars for 8 days.