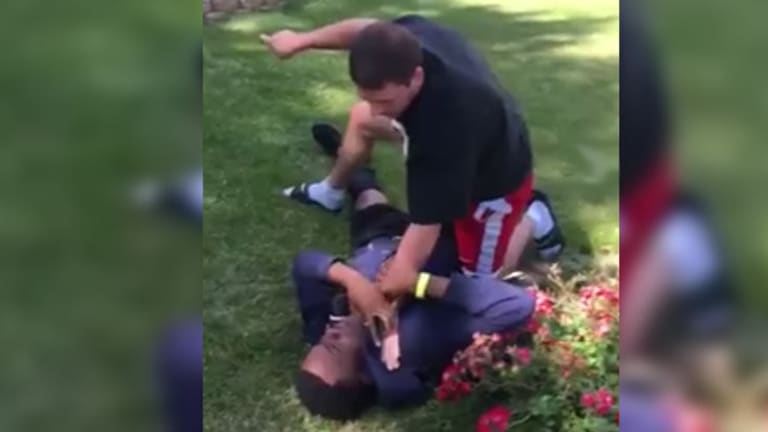 WATCH: "I Could Kill You!" Cop Pins Teen Down, Chokes Him for Running Through His Grass
A controversial video has parents in an uproar after their son was physically thrown to the ground and assaulted for walking through an off-duty cop's yard.
Lansing, IL — Parents of a 15-year-old boy are outraged this week after a cell phone video showed an off-duty Lansing police officer pin down their son and hold him to the ground by his throat — for being in his front yard.
The video was taken Saturday and it shows 15-year-old Jordan Brunson scared for his life as an off-duty Lansing cop physically and verbally assaults him.
The officer accuses the teens, Brunson and the teen filming, of trespassing and says he is holding him down until other officers arrive on the scene.
"I was scared, but I was trying to keep calm at the same time," Brunson says.
The teen filming had just been beaten up pretty bad by another group of teens and he was attempting to catch his breath in the officer's front yard. When the cop saw him, all hell broke loose.
Jordan was not the one who'd been on the cop's property, he had just walked into the yard and was checking on his friend when the attack began. When Jordan walked up to his friend in the officer's front yard, that's when the cop took him down.
To be clear, a person is well within their rights to confront someone on their property who is there without permission. This is called trespassing and is a violation of a person's property rights. That being said, however, the level of force and threats made during this altercation appear to be far beyond the scope of 'defending' one's property.
The teens were likely just scared. The teen filming, who'd just gotten beat up, more than likely thought he'd found temporary refuge from his aggressors in the officer's yard. However, that was not the case.
"You guys are on my fucking property!" the off-duty cop can be heard saying on the video as he holds Jordan down on the grass using his knee, his hand on the boy's neck.
"Let me go!" Jordan can be heard pleading, sounding fearful and distressed.
"No, you are on my fucking property. I could fucking kill you," the unnamed officer responds.
"You guys came to the wrong house!" the woman in the doorway yells.
Again, it is important to point out that this officer, if he was legitimately threatened by trespassers on his own property, was well within his rights to attempt to detain the alleged offenders until police arrived — badge and gun aside. However, it appears that this officer may have gone over the top.
"Bro, we can just forget all about this and run," the teen filming can be heard saying on the video. "Let him go!"
"Why are you doing this?" Jordan then adds.
It is important to note that had Jordan's friend done anything illegal — other than coming onto the cop's property — he would've likely run. Instead, he chose to remain to make sure his friend was not hurt.
The Lansing Police Department released a statement about the incident, saying in part, "An off-duty Lansing police officer, outside on his personal property, became involved when he was approached by two other subjects involved in the fight. One of the juveniles had visible minor injuries, and the other was temporarily detained for further investigation until the arrival of on-duty officers."
Once it was found that neither of the teens had done anything wrong, they were allowed to go on their way.
"If he wasn't an officer, just a regular man, would they do the same thing? No, he'd be locked up," Jordan's aunt, Lashawna Brunson said.
For now, the police department is claiming that there is an internal investigation underway.
For those who remember, this incident is remarkably similar to one that happened in California earlier this year.
In that incident, officer Kevin J. Ferguson, is in a verbal dispute with the child near his front yard. However, he had a gun and fired it.
According to the boy, the officer cursed at a girl who walked across his yard. When the boy protested the officer's language, that is when he grabbed him, according to witnesses.
"That's not what I said," the officer replied.
"Shut the fuck up," the officer said. "You weren't even there."
A struggle ensues and another teen rushes at the officer, sending him into some bushes. As the officer is dragging the 13-year-old through the hedge, he pulls out his gun and fires off a round.
Luckily no one was hit.
The officer was not arrested and remains on active duty.